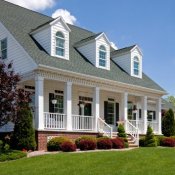 I am a frugal woman. The joke around here is that I can squeeze a buffalo nickle until it potties. There are a few things I choose not to cut corners with.
One thing is my homeowners insurance. I have big dogs that are considered a dangerous breed. For that reason, I do pay a higher premium. When I was shopping for insurance, I was shocked that several "cut rate" companies told me they would cover me if I lied about my dogs, or if I signed a waiver for them.
I found out later that my insurance company is a great company, and I am glad that I chose them. A few years ago, a freak storm moved through my town and the whole town was devastated. As soon as it ended, my husband and I went out to survey the damage. I stood in shock as I looked at our home. Siding gone, trees down, fence down, chimney down, roof shingles missing; our property looked like a war zone.
My husband told me to call the insurance company immediately, and I did. I had never had filed a claim before, I had no idea of what I needed to do or what to expect. With a shaking hand I called our agent. Within 24 hours, we had an adjuster there.
Within a few days we were told to start getting repairs done. Our home had older siding and my husband and I were going to pay out of pocket to residing the whole house. My agent told us not to, she said if they couldn't match the siding, they would pay to re-shingle the whole house, and they did! My agent actually would call us every few days to see if she could help as she knew all the power was out.
Although our home had sustained the most damage of any in our neighborhood, it was one of the first that was repaired. For several years after this storm, there was still houses with tarps on their roofs. Homeowners put signs in their yard listing their insurance company's names with the added note "THEY REFUSED TO PAY!" Times are hard, and they chose companies, many nationally known. Now in their time of need, they stood alone.
My husband and I decided that since our company was so great, we would continue with them even if they raised our rates. Imagine my surprise when our rates went down because everything was new!
Could I find a cheaper insurance company? Sure. But I feel safe knowing that if something happens my company is there for me.
Read More

Comments