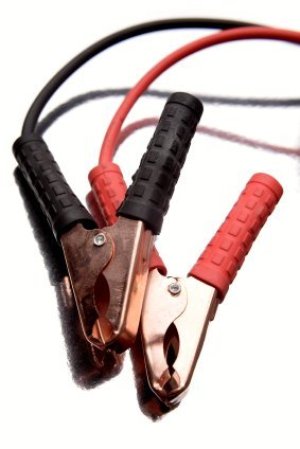 Warning! Do not reinstall a car battery without full knowledge of its proper placement!

In the world of electronics, red means positive, and black means negative. Don't assume this with car batteries.
We just had negative 38 degrees Fahrenheit below zero, we thought we were fine because we've heard that when it comes to cars, only the temperature matters. It was negative 19 degrees Fahrenheit.
The next morning, our vehicle wouldn't start. My husband decided it was the battery, and possibly a frozen gas line. He bought a battery charger, but was too anxious for it.
It may take up to 5 hours for a battery to charge, plus a couple of hours for the battery to thaw out.
After many tries that failed, I felt sorry for my husband. The battery was finally charged, so I decided to install it myself and let the car run, so when my husband got up in the morning, he would be happy.
What a mistake!
First of all, red means a positive charge, and black means a negative charge. It sounds fine to me, except that when I put the battery back in the car, their was one black cover for the battery, so I assumed it meant a negative charge, and that is where things went wrong!
Just because you see a black cover for the battery terminal does not mean it is a negative charge. I know in electronics/electrical that this does not make any sense, but this is what happened to me.
Because I saw a black negative cover, I thought it meant a negative charge for the battery. So I connected the battery that way. What I didn't know was that I was connecting the battery the other way--even though the black cap was black, I was connecting it to positive. It was ugly. I did see a spark that happened, in less than a second, and then I got worried. I started dropping all of the sockets.
It turns out that battery covers may be black even when they should be red.
The man that sold my husband the brand new fuse told my husband that I was lucky I didn't blow myself up.
I am begging you people, don't blow yourselves up!
I want all of you to be patient, and make certain you can get through a winter, even a harsh winter. God Bless You All!
Comments
By HARRY (Guest Post)
February 7, 2009
0

found this helpful
The battery story is a good example to let professionals do the maintence. Working on a car is not for the untrained.
By (Guest Post)
February 7, 2009
0

found this helpful
You should know what you're doing when you're repairing things- especially if they have stored energy, such as electricity.
That being said, it's normal to see a few sparks when connecting a car battery, even when you're connecting it the right way. If you had connected the battery backwards and tried starting the car you would have likely caused hundreds if not thousands of dollars in damage to the car.
I'm sure you can find many references on the internet but here's a quick one I looked up for you on Yahoo Answers:
answers.yahoo.com/.../index?qid=20080308195117AAPQseo

February 7, 2009
0

found this helpful
Okay, I'm Listening. I'm afraid I'm going to have nightmares tonight! I didn't try to start the car, my hands were thickly gloved, and by God's grace, they caused me to drop the sockets. That is when I gave up. But because I saw the spark, I never would have tried to start the car, anyway. I always thought that batteries were marked red and black, was that some dream I had, or in the world of American Cars, were batteries marked red and black years ago?
By Patti (Guest Post)
February 10, 2009
0

found this helpful
Ever since watching my spouse install a battery that was too high (and blew up when he closed the hood down on it) I am literally terrified of car batteries. I begin to sweat if anyone messes with them. I hate hooking and unhooking battery chargers. Be aware that even carrying a battery with uncovered posts (even a small battery)
can be dangerous if you have a metal zipper on your
coat or something like that. Maybe that's silly but the other day I carried a small sized battery and noticed
it was just beside my metal zipper. You can't be too careful when dealing with so much energy.
Read More

Comments