What is the simplest way to get the back off a wrist watch to replace a battery?

Beatrice from Swift Current, CA

Answers:
Replacing A Watch Battery
Take the watch to the Wal-Mart jewelry section and ask them if they could tell you what size of battery to purchase. They will open the back and replace the battery for you for probably around $2 or $3 dollars. If you do not want to do that then just use a sharp blade and pop it open. (07/06/2007)

By natasha
Replacing A Watch Battery
Walmart no longer replaces batteries in watches that were not purchased there, so if it's a brand they don't carry, they won't do it. They may show you how to take the back off. Slip a tiny flat tip screw driver, ones that come with eye glass repair kits are ideal, or any other thin strong blade under the slight raised area on most watch backs. A few more expensive and older watches have screw off backs. If there are three notches evenly spaced around the back itself, it will take a special tool to remove the back.

You may be able to remove a screw off type with needle nose pliers placed in two of the three notches and twist...righty tighty, lefty loosey. Then you of course buy another battery with same number as the old. Pop the old one out and replace with the new. Hardest part may be putting the back on again. Be sure to line up the stem notch with the stem again before pressing the back down or you may bend the stem, and it won't go on either. (07/09/2007)

By leslie
Replacing A Watch Battery
I use a thin bladed knife (sort of like an Exacto knife) to pry the backs off of my watches, but you have to be VERY careful not to slip. There are certain brands of watches that need a special tool (like my Fossil watch). Then it has to be taken to the watch shop at the local mall. (07/09/2007)

By Maryeileen
Replacing A Watch Battery
First I think it depends on if your watch is valuable or not as to whether you should attempt to replace the battery yourself because you can do some damage if you don't know what you're doing. Most of my watches were bought at Wal-Mart so I have them replace mine for a very minimal price of about $2.78. Any jeweler can replace a battery as well; however it will cost you more. If you don't still have the instructions to your watch to know what kind of battery it takes, you'd need to have someone or you yourself open the watch back to take a look at the current battery. If the watch is a fairly decent one, what the heck's the difference if you pay someone to change the battery and know that it's done right?

It's true that Wal-Mart doesn't want to change batteries in watches not purchased there. I asked why and was told because they don't want to be liable for any damage possibly caused if it's another brand they don't carry or a really nice watch. I just told the gal once that even though my watch didn't come from there, I trusted that she'd do a good job and to go ahead and do it, and she did! It depends on what clerk you get though because I was also turned down once too. Nearly every watch I own came from Wal-Mart though. I have a nice Disney watch I recently bought at a garage sale and I'm going to take it to a jeweler because I also need to add some links back in it to make it looser. I found a coupon to get a battery replaced for $6.95 at a jeweler in town. That's high compared to the Wal-Mart price but since I need the links put back, may as well, and I got this nice Mickey Lorus watch for only $7, which is a steal as those watches are expensive.

Good luck! (07/09/2007)

Replacing A Watch Battery
I use to work at the Walmart Jewelry Dept. and replaced batteries often in watches. There are some expensive brand watches, like Seiko, etc. that we could not touch, it takes a special tool to open them, plus the chances of damaging them. So, take a nicer, more expensive watch to a professional jeweler to replace the battery.

The regular watches, usually have a small "lip" to the edge of the back seal you can carefully "pop" off with a thin knife blade. Be careful not to slip though. You'll cut yourself, or scratch the watch up. Usually, we did all watches, but, the expensive ones, when I worked at Walmart. It's not hard usually, and the battery is around $3.00, if done for you. It's cheaper usually to know your battery size and buy it yourself and do it if your able. When you get someone to do it for you the first time, notice how easy it is, (some are not easy!) then get the battery number, and try yourself (if easy) on the next go around. You only need a battery usually at once a year, so keep your number in a place you won't forget it. Oh yes, if the back "pops" off easily, they usually pop back on easily with a firm two thumb push. (07/10/2007)

By Glinda
Replacing A Watch Battery
I've replaced batteries in my watches for years without problems. Then I read the fine print on warranty and discovered it is void if you replace the battery yourself and was told it was because you can mess up the "water resistance". So, had a nice Timex Stainless Steel watch I took to the Walmart where I bought it when it needed a new battery (it was running slow, but still running), they replaced the battery and handed the watch back to me and it had quit working. Walmart refused to replace the watch, saying the woman said she didn't do anything to it.

So, I had to buy another watch (not at Walmart this time) and when it came time for a new battery, I did it myself. No problem getting the cover off or battery out, the new battery slipped right into place and cover went right back on and I re-set the time. Then I discovered the watch was running backwards, the hands were going counter-clockwise! I tried taking the battery out and putting in in again, but it still kept running backwards, never did figure out what was wrong with it or if it could be fixed, just bought another watch and next time it's going to a Jeweler for the battery. Boy, talk about turning back time! (07/13/2007)

Replacing A Watch Battery
Some Timex watches do not have a place where you can put in a knife blade and pop off the watch back. In that case take a flat blade jewelers screwdriver and grind or file the tip to a knife edge. Mount the watch horizontally in a vise with the back facing up. Position the screwdriver edge on the parting line between the back and the case and tap the end of the screwdriver gently with a small hammer. The back will pop off! (03/31/2008)

By mannyk
Replacing A Watch Battery
Change Timex (Easy Reader) watch battery how to:

First; to open the watch, look around the edge of the case (back) for a very lightly etched triangle shape - which points to the not very large slot into which to insert the point of a pen knife (thick enough, but not too thick) to pop it open. You will likely find the point at one o'clock, if the stem is nine o'clock - probably adjacent to one of the wrist band holding arms. This is because the opening for the knife point is so insubstantial that you really need to lean the back of the knife against one of the band arms for leverage to pop the watch open. (Try to remember to line the insert slot - triangle point - up against one of the arms when you pop the watch back closed -- so you can open it again.)

Second; closing the watch back up; the big problem. If you try squeezing the back into the case from both sides you will end up in eternal see-saw with one side popping out when the other pops in. The trick is to start with both thumbs together on one side and gradually work them around the back in opposite directions, without letting either side come up (this takes fierce pressure) until both thumbs meet again on the opposite side, at which point that side will pop in without the opposite side popping out.

This takes so much pressure that I faced the crystal down on a paperback book (to give the crystal a little protection with the little give on the part of the book) and used the weight of my body to keep both thumb points fully pressed in as I worked my way around to the other side. (04/20/2008)

By Denis Drew
Replacing A Watch Battery
I have been fighting with a Timex watch back trying to get it back in and after reading the advice about moving your thumbs around from one side it popped in without any fuss. Thanks! (06/01/2008)

By Zeek Patoonski
Replacing A Watch Battery
After replacing the battery on a Timex I struggled to get on back on also. Here is how I finally got it back on. I got a pair of vice grips and two pair or pliers. I lined up the stem notch on the back, then put some folded paper towels over the back and the crystal, then clamped the back near the stem in the 3 position with the vice grips. Then, again using folded paper towels to protect the watch I clamped down with the two pair of pliers, one in the 5 position and one in the 10 position. The back snapped back into place with ease. (07/20/2008)

By Jamey Firnberg
Replacing A Watch Battery
After working at this for half an hour I read other sites that spoke of using a vice tool and getting the back centered "squarely" in place and applying pressure. Using that knowledge I put the Timex watch on the corner of a dresser with the band wrapped around the corner then pressed on the back with the palm of my hand.

Cover easily snapped back into place.

Picture of position on dresser follows.

Good luck. -- Carolyn B (07/22/2008)

By carolyn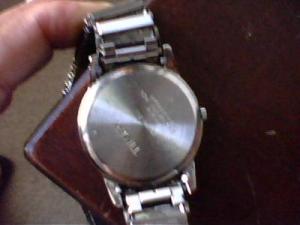 Replacing A Timex Watch Battery
A small wood chisel works to get the back off a lady Timex. There is a small wedge point about 1/8 inch long. Hold down the other side of the back with a piece of wood - feels safer. Try a CR1216 battery - $4.99 Radio Shack.

Place the watch face down on a plastic foam meat tray. Get a 3 or 4 inch screw C clamp. Place the tray and watch on the C of the clamp and turn to screw to press down the back of the watch. It slips into place before you can crack the plastic crystal. (09/06/2008)

By Carl
Putting the back of watch back on.
After I replaced the battery on my Timex watch, we could not get the back cover on. We'd push and one side would pop it but then the other side would pop off. We got pliers and pressed and when the other side popped out, we got a 2nd pair of pliers and pressed and it worked. (12/03/2008)

By cw
Replace watch battery now it won't work!
I replaced the battery in my dad's Timex watch and I can't get it to work now. Someone said that you have to "reset' some watches. How do I do this? The indiglo light works, but not the watch. I even tried two more new batteries.

Please help,
Don (12/22/2008)

By Don
Replacing A Watch Battery
Don,
My Casio watch has an indiglo backlight. Believe it or not, the watch actually has TWO batteries. The top battery (the first one you see when you remove the back cover of the watch) is for the backlight. Ends up that there is a second battery hidden underneath! This second battery actually powers the watch's timekeeping functions, turns the hands, etc. So, check to see if your watch actually has TWO batteries. I had the same problem as you and was scratching my head why the watch still wouldn't work after I changed the battery, but the backlight was okay.

Good luck!
Paul (12/27/2008)

By Paul
Replacing A Watch Battery
Replacing A Watch Battery
The back of a Fossil watch spins off. The store has a special tool for this but you can use the flat end of a screw driver to spin it. Carefully use the indentions on the back as points to apply pressure. This takes a little time and results in a few scratches on the back of the watch, but come on its the back. Once you get the back off the battery is in plain sight. (01/26/2009)

By jon
Replacing A Watch Battery
Thank you to Jamie Firnberg for the idea on using vice grips. It worked for me, after messing around for 30 minutes on trying to squeeze the back onto my Timex with my thumbs. (08/23/2009)

Read More Comments