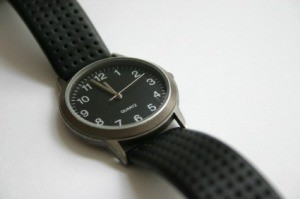 I bought a watch not realizing it was not water resistant. It got wet and now has condensation on the glass. How do I get rid of the condensation?
Sharon from Mililani, HI
Answers
By jean (Guest Post)
February 26, 2007
9

found this helpful
Best Answer
Put the watch in a small covered container with 1/4 cup uncooked rice. Let sit overnight. The rice draws out the moisture. The watch will work again.

Jess
Silver Post Medal for All Time! 267 Posts
July 19, 2017
0

found this helpful
Best Answer
It is definitely not just a joke. Rice has been historically used to protect camera equipment from humid environments and is also used in salt shakers to prevent clumping. While there are better desiccants out there (like silica and cat litter), rice is something that most people have on hand in case of an emergency. Better results are reported with instant rice because it has already been dried more than regular uncooked rice.
Answer

this Question

I have a beautiful Swiss Marin automatic watch. By accident it fell into a river and got wet inside, it took three days to dry out, but now it is not working. I opened it from the back and also when I shake it it starts running and in 10 seconds it stops again.
I love this watch and need it in running form:'(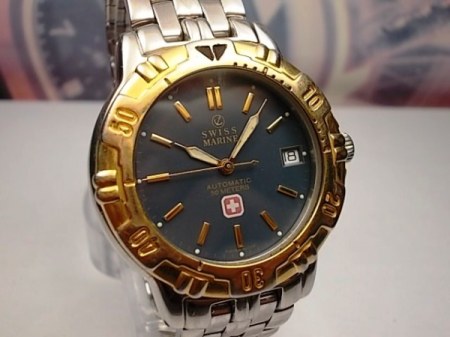 It is my favorite watch. What should I do?
Answers

November 13, 2016
1

found this helpful
Best Answer
If the back of the watch comes off, use a blow dryer on low heat to dry the inside of the watch -- works wonders. If possible, do this outside in super cold weather so that you end up with the lowest possible dew point inside your watch when you are done.
Allow the watch to cool before you put it back together.
November 29, 2016
0

found this helpful
Best Answer
I put watch face down on a bed of saltin a small tuperware container closed tight,let sit for 2 days and moisture was gone
Answer

this Question
How can i remove condensation from inside a watch?
By Rob J from Philadelphia, PA

Answers

June 14, 2012
0

found this helpful
Not sure if this will work but... I know that if you drop your cell phone in water and put it in a jar of rice (uncooked), the rice draws the moisture out of the phone. I've done it and it worked. You might try it with your watch.

June 14, 2012
0

found this helpful
Try leaving it on a sunny window sill for a few hours.

June 15, 2012
0

found this helpful
You need to take off the back of the watch (either screw or pry off) then remove the inner workings, if possible. Place everything under a lamp so the heat evaporates all moisture.
Leave as long as needed. If you don't open the watch up, the moisture will rust the inner workings. Hope this helps. I actually do this at work as I work in a jewellery shop.

June 15, 2012
1

found this helpful
To protect the watch, wrap it loosely in a thin scrap of cotton cloth (a handkerchief works well). Then place it on a layer of silica gel (used for drying flowers - available in craft stores) and add a layer of silica gel on top. Leave it for a day or two and all moisture will be absorbed.
November 3, 2016
0

found this helpful
If you drop an automatic watch you can break the delicate balance staff, this will stop it running like you describe. A good watch maker should be able to fix this. It may require a new movement, but this should not be too bad.
Most watches these days will take a quick dunk in the water, but if it isn't waterproof, I would probably think about spending the money on a good watch that's 100m water resistant like say a Seiko or citizen.
December 31, 2017
0

found this helpful
My new watch is a movement watch ie cant take the back off. I tried putting it on a radiator and leaving it for a few hours but it didnt work what shall I do???? Ps this is my 6th watch (all of the previous has either broken or I have lost them
Lol
September 4, 2018
0

found this helpful
How long?time place uncook rice my watch
Answer

this Question

How can I clean a watch glass inside without taking it apart? It has a haze to it in hot weather.
Thank you.
Answers

attosa
Diamond Post Medal for All Time! 1,246 Posts
May 18, 2018
0

found this helpful
Without taking it apart, you can try leaving it somewhere that stays warm. Maybe under sunlight or near the oven while you're using it. If that does not work, you might have a tiny crack somewhere in the edges that's letting the condensation in.
You'd want to get that fixed.

Judy
Gold Post Medal for All Time! 677 Posts
May 18, 2018
0

found this helpful
As far as I know, you cant. The condensation will rust the watch. Get it fixed properly.

May 18, 2018
0

found this helpful
When I was 16 and visiting my aunt, I went swimming in a pool and forgot to take my watch off. It got water in it and she took the back off and laid it out in the sun to dry out.
It worked for years after that with no problems. I think this was before battery operating watches. This one, you had to wind it up every day.

May 18, 2018
0

found this helpful
There can be several reasons a watch has condensation; even changes in the weather.
Is watch water resistant or supposedly water proof?
The watch may not be sealing properly which is letting condensation inside the case.
Clean and repair of watches is not cheap so get an estimate from a watch repair shop or jewelry store and then decide if the watch is worth the cost. If you decide that it is not worth the cost of repairs, then check out some of the suggestions on the Internet, especially YouTube.
It is not really that difficult to remove the face/back but if this is happening often then one drying out would not help.
For an inexpensive watch, you can just lay it near a warm area or even use a small fan or a warm hair dryer.

Hello
Bronze Post Medal for All Time! 107 Posts
May 18, 2018
0

found this helpful
i would also first try leaving it in the sun to warm up. And I guess this means the watch is not waterproof. Sometimes I know even with cell phones if they get wet and then dry out they still work.

December 24, 2018
0

found this helpful
My watch fell in a swimming pool it has water inside and I can't seem to open the watch what do I do
Answer

this Question