What is the best way to clean out jets in a jacuzzi tub?

Amy from Canada


Answers:
Cleaning Bath Tub Jets
I got a jacuzzi tub as part of my new house purchase in 1995. Since I had no idea how to clean the jets, I did what I do with my coffeepot. Fill the tub up over the jets, while doing so, add 1-2 cups white vinegar to the water. Run the jacuzzi for at least 20 minutes (mine has a timer). You will end up with a pretty dirty tub, but you can clean it with a bleach product made for bathrooms. I do this about once a month. Or if you would rather, why not use bleach instead of the vinegar. I chose vinegar mostly because I did not know what kind of parts were in the piping and jets (ie., plastic or metal). It is cheaper too. (01/15/2008)

By Mary Lou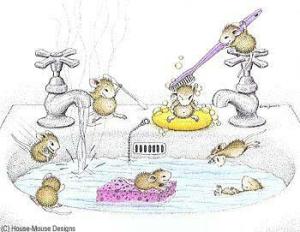 Cleaning Bath Tub Jets
I use a tooth brush and Clorox spray. It takes a lot of work to clean the jets. I spray the Clorox directly into the jets. It probably would be a good idea to follow up with vinegar! I would also suggest spraying jets daily after each use of your jacuzzi. (03/29/08)
(03/30/2008)

By Mika
Cleaning Bath Tub Jets
I used the Shaklee Basic H cleaner tonight to clean out the bathtub jets. Wow! Boy did this cleaner go to work.

I filled the tub with hot water over the jets, then I put 2 teaspoons Shaklee Basic H into the hot water right before I closed the water, so it mixed into the water a bit then I put on the jets for 20 minutes. At first it made a lot of suds, but they didn't over flow and it stayed that way for the 20 minutes. Just perfect. The suds worked out a lot of the scum that was still hiding in there. This stuff just pushed pretty near all of it out. After the 20 minutes I let out the water. The suds all around the tub had so much black pieces and wafer like gunk on it and the tub needed a good rinsing since there was a lot of this stuff in the tub.

I was so surprised since I thought it was almost clean after rinsing out the jets last evening with water a few times. I couldn't believe what came out tonight, but when I rinsed out the tub I noticed a pleasant surprise. The brass jets that were tarnished and had lime residue on them are now so clean and shiny. So I guess some of the dirt and gunk might have been the residue from the jets. My tub is also so clean and shiny. It was clean before, but now it really shines.

I then filled up the tub again with only warm water, ran the jets for about 15 minutes. Practically nothing came out. Now I know my bathtub jets are finally clean and disinfected.

I plan on doing this maybe once or twice a month, giving them a good cleaning like this. Getting out all the scum and soapy residue. I guess I would need to use 1/2 the amount if I use the new basic H2.
And Shaklee products are safe, natural, and environmentally friendly. (04/08/2008)

By Thornhill, Ontario
Cleaning Bath Tub Jets
I used the dishwasher detergent with hot water, ran it for 20 minutes, drained and refilled tub and ran jets with cold water. Seems to have worked well. (05/22/2008)

By Mynx
Cleaning Bath Tub Jets
The salesman told me to use liquid dishwasher detergent once/month. It worked well. Then I heard about using Tang drink crystals. Apparently this is an ingredient that will clean the jets and is safe for the environment. I'm trying it tonight. Will let you know. (01/18/2009)

By Dianne
Cleaning Bath Tub Jets
We have recently built a new home and installed a Jacuzzi. While I didn't want to commit to buying expensive solutions that may not work, I did want to explore my options. After trying several home remedy jet cleaning options offered on the internet, I kept wondering if the jets were truly clean. When I found this: Ah - Some Jetted Tub Bio Cleaner $2 trial offer, I had nothing to lose. I will admit that I was very apprehensive about the ratio of bio cleaner to water. It seems like such a minuscule amount of cleaner compared to a large volume of water. I am now a believer in the power of your cleaner. There is a tremendous amount of muscle in a half teaspoon. Wow!

I will definitely share a half teaspoon of this solution with my brother who has been using the home remedy treatments for several years now. I expect that you will not only have earned one loyal customer, but two. (01/25/2010)