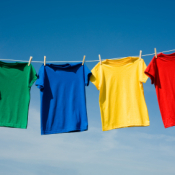 After many years of high washing and drying bills, I wanted to go back to a clothes line outdoors, even though I have devised a series of clothes line "poles" for one storage hallway adjacent to my laundry area indoors from 4-5' tension poles that local folks have tossed on their curbs over the past couple of years, their likely having upgraded their old homes to glass sliding shower doors.
Being my age, I well remember that the old clothes lines sag, rust, stain, and that it's almost an art or craft to get a clothes line that's sturdy enough to hold heavy wet laundry up, plus I am extremely limited on extra money for such things. Here's what I finally did that works so well:
At the dollar store I found two long vinyl wrapped dog leads that are 25' each ($5 each and I needed two) with wonderful chrome swivel heavy duty clasps on each end (originally designed and sold for exercising dogs, which is now illegal in our state!) I had two 6" heavy duty eye bolts, a large nail, a screwdriver and a hammer.
Killing two birds with one stone, so to speak, I knew that I had to do something about a leaning fence post or risk getting a fine from the city who is rather strict with their codes. So, I noticed that the only path available for the clothes line was also in line from the leaning fence post (luckily it was leaning towards the alley, away from my house) to a very old single but medium and sturdy tree and then to another thicker older tree.
I had my grandson to go to the back side of the fence and wait to push the post while I screwed one eye bolt into the fence post (started a hole with a nail) turning it with a thick screwdriver through the bolt eye hole, as he pushed the post towards me.
Then I attached the first lead wire's clasp to the second lead wire's clasp and walked it to the middle tree in the path between the post and large tree, wrapped it around the medium tree once, following on to the large tree with the line in one hand and the other screw-type eye bolt and tools in the other, then wrapped the vinyl line around the mature tree's largest head-high trunk branch and held it while I screwed the second eye bolt into the large tree, at approximately the same height as the other end, then attaching the chrome clamp to the eye bolt.
In testing the tautness of the line, I saw that it needed tightening a bit, so I went back to the fence post and noticed that it was not yet straight enough. I began to slowly turn the large eye bolt more and more until it both straightened the post and tightened the clothes line.
It is thick red vinyl wrapped, making the line easy to see for walking under it, hanging clothes from it, and is weather resistant and a classy cheap addition to my yard, considering the alternatives. It cost about $11.65 for the whole clothesline of approx. 50 Feet. It should last for several years and be a cheap and easy thing for me to replace one day in the future, requiring no ugly metal poles at great expense, no ropes to rot, no rusty wire.
Now I can hang our thickest clothing and linens to be air and sun dried, especially after we've been sick for so long. It saves money, smells delightful and fresh, and is just what I truly needed for laundry on dry warm days.
For me, a third advantage is that the mature rose bush I have hoped to be able to train on some sort of arbor, won't have to go yet another year without support. Even it can be supported by a segment of the clothesline near the fence as it arches towards the sun in great anticipation of coming days.
Source: source: me and none other
by Lynda from Richardson, TX
Read More

Comments

Has anyone ever make a clothesline from a faded patio umbrella? I think you could simply remove the cover, then drill holes in the spokes, and lace the line though the holes. Does anyone want to try it and let us know? It seems like a great use for re-purposing an old faded umbrella, right?
By Suzie from Seattle
Answers

May 5, 2009
0

found this helpful
Drilling holes in the spokes may be difficult---try tying the rope around the outside edges, like making a spider web. Then try to tie another row in closer toward the center, just making sure that there is something to 'catch' the rope, so that it doesn't slide down the spokes of the umbrella.

May 5, 2009
0

found this helpful
My umbrella is made of wood, so drilling would not be difficult. However, I can see how drilling holes could weaken the spokes. Thanks for giving me some insight.

May 5, 2009
0

found this helpful
Hmm, interesting! The clothesline idea sounds do-able, if the spokes are strong enough, and it's not super windy like it is where I live. I got tired of only being able to use my umbrella on calm days, so.
Here's what I did with my old patio umbrella: I re-purposed the cloth into a very large roll-up sun shade (like a bamboo blind) for the west side of the patio. It took a long time to detach each piece of fabric from the spokes and then pick off the plastic reinforcing material with a seam ripper. I then sewed the pie wedge-shaped fabric pieces together so they form a large rectangle. Then I got some long 1 x 1s for the top and bottom, and attached it to my pergola using bungee cords. It stays rolled up until I need the shade late on a summer afternoon.
I disassembled the umbrella hardware and used the umbrella pole for a bird feeder (the angled section makes a good "branch"). I drilled a hole through the end of the angled section to put rope through to attach the bird feeder to.
I probably still have the umbrella spoke assembly in the tool shed. I'll have to check and see if I can make a clothesline out of it - without the pole, I'll have to be creative about supporting it and how to place it. You've given me another project to ponder! Thanks!

January 21, 2017
0

found this helpful
I dry clothes on mine daily during warmer months . One hanger per spoke on umbrella. They smell so fresh too!
Answer

this Question