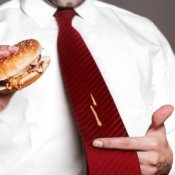 What can I use to clean a mustard stain from a white cotton shirt?

J. Losasso

Answers

August 15, 2005
0

found this helpful
Yellow mustard stains are notoriously difficult to remove from clothing. Rub glycerine into the stain and let soak in before washing. You may need to rinse the spot with cold water and add more glycerine before washing if the spot is really stubborn.
By truerblue
By Tom (Guest Post)
August 18, 2005
0

found this helpful
J,
One hint is to use white cleaning cloth so the cloth won't dye the item you're cleaning. Good Luck.
By Ange Watts (Guest Post)
August 18, 2005
1

found this helpful
The most effective method I have found for removing stains consists of water and Cascade (actually, I use the Wal-Mart generic brand). Just fill one side of your kitchen sink with warm-hot water. While it's filling add some powdered dishwasher detergent. Mix with your hand or whatever till dissolved.
Then place your garment in the sink. Swish it around a little bit to saturate. Let it sit overnight and the next morning throw it in the washer. You'll be amazed! The stain will be gone when you pull it out of the sink in the morning.

August 22, 2005
1

found this helpful
Oxygen (all-fabric) bleach makes a great presoak. Make a strong solution by dissolving the recommended amount for a full washload in a container big enough to immerse the shirt. Soak as long as you want, all day if necessary. (Use hot water unless you're worried about shrinkage.) Use more oxygen bleach in the washer. Repeat if necessary. For white cotton, you can also use the old standby, chlorine bleach, but be sure to follow the directions. It can weaken the fabric, causing holes.

August 22, 2005
0

found this helpful
Will the glycerine solution work on a sweater that has already been laundred and let hang dry?

August 28, 2005
2

found this helpful
There is a laundry product called "Biz" It comes in a powder. Make a paste, put it on the shirt, leave overnight then wash. My niece's baby smeared mustard all over her white handsmocked dress at a wedding reception.
An elderly aunt shared this tip and it worked perfectly for her and has for me as well!
By dude with mustard stain (Guest Post)
October 25, 2005
0

found this helpful
I just used BIz and was suprised that it removed a mustard stain from a shirt I already washed. Big up to speedmom.
By Kayla (Guest Post)
June 3, 2008
1

found this helpful
Well if it's a white shirt you should deff use bleach with hot water, theres a 100% chance that this will work for you, my mom uses it alll the time and if it's coulored clothes use something like oxy deep now that stuff works!
February 18, 2016
0

found this helpful
to get mustard out of a shirt I put some tide liquid laundry soap and rub it on the stain let it soak then I put some spray and wash on it after one day and wash itif for some reason the stain is still there lightly do it one more time but do not dry the material until the stain is gone or it will never come out

March 23, 2017
0

found this helpful
Barbadsol shaving cream. Scape off dry mustard and apply shaving cream. Let sit briefly and gentle massage stain area till shaving cream is rubbed away.
Rinse in cool water, dab excess water and let dry.

February 6, 2018
0

found this helpful
I just used water and laundry detergent and scrubbed and it came right off!

November 11, 2019
0

found this helpful
Fortunately the mustard was on a white part of my shirt and had been dried on for several days. I just used a cotton swab and rubbed it with plain clorox after trying everything else and the stain disappeared .
Answer

this Question