Making a Headboard
Solutions
Share on ThriftyFunThis page contains the following solutions. Have something to add? Please share your solution!
A cheap (new or used) door can make a good headboard. Laid on it's "side" of course and attached to the wall. Gardening fencing (iron, metal), or garden decorations of metal (2 or 3) look good also. Just attach to the wall.
By Vicki from Dallas, TX
My daughter and her husband have a huge bed and when the moved they needed a headboard. They decided to make it themselves.
They got a 4x6 foot sheet of plywood and covered it with this beautiful fabric that turns from brown to red to gold depending on the light. Instead of buying a large piece of foam rubber, they got one of those space foam mattress cushions. It was almost half the price, and regular foam turns brown and degrades over time.
They wanted an upholstered look with buttons, but wanted to simplify the project. Instead, they went to the home improvement store and bought brass drawer pulls and just screwed them through the fabric, the super foam and into the 3x4 inch plywood, with nothing poking out the back. The knobs had a short shank and worked perfectly.
The headboard is just beautiful and looks so professional with very little effort or money. The whole project cost less than $50.00. The only thing left to do was hang it on the wall.
I hope this little ditty helps inspire you and elevate your creativity. I know it did for me.
By Soo from Oroville, CA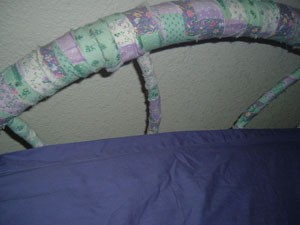 This is not only decorating, but crafty as well. I had an older style futon for a bed frame, and it was black shiny metal. Not conducive to a nice lilac and mint green bedroom. I had a bedspread that I loved but it was a square and never fit on the bed, so I cut it into strips and "wrapped" the entire bed frame in it. I didn't do the side supports, but did the head and foot boards all the way to the floor.
It's a cheap way to decorate, and only takes some hot glue, some fabric, and some time. I made sure I always glued in the back wrap, so in case the glue came through the fabric it wouldn't show. It's a nice effect and didn't cost me anything!
By Sandra from Salem, OR
I used a wooden drapery rod to make a holder for fabric or a quilt or bedspread to use as a headboard. It is cheap, fast, and can be changed quickly. Just be sure to use lightweight fabrics, or put a support in the center of the pole for heavy items.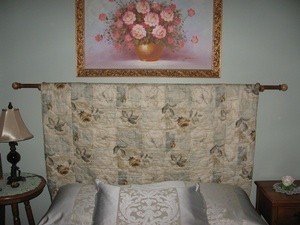 Read More...
Questions
Ask a QuestionHere are the questions asked by community members. Read on to see the answers provided by the ThriftyFun community or ask a new question.
Husband and I just got rid of our waterbed, and have gone to a regular bed. But we can't find a headboard we like. We are thinking of making our own, but need ideas. We live in a new house, but it was built to resemble an old farmhouse. We have antiques all throughout the house, so, we are wanting to keep with this theme.
So far, my ideas have been to make a headboard (king) out of:
old barn doors
old wood panel door turned sideways
2 or 3 wagon wheels side by side
We would like more ideas, and husband is wanting something perhaps with a shelf.
By mom-from-missouri from NW, MO
Answers
May 30, 2012
0

found this helpful
Best Answer
I love the old barn doors look. That would be amazing. Especially with the farmhouse style you have.
Answer

this Question

...
I am in need of suggestions for raising a wood footboard in height so it can be used as a headboard. Through a series of events, the actual headboard was lost, but I have the footboard that matches my bedroom furniture and would like to use it as a headboard now.
The bed and footboard are queen sized but in order to have all the furniture in the bedroom, the bed must be placed in front of a set of double windows so the footboard can not be hung on the wall itself. The posts at each end measure roughly 4in by 4in and are carved at the top (like big dowel posts) and extend about 14in above the middle section. That section has supports that brace the posts to it and could have something fastened to it for the height and not be visible from the front, but I am not sure what to use there or below the squared bottoms on the posts. Any suggestions would be greatly appreciated.
Thanks,
Pat from AL
Answers
By Linda (Guest Post)
March 25, 2007
0

found this helpful
Could you possibly just use the bed risers that they sell to lift your bed for storage under it? They are very-VERY, hard plastic and available in 4 inch and 6 inch height. And your bed post nest inside the top of them? Hope this helps :) good luck.
Linda
Arrowsmith, Il.
By jean (Guest Post)
March 26, 2007
0

found this helpful
To raise the height of the footboard 4-6 inches, you could get those rubber storage blocks which are meant to raise the bed so you can put storage containers under it. The legs of the bed frame fit into them. These can be bought where you buy closet and storage items at Home Depot/Lowe's.
Could you use whatever held the footboard on the bed by reversing the bed frame?
March 27, 2007
0

found this helpful
Have you thought of just bolting the footboard to a couple of 2x4"? The footboard could be brought to the correct height by insetting the boards so they don't show from the sides and just bolt them in, or you might want to build a 2x4 frame to attach it .
March 28, 2007
0

found this helpful
How about a porch post bought from the home improvement center? They look a little decorative; one post, cut in half, and then stained to match your footboard, then attach to the bottom legs of the footboard. You could drill out holes into the porch post sections to slip the footboard legs into the porch post.
May 19, 2014
0

found this helpful
You can buy "L" brackets from the home improvement store, or triangular-shaped brackets to screw into the wall below the windows, on which to set the foot-board, just like you would if making a shelf. You might be able to screw them onto the foot-board itself or just rest the foot-board onto them.
Answer

this Question

...
Archives
ThriftyFun is one of the longest running frugal living communities on the Internet. These are archives of older discussions.
I want to make a queen padded headboard using Styrofoam. How would I attach it to the wall? I want to hear from anyone who has made their own headboard.

Betty from Lubbock, TX

Answers:
Making a Padded Headboard
I think you should use 1/4 inch thin plywood and glue the styrofoam to the front. Why would you use styrofoam instead of foam rubber? Attach the plywood to the wall using "L" brackets or long drywall screws. (02/02/2008)

By Little Suzy
Making a Padded Headboard
I mean using styrofoam INSTEAD OF PLYWOOD. I saw this on one of the decorating shows sometime ago but it did not show how it was attached to the wall. Styrfoam was used making it lighter; it was padded and covered like the board. Thanks for the tip about the L brackets. (02/03/2008)

By
Making a Padded Headboard
I made my own padded and upholstered headboard once. I understand that using styrofoam would make it lighter, but I don't think it would be very sturdy, and would be more likely to come off the wall. Maybe you could attach the styrofoam to a very light piece of wood, like luan, just to give it some stability. (02/05/2008)

By Beth
Making a Padded Headboard
I made a headboard using foam poster board. I stapled 2 together and reinforced with strips across the back. Covered it with thick batting and a light fabric. I then made a slipcover of suede cloth. At this point you could tie in buttons if you wanted it tufted. I didn't because I use the light material for summer and the suede for winter. I put a 1x2 inch line with the connections on the bed frame and intended to connect it to the frame. I have not gotten that far because I stuck it behind the bed and it stays just fine. Turned out very nice and really inexpensive. (02/06/2008)

By Graycrab
Making a Padded Headboard
They used velcro. (02/08/2008)

By Denise W.