Here are two tips for the less handy among us.
After making one cut into the handle of a popular coffee can, I ended up with a weather and bug-resistant container for my clothes-pins. One for each line, just slide it as you hang out the clothes. Thinking about it now, connecting the lid with a piece of string would keep it handier than picking it off the ground.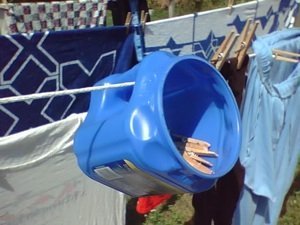 Inspired by this, I took my trusty steak knife and carefully carved an opening in the corner of another can. And I twisted a small hole into the handle to accept the screw hook. Now the birds have another alfresco dining spot.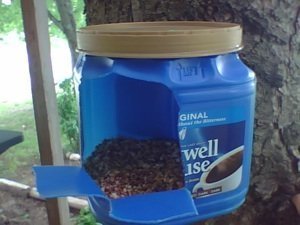 At least now I'm not tripping over empty containers I knew could be used for something.
David from Cheboygan, MI

This is a craft my 2 year old loves to make. She loves to shake up the marble in the coffee can and then take the lid off to discover her masterpiece. She also likes to watch herself shake the can in the mirror. So cute!
Supplies:
Recycled coffee can
Paint
Marble
Paper
Instructions:
Cut a circle of paper to fit in the bottom of a recycled coffee can.
Place the paper in the coffee can, roll the marble in desired paint color, and drop the marble in the can.
Add the lid to the coffee can and shake it up!
Remove the lid and repeat with other colors if desired.
Remove paper and allow to dry. Do several circles of paper!
Hang individual pieces of paper to display, or attach to a string to keep them all together. This is a fun way to paint for even the youngest artists!
By Jayme from Harrisonburg, VA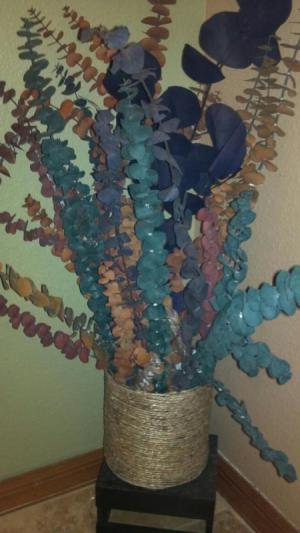 This is a recycled empty coffee can. No need in buying the expensive flower pots and vases.
Approximate Time: 1 1/2 hour
Supplies:
rope or jute
glue gun and glue
empty coffee can
Instructions:
Start at the bottom of the can, apply hot glue half way around.
Gently glue.
Continue until you reach the top. Being very careful that you keep the rope very tight and close so that you can't see the can at all.
By Sharon from Lakeland, FL
This is a pencil and pen holder made out of a plastic coffee container. It uses hair bands, assorted beads, and decorations. There is no glue used, but in the case of the foam heart I used a bit of duct tape.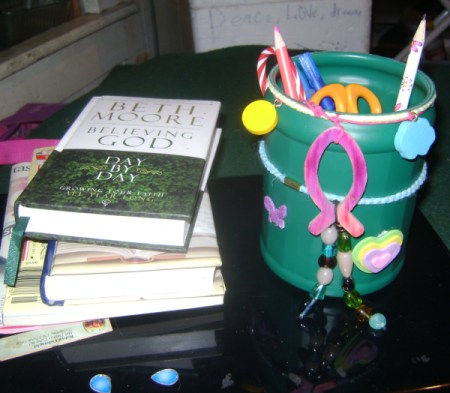 Read More...