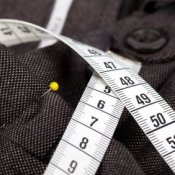 The most important thing to remember about sewing a great fitting and looking pair of pants is to take your measurements properly (and honestly:) and read the pattern size to make sure you have the right pattern for your measurements.
There are several great websites that show you how to take your measurements before sewing a pair of pants. Below is one of my favourites:
Then, after you've measured properly, found the right pattern, fabric, notions, etc., you are ready to sew the perfect pair of pants in that lovely (and probably expensive) pants fabric. Or are you?
Next highest priority in making pants that fit is to try making the pants in a muslin. This is a sewing word for a test make-up of the pattern. Sewing a test helps you figure out where you may need to make pattern adjustments, before making the pants with the 'real' fabric. A muslin is always a good idea, but you use an old bed sheet, or something else inexpensive.
Remember to factor in the weight and drape of the fabric you really want to make the pattern up in, as that will make a difference in pattern adjustments. Making adjustments based on a muslin made with a thinner fabric, for example, will result in the pattern made up with the 'real' (thicker) fabric possibly being too small.
You may choose to start learning to make pants by trying one of the pyjama patterns available from the major pattern makers and this is a good way to learn the basics of pants making.
Pyjama bottoms usually feature elasticated waists with drawstrings, are more baggy than regular pants, and don't have a lot of fussy sewing on them. Usually there are no more than three pattern pieces to a pyjama bottom and construction is simple. You learn techniques like inserting a pocket and creating a waistband casings for example; skills you can use over and over in garment sewing.
Pyjama bottoms are pretty easy to sew, but you should still follow the basic rules of sewing which are:
Measure carefully and write down the measurements.
Read all of the instructions and study the construction diagrams before you cut a single piece of fabric!
Lay ALL your pattern pieces out on the fabric at the same time before pinning and cutting to make sure you have enough fabric to match naps, stripes, or other patterns in the fabric. Try using the suggested lay-out printed in the instructions. But you can try a different lay-out if you've got fabric in different yardage and widths than called for in the pattern. This happens to me a lot because I repurpose fabric I've salvaged from other clothing or household linens.
Make sure to transfer the markings immediately after cutting each individual pattern piece, and make sure you transfer ALL of the markings. Remember to mark the front of the pants, too, so that you avoid sewing the wrong pieces together. The first time I sewed a pair of pants I sewed the pant legs together in the wrong order and those were some strange looking pants! I didn't pin or baste because I was SO sure I knew what I was doing, lol! Lesson learned, and mistake never made again.
Pin, baste, and fit before sewing the seam. It's easier to remove pins and basting if you've got it wrong (see above:).
Have a plan for finishing off the raw edges of the seam allowances. Be sure to finish each seam allowance as soon as you've sewn the seam. If you have a serger this is already done for you. If not, you can press the seams open, then fold each flap in half and run a zig-zag down the fold on each flap to keep the edges from raveling.
Keep a notepad handy to write down anything that comes up during construction, that will be a help to you in making the pattern again.
I just finished making the second of three pairs of PJ bottoms and having those notes really helped! The pattern instructions weren't written with a beginner in mind for all the pattern maker had labelled this pattern "Easy".
I teach sewing and the only way I got those pants together the first time I made the pattern was because I already knew how to sew, and I made notes all over that pattern, lol! My husband really likes the fit on these, so when I went to make him another pair it was very helpful to have those notes. It saved me a lot of frustration.
After you've learned to sew a good pair of pyjama bottoms you should be ready to move onto a simple pair of pants you can wear out in the street; a little more fitted, maybe with belt loops and a zipper closing. You can then move on to more complex patterns with linings, top-stitching, designer details.
By Frugal Sunnie from Scotland
Comments
Chelle152
Bronze Photo Medal for All Time! 88 Photos
December 7, 2011
0

found this helpful
I've always wanted to learn to sew! I can do basics: Re-sew a seam, put a button back on, etc. But, with all the new clothing styles getting skimpier and more harlot-like, I'm really hoping to be able to learn to sew my own outfits! Great tips here!

December 7, 2011
0

found this helpful
Thank-you Chelle152! I know exactly what you mean about 'harlot-wear', and it's the biggest reason I started sewing again in the mid-nineties. I have always preferred classic styles and home-sewing makes wearing those styles simple.
The majour pattern companies all have 'vintage' or 'retro' patterns, too, if you are looking for really classic styling!
When starting out making your own clothing or when using a pattern with features you've never sewn before, always look for patterns marked 'easy', 'learn-to-sew', 'beginner' or 'learn-a-new-technique'. Those patterns aren't always as easy as the maker claims, but going at the construction slowly will usually get you a wearable garment.
Something else to remember when looking for an easy pattern to start with is to look at the line drawing to see how many seams you'll need to sew. Every line marked on the drawing is a seam-meaning a pattern piece that has to be joined together.
The general rule for easy patterns is less than five pattern pieces.
The nice thing is that I've sewn many garments with less than five pieces that look fantastic, fit wonderfully, and garner compliments.