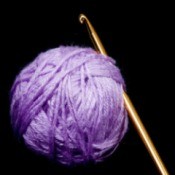 As I sit under this old crocheted quilt, I am reminded of teaching my grandma how to crotchet. She was a single mom and worked all her life in the box factory making boxes to feed and raise my dad. Grandma had retired about a year earlier. In the summer and on late afternoons during the rest of the year when I was young, we sat on the porch talking and I crocheted blocks. She said all her sisters and friends did this, but never could teach her since she was left-handed.
As I was looking into the mirror, I realized my reflection was in reverse and this was the key to teach her. I told her of my discovery and asked her if she wanted to try. She said she would give it a whirl since she had plenty of spare time since now retired and it would give her something to do. She said that "I am never too old to learn and with God all things are possible."
I sat in a chair facing her, telling her to watch and copy what everything she saw. In less than 1 hour she was crocheting blocks. During the summer as we sat on the front porch, we raced to see who could finish first and she went faster trying to beat me. I encouraged her and as she practiced, she got faster and better at crocheting. We also raced to see who made more blocks for the week. We kept all the blocks until we had enough for a blanket.
When I was in school, she won the weekly block contest. Back then, the neighbors would take walks in the afternoon. As they stopped by when passing us for a drink of water she offered, she proudly told them that she was over 70 years old and her 10 year old granddaughter had taught her how to crochet; when everyone told her all her life that she would never learn. They liked her work so much, she often received orders and had a waiting list.
In the late fall and winter, I laid the blocks out on her old feather bed and pinned the rows together. Then we took the rows to the front porch, sewed them together and covered with them as we went. Grandma continued to make blankets till the end of her days; getting more orders then she could keep up with. This gave her a lot of extra money and I made money too while enjoying my time with her.
I was so proud of Grandma. I thank God for letting us enjoy her end of day together and showing her something that she loved and always wanted to learn.
By Kathy Bourg from Jefferson, LA
Read More

Comments
I want to learn how to crochet. What's the easiest way to learn?
By k.sowders from KY

Answers
February 6, 2010
0

found this helpful
Maybe you can get books from library or a fabric store, good luck.
February 6, 2010
0

found this helpful
The best project to learn with is a basic granny square. There are endless different projects you can make using granny squares. Plus once you are good and familiar with making it, you can very easily learn the other stitches, and can learn to make other projects as well.
Here is a very good site to learn from. crochet.about.com/
It has tutorials, pictures, as well as videos to guide you. And best of all it's free! Welcome to the wonderful world of crochet!
February 7, 2010
0

found this helpful
Go to YouTube and type in "beginner crochet" and you will find lots of lessons. Good for you for wanting to learn!
February 9, 2010
0

found this helpful
I've found that line drawings work much better for showing you where to insert the crochet hook than videos or photographs. Go to www.craftyarncouncil.com/.../28 for single crochet instructions. You can click on the left for instructions for the other stitches. Once you learn, you'll love crochet. There's no end to what you can create!
February 15, 2010
1

found this helpful
The way I liked best was to watch a crocheter as she stitched.
For written directions with pictures, go to:
http://www.craftyarncouncil.com
in top line under name of site, click Learn
under that click Getting Started
under that click Chain and Single Stitch
See below for pic of beginning a chain from this site. That will get you started. More types of crochet stitches are on site. There are also easy patterns. Happy crocheting!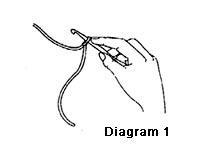 Answer

this Question