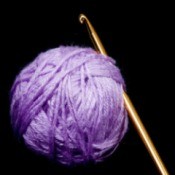 As I sit under this old crocheted quilt, I am reminded of teaching my grandma how to crotchet. She was a single mom and worked all her life in the box factory making boxes to feed and raise my dad. Grandma had retired about a year earlier. In the summer and on late afternoons during the rest of the year when I was young, we sat on the porch talking and I crocheted blocks. She said all her sisters and friends did this, but never could teach her since she was left-handed.
As I was looking into the mirror, I realized my reflection was in reverse and this was the key to teach her. I told her of my discovery and asked her if she wanted to try. She said she would give it a whirl since she had plenty of spare time since now retired and it would give her something to do. She said that "I am never too old to learn and with God all things are possible."
I sat in a chair facing her, telling her to watch and copy what everything she saw. In less than 1 hour she was crocheting blocks. During the summer as we sat on the front porch, we raced to see who could finish first and she went faster trying to beat me. I encouraged her and as she practiced, she got faster and better at crocheting. We also raced to see who made more blocks for the week. We kept all the blocks until we had enough for a blanket.
When I was in school, she won the weekly block contest. Back then, the neighbors would take walks in the afternoon. As they stopped by when passing us for a drink of water she offered, she proudly told them that she was over 70 years old and her 10 year old granddaughter had taught her how to crochet; when everyone told her all her life that she would never learn. They liked her work so much, she often received orders and had a waiting list.
In the late fall and winter, I laid the blocks out on her old feather bed and pinned the rows together. Then we took the rows to the front porch, sewed them together and covered with them as we went. Grandma continued to make blankets till the end of her days; getting more orders then she could keep up with. This gave her a lot of extra money and I made money too while enjoying my time with her.
I was so proud of Grandma. I thank God for letting us enjoy her end of day together and showing her something that she loved and always wanted to learn.
By Kathy Bourg from Jefferson, LA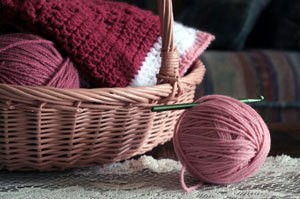 I started crocheting when I was a teenager. I went to visit with my great Aunt Reba and I was bored to tears. She gave me a ball of yarn and a hook and taught me how to single crochet. To this day, I think of and thank my Aunt Reba for teaching me this wonderful skill. The only problem was that she lived many miles away so when I wanted to learn more, I was out of luck. My mom was a knitter and did not know the first thing about crocheting so I went to the library and checked out some books. It took me quite awhile to learn the patience to finish a project and I always had a few mistakes, but I learned to keep at it. I have learned quite a few tricks and tips that would help any beginner so I thought I would pass it on.
Read And Understand The Pattern
First learn to read a pattern; sometimes those abbreviations can be tricky. Make yourself a little chart and keep it with your crochet hooks, that way if you come across a DCFP and are not quite sure which stitch they mean, you can look it up. Even now, I have one that I have laminated and keep with my hooks in a picnic basket where I keep my stuff. Here are two tips for reading patterns: The term "turn" in a crochet pattern means to turn the work over and crochet in the opposite direction. And the asterisk ( * ) is used in a pattern to specify the repeating of certain instructions. For example, if a pattern says " * sk next st, dc in next st. Repeat from * across." This means that you skip the next stitch and do a double crochet stitch in the next stitch then you back up to the * and do it over and over till you get all the way across. Sometimes a pattern will contain an asterisk on both sides of a set of instructions. In this case the pattern should state that these instructions are to be repeated somewhere in the project.
Be Familiar With Hooks And Stitches
Always work a gauge swatch also. It is always easier to change hook size in the beginning than when you are making your actual pattern. Always read through your pattern first before you start. It is easier to learn a new stitch by making a chain and practicing then trying to do it in your actual project. It is kind of like cooking, you would not cook a new recipe without making sure you had all the ingredients. If you are having trouble keeping your place in a pattern, there are quite a few ways to mark your place, you can mark each line with a different color marker as you finish that row. You can cover up the rest of the pattern with a sticky note so that just the row you are working on shows. I have a friend that cuts her patterns apart and puts each row on an index card and then puts a ring through the corners and flips her way through patterns. You just need to find what works for you.
Hooks
You will find as you become more experienced and have worked through some patterns that not all patterns take the same size hook and that keeping track of your hooks can be a pain. There are many sizes of crochet hooks so here is an easy way to remember what size for what project. Most thread crochet hooks are marked with numbers and most are made out of steel and are silver in color. The bigger the number, the smaller the crochet hook. Yarn crochet hooks are marked with the letters of the alphabet. You can buy yarn crochet hooks in aluminum or plastic. They come in many different colors. You can also buy wooden hooks that have been hand carved, but they are very pricey. (But would make a great gift).
Another great tip for buying hooks: I found that there are many vendors on eBay that sell lots (meaning large quantities) of crochet hooks. I have bid and won some of these large lots that had between 25-30 hooks for around 15 dollars. Now what in the heck does she do with all those hooks? Well, I made sure that I had 2 full sets of hooks and then I gave a lot of hooks away as gifts. On some of the hooks, I was paying less than a dollar.
There are many ways to store your crochet hooks, but here are some of my favorites. The large mini M&M tubes make great holders for hooks and they come in a lot of colors. The regular size also makes a good holder for needles. This makes your hooks portable. I have also made crochet hook cases out of yarn using a pattern. I have used tubes that beads and buttons have come in. You can also store your crochet hooks in a zippered pencil or cosmetics bag or a pencil box. I always have two complete sets of hooks, one for traveling that I keep in my purse or backpack, and one that stays at home. My husband took a piece of two by four and drilled holes the sizes of the handles of my hooks so that I could have permanent storage for the ones I use in my family room. They stand up and are right there when I need them. To make it more fancy and I have had him make several for gifts, I decoupaged a picture on the wood before he drilled the holes, then stained and varnished them. They were beautiful.
Patterns
Now on to pattern storage. I have a syndrome called PAS. That stands for Pattern Acquisition Syndrome. I never found a pattern I did not like. This meant that I spent a lot of time on my computer copying, pasting, and printing all those free patterns you can find on the web. I have found that there are two things that make my life easier, first is to have a CD burner so that I can make a permanent record of the patterns. Second is to have a good printer. When I am at yard sales or my favorite thrift store, I am always on the lookout for used binders. I print my patterns out and put them in the binders. I use index pages to separate patterns and I try to keep them in categories like babies, afghans, etc.
When I find a pattern I like on the internet, I highlight the whole thing, go up to edit and hit copy and drop it into my Word program. I use Word because it will import the pictures that usually come with a pattern. I then name the pattern in Word. In My Documents, I make a folder that says, for instance, "Baby Afghans" I'd I move all the baby afghan patterns into this folder and then I burn a CD. Now if I write all over the pattern or my friends want a copy, I can pop in my trusty CD and print them one. For the crochet books I buy, I punch holes in them with a three hole punch and arrange them in binders also. I also researched the many different stitches you can do on the internet and made myself a stitch guide with instructions on different stitches. Most of these come with pictures and I find them very handy.
Yarn
Yarn also has a syndrome you may find yourself afflicted with and that is YAS which stands for Yarn Acquisition Syndrome. Knitters and crocheters both find themselves afflicted with this. Here are a few yarn buying tips if you find that you just can't help buying yarn. Always buy your yarn on sale! Michael's and Hobby Lobby usually, every week, have some kind of yarn on sale. Always keep your eyes peeled for yarn at your favorite thrift store. Places like Goodwill and DAV usually bundle yarn in bags and hang them on the walls. You can usually get lots of small skeins for a reasonable price. Look for hand knit and crocheted items in good condition these can be taken apart and the yarn used for other projects. Yarn is made from different materials some of which are acrylic synthetic yarn, wool, and yarns made from cotton and other natural materials.
Here are a few explanations about yarn so you know what you are buying. Yarn comes in many weights and diameters so here I will try and give a simple explanation of weights:
Fingering yarn is very thin and has a very small diameter just a little bigger than sewing thread. This is used in socks and some baby items.
Sport weight yarn is the next weight up and it can be used for baby items, baby afghans, and clothing items.
Worsted weight is the most common yarn and it is used in afghans, clothing items, and decorator items.
Bulky and chunky weight yarns are very thick and are use for afghans and heavy sweaters.
Handy Tips
Here are some handy tips that I have come up with to help you with your projects.
When I am starting a project, I put safety pins in every 10-20 stitches so I don't have to keep recounting my chain.
When crocheting two strips or two squares together, always use a small crochet hook (smaller than the one used) to avoid bulky seams.
Always weave yarn ends in as you are crocheting whenever possible. Your project will look neater and this eliminates having to do it all at once at the end. This is especially good when working with strips or squares or any motif.
If you stop crocheting on your project, insert a paper clip on the stitch still on the needle. You will never lose that stitch. When you pick up your project, just take the paper clip off, and insert your needle.
Always roll your leftover yarn into balls, they are easier to store and do not get tangled as easily. Store your yarn by color in clear plastic storage boxes, this will make it easier to find what you need when you need it.
To determine how much yarn or thread you will need for a project, see how many motifs (or rows) you can get out of one skein of yarn or ball of thread. Then figure how many motifs/rows it will take to make the project as large as you want. Divide the number of motifs/rows you need for the project by the number of motifs/rows you got out of one skein or ball and you have how many skeins or balls you need to buy to finish the project. Stiffening or starching your projects can be done much easier if you get yourself a piece of foamcore board and take a ruler and mark out one inch squares on it for blocking doilies and other items. You can cover this with plastic wrap and lay out your pieces and know exactly how big your finished piece is.
I am not a big one to crochet with thread, but I do make some pretty great fingerless gloves for proms. I found this tip from someone on the internet, but I use it all the time and have found it is a great way to recycle those spools you get when you buy blank CDs to burn. I used an empty blank CD holder. I use a standard drill to drill a hole on the side of the cover (near the top). I place the ball of yarn over the post in the bottom and feed the yard through the hole on the side and then lock the cover in place. I've also found that if I cut a piece of the non-slip drawer liners and glue it to the bottom of the CD holder it will stay in place when I pull on the yarn.
When using up leftover yarn and you have different weights remember that you can hold two strands together of a lighter weight yarn to make it more bulky.
One last tip: Make this the second side of your abbreviations chart so you always have it handy.
2 strands of fingering weight yarn = 1 strand sport weight yarn
2 strands of sport weight yarn = 1 strand of worsted weight
2 strands of worsted weight = 1 strand of bulky
3 strands of worsted weight = 1 strand of super bulky or chunky weight yarn
Hope this helps answer some of your questions and gives you some ideas how to make your love of crochet easier. Happy crocheting!
Editor's Note: Here is a link to some basic crochet abbreviations. Beginners may want to print this out as a reference.
I want to learn how to crochet. What's the easiest way to learn?
By k.sowders from KY
Answers
February 6, 2010
0

found this helpful
Maybe you can get books from library or a fabric store, good luck.
February 6, 2010
0

found this helpful
The best project to learn with is a basic granny square. There are endless different projects you can make using granny squares. Plus once you are good and familiar with making it, you can very easily learn the other stitches, and can learn to make other projects as well.
Here is a very good site to learn from. crochet.about.com/
It has tutorials, pictures, as well as videos to guide you. And best of all it's free! Welcome to the wonderful world of crochet!
February 7, 2010
0

found this helpful
Go to YouTube and type in "beginner crochet" and you will find lots of lessons. Good for you for wanting to learn!
February 9, 2010
0

found this helpful
I've found that line drawings work much better for showing you where to insert the crochet hook than videos or photographs. Go to www.craftyarncouncil.com/.../28 for single crochet instructions. You can click on the left for instructions for the other stitches. Once you learn, you'll love crochet. There's no end to what you can create!
February 15, 2010
1

found this helpful
The way I liked best was to watch a crocheter as she stitched.
For written directions with pictures, go to:
http://www.craftyarncouncil.com
in top line under name of site, click Learn
under that click Getting Started
under that click Chain and Single Stitch
See below for pic of beginning a chain from this site. That will get you started. More types of crochet stitches are on site. There are also easy patterns. Happy crocheting!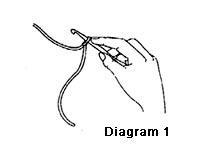 Answer

this Question

...
I would like to learn how to crochet. Any tips that might I learn from? Thanks.

By Debbie from Julian, NC

Answers:
Learning to Crochet
Start small. Try a "one skein" project. You want to do something that you will finish and use, like a scarf or dishcloth. If you know someone that crochets, ask for their help. If you don't, use the videos on the internet. It helps to "see it done" rather than just reading the directions.

Don't tackle a big project (afghan) until you know that you like crochet. It can get expensive and if you don't finish your project, it just makes you feel guilty. So don't sabotage yourself before you even have a chance to get going.
Good luck. If you were in Arizona, I'd help you. (03/31/2009)

Learning to Crochet
Free Crochet Lessons Free and easy, how-to crochet instructions including illustrations and abbreviations in English, Spanish and French.

As a young girl I had a favorite aunt and she often invited me to come to her house on weekends. I rode the city bus and stayed with Aunt Dorothy and Uncle Bill. My mother taught me how to knit, but she didn't know how to crochet, so Aunt Dorothy taught me the art of crocheting. She was a wonderful lady and had a heart of gold, I will always miss her. I'm so glad that my Aunt Dorothy took the time and the patience to teach me.

Once you learn a few basic stitches, it is very easy to pick up. Print the illustrations and instructions and keep in a notebook for further reference. (03/31/2009)

By Marjorie
Learning to Crochet
My mother taught me to crochet when I was around six or seven. She made me do chains only for about a week. That taught me to handle the needle although I do remember it being very boring. But learning to handle the needle is the hardest thing while learning so it might still be a good thing to do even as an adult. (04/03/2009)

By Kathryen
Learning to Crochet
There are great websites if you Google 'learn to crochet' or 'how to crochet' you'll get lots of results and most include videos you can watch while you learn. Also go to your local library. They have a craft section and you can scan or copy the pages from crochet books that are helpful. You can also call your local art/craft supply store or yarn/needlepoint store they often can tell you who gives beginner classes. Have fun.

My 80 year old friend just learned how to crochet a month ago and she's already completed two afghans. It's addicting and so much fun. Oh, once you get started, you can look for yarn at thrift stores and find great deals. Good luck.

Lee in FL (04/04/2009)

By Lee Taylor
Learning to Crochet
I learned to crochet by using this site: nexstitch.com The videos really helped me figure it out. (04/04/2009)

By anna
Learning to Crochet
I got my aunt to show me how to make a bootie. She critiqued my work and unwound it over and over again. My first bootie took almost all day, and my pride was somewhat bruised, but my second bootie took less than an hour, and I could make them in my sleep now.

Get someone you know to show you while watching TV or a movie, or on a play date for your kids, so that you can stop and start again and get help. Try something like beanies, booties or granny squares, which will not take a skein of yarn and make good practice. (04/05/2009)

By Antoinette