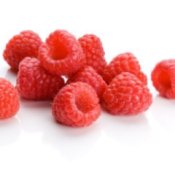 What I consider a good raspberry, you may not. Do you want the biggest berries, the reddest, the least seedy, the sweetest, the zingiest, or the ones with the firmest texture? Intended use also plays a role in berry selection. Do you want them for fresh eating, baking, or freezing? Some of the most tender, aromatic berries to eat out-of-hand may not do as well in a pie. For my money, it's the berries with the best flavor that win, hands down. But how to select them?
In my experience, many times berries that have been bred specifically for large size, transport-hardiness, seed-lessness, thorn-lessness canes, or or heavy-bearing, do not always have the best flavor. There are exceptions, of course. Smell the fruit. That's my rule for selecting most fruit, but especially raspberries. The most fragrant berries taste best to me. Freshness is definitely a factor in fragrance, but some berry varieties are less aromatic than others. Please take into account that a cold berry will usually smell less fragrant than the same berry at room temperature.
I find that local berries usually beat store-bought in the flavor department, but it still pays to ask to do a taste-test. Grocery stores may not like people sampling, but my experience is, if you ask, you may get the go-ahead. I've found Farmer's Market sellers to be generous with samples.
U-pick berries can offer some of the best opportunities to get exactly the type of berry you want at the most reasonable cost. If you have something specific in mind (flavor, seeds, size, freezing) you can save time and gas by phoning or emailing the U-pick grower in advance for information.
For example, if you desire a raspberry that is less seedy, or the sweetest, or a particular named variety, there is usually a "peak of perfection" time frame target. It may vary from year to year depending on weather. Going at the same date you went last year without checking ahead may result in disappointment, wasted gas, or less than optimal berries.
At the U-pick farm, ask directions to the type of berry you want. Some attendants/farms do not provide specific information, but many do. You can often ascertain this in your pre-visit phone call or email. Many growers enjoy sharing their expertise and opinions about their plantings. Plan to spend a little time shooting the breeze with them if they are free. While you may have a certain ideal berry, keep an open mind and the grower's enthusiasm may entice you try something new that may win you over.
When you find a raspberry cultivar you like in the U-pick patch, fine-tune your taste buds. If your family is like ours, you will find differences in flavor even within a given variety of berry. Some canes produce a tastier berry than other canes. Or you may find you prefer sweet south or west-facing berries over north/east facing berries. Or you may find that berries in a specific area of the U-pick patch taste best to you.
I am a raspberry pig. While a raspberry is not a truffle, there is a LOT of variation in flavor among raspberries. A delicious raspberry is a true treasure, and well worth the hunt.
By L Har from Pacific Northwest