badwater
Silver Post Medal for All Time! 263 Posts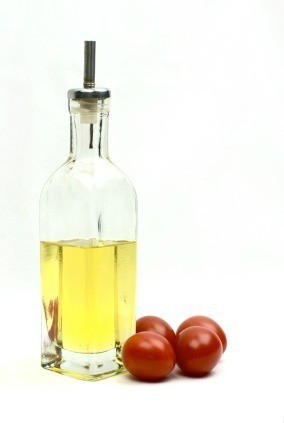 To keep your bottled olive oil from going rancid, in your kitchen cabinet, some folks prefer to refrigerate it. But first, pour the olive oil into a bowl with a lid or small storage container with a lid to scoop out the amount you'd need in food preparations. Start out with a tiny scoop, if more is needed, then it can be gotten easily than trying to melt down a whole bottle of olive oil. (mind you, folks back home, down South, for years have done this with bacon fat).
By badwater from NV
Read More

Comments

I have several glass bottles and a few metal containers of very expensive olive oil that were purchased a few years ago and have never been opened. They are kept on a shelf in my basement that is dry, cool and no significant moisture. Is there a deadline that the oil must be used or does it keep indefinitely?
Thank you.
Joesgirl from Beverly, MA
Answers
By pthere (Guest Post)
May 2, 2006
0

found this helpful
To get the best out of olive oil it should be used right away its not like some wines that get better with age. Try your oil but you may find that its only good for deep frying.
Or there again it may have gone off. Sorry. But Happy Eating
By Angellfire (Guest Post)
May 2, 2006
0

found this helpful
On Oprah yesterday was a special with Dr. Oz and another doctor teaching us what to and what not to eat....how to shop and what to look for. One of the subjects spoken to was the necessity of keeping olive oil out of light. From here on in I will store mine in a cool place and in dark bottles. I'm unsure of the length of time, but perhaps if you look on the ones in original packaging it will have the expire date on it. Look closely.

Holly
Silver Post Medal for All Time! 364 Posts
May 2, 2006
0

found this helpful
Do not deep fry with olive oil. It has a low burning point.
If it smells ok and tastes ok, it's all right to use. The expensive olive oil will deteriorate in its lovely flavor after a time, but is still ok to cook with.

May 3, 2006
0

found this helpful
Is there some reason you bought so much olive oil in the first place? Do you use a lot? Was it a good deal? I only buy one smallish bottle at a time. Oils go rancid once opened but don't know about unopened containers, altho I don't imagine even then it lasts forever!
You did mention expensive, I now remember....so why buy so much expensive olive oil and then be worried about whether you can use it?

June 12, 2009
0

found this helpful
Should olive oil be stored in the refrigerator since that is a cool and dark place?

Jess
Silver Post Medal for All Time! 267 Posts
June 12, 2009
0

found this helpful
Donna52479, I keep my large bottle of olive oil (Costco) in my fridge and use it to refill the smaller bottle I use for cooking. The only problem with storing it in the fridge is that it hardens (like bacon grease) in the cold and you can no longer pour it until you let it get back to room temperature.
So it is good for long term storage but not for daily use.
Answer

this Question