Sandy Baker
0

found this helpful
Today's list of things to do: Work, take the kids to soccer practice, pick up dry cleaning, pick up kids, homework and wash some laundry. Is that enough for one day? Try to fit in some time to make dinner in that slot and you are just lost for time. Yet, there are many ways that you can reduce your workload in the kitchen so you do have time to do all the running around you have to do and make a healthy dinner that is affordable for your children.
Here are some great time saving tips to incorporate into your busy day to save you some time.
Prepare vegetables when you bring them home. After stopping at the grocery store, make sure that you take a few minutes to wash your vegetables before you put them away. Once clean, wrap them loosely in a paper towel and place into a plastic bag. They are clean and ready to be used. This works great on celery, carrots, lettuce, and your spices.
Keep organized. You should have all like things stored in the same place within your kitchen. One drawer holds your knives and one for your other utensils, for example. You do not have to dig around to find where that large bowl is if you already know where it is located. It's a matter of getting into the habit of putting things away!
Before you go to bed at night, take out the meat you plan to have for dinner the next day. Place it on a cookie sheet on the lowest level of your refrigerator. This way, it has enough time to defrost and you don't have to use your microwave to do it. It gives you more time too. You can just jump into cooking rather than trying to deal with defrosting too.
Crock pot meals are ideal for a busy day. If you know that tomorrow you have a lot to do, then tonight do this. Prepare vegetables and ingredients the night before for your dinner. Just before you leave for work in the morning, put the crock pot on with all your yummy food in it and when you come home it is done for you.
Saving time in the kitchen means you'll save money and you will give your kids a healthy meal every night.
November 5, 2006
0

found this helpful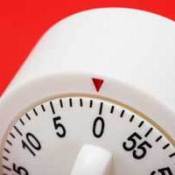 Here's are some kitchen time savers post by our readers. Feel free to post your ideas!
Cooking Frozen Chicken Breasts
We purchase the individually frozen boneless skinless chicken breasts from our warehouse club. I was reading the cooking directions the other day, and was surprised to discover that they don't need to be defrosted before cooking. We threw a couple in a nonstick skillet, turned the heat to medium, and covered the skillet. The chicken was done in about 15 minutes! I guess the moral of the story is: read the directions in order to save time! (12/21/2004)
By Nicole
Presoak Dishes
It sounds kinda basic, but if you're hand-washing dishes, presoak them. You'll save a lot of time, not to mention elbow grease, in the long run! (12/21/2004)
Prepare for Dishes
My mother taught me to always begin with running a sink of soapy water to clean as I go, form beginning to end. This will save you the dreaded clean up time in the end. (12/21/2004)
Clean a Little Extra
I may have read this tip on here - I'm not sure - but from my point of view its such a simple time saver I think it bears repeating. If you only have a few items to wash up, and the water is relatively clean/grease free, use the washing up water and a cloth to wipe around your kitchen and adjoining areas - not just the work tops. It only takes a couple of minutes for me to wipe down my window sills, computer desk, the front of appliances, a shelf or two or my dining table. If done every day, you soon run out of spots to clean in the kitchen and can move to other areas - the laundry, lounge room window sills, etc. One area at a time only takes seconds. This makes the actual kitchen cleaning job so much quicker as most flat surfaces are clean and dust free all the time.(12/22/2004)
By Jo Bodey
Use the Crockpot
When preparing a large meal for guests, transfer green beans, mashed potatoes, and the like to crock pots a few hours before your guests arrive to keep the items warm. Then you can wash up all your big pots and pans to avoid having to clean the dishes and the heavy stuff later. (12/30/2004)
By Mitzi
An Organized Kitchen Saves Time
Organize your shelves, refrigerator, freezer, and cupboards. You'll find that in the long run you will save loads of time both cooking and cleaning. (03/24/2005)
By Robin
Spices in Alphabetical Order
I know this sounds crazy but I alphabetize my spice racks. It really saves time when looking for specific spices! (04/17/2005)
By Donna Vaughn
My Grill and Skillet
I'm almost ashamed to admit it but I really didn't like to cook because I like to keep the kitchen clean and I despise greasy pans. This Christmas my son and his family gave me what I consider the perfect gift, a big Hamilton Beach grill. I can cook steaks, chicken or hamburgers on it and even if I need hamburger for Sloppy Joes, I cook it on there and chop it up afterwards. No more greasy meat skillet for me and its a lot more healthy. I can deal with the vegetable pans. My other son bought me a griddle. It makes pancakes, corn cakes, etc. It is a lot more pleasure for me to cook.
Another tip: I always try to clean around the countertop when I'm doing dishes. This keep the kitchen clean.
Another item I have in my cabinets is a small rotating "lazy Susan" to hold my spices so I don't have to rummage through cans to find what I need. The little things can make a difference in the efficiency of your kitchen. (04/17/2005)
By Sharon,KY
No Messy Pans
I use heavy duty Reynold's wrap when cooking in the oven. I cook an entire meal of meat and potatoes. Line the bottom of pan and cover with reynolds wrap. No messy pans to clean. (03/30/2006)