Planting Tomatoes
Solutions
Share on ThriftyFunThis guide contains the following solutions. Have something to add? Please share your solution!
If your tomato plants get too large to set out, just cut off the top go ahead and set out. It will make you have good strong vines. Just as long as they have roots they will grow.
By mamacrafter from TN
Keep chopped banana skins your refrigerator or freezer until there is enough to fill a blender 2/3 of the way. Add a cup of water and blend to a slurry. Place slurry into a normal sized bucket (9 litre) and fill half-way with water. Mix well and apply a cup fortnightly (every 2 weeks) to tomato seedlings and the base of growing tomato plants. The liquid contains magnesium, phosphates, calcium and other minerals. Because of it's sulphur content, it is also suitable for all brassicas (Cabbage, Cauliflowers, Broccoli etc)
Source: Experimental adapted in a new form for different plants for Companion Planting in Australia by Brenda Little
By Roger from Adelaide, South Australia
I needed to plant 48 tomato plants. I knew if I bent over all that time, my knees would have a lot of stress. In the gardening shed, I spied the post hole digger. It makes the hole wider and as deep as you need for each plant.
My husband wanted to know where I got the idea and I just told him that it just seemed logical. All my plants were in the ground in less than an hour.
By Claudia Marie from Asheville, NC
April 5, 2011
4

found this helpful
When planting tomato plants, especially tall leggy plants, in a very windy area, dig a deep hole, about twice the size of your plant and at least a shovel width wide. Set the plant in the bottom center of the hole and add just enough soil to cover roots and about an inch of the stem. Add water to the hole as needed to keep moist. The added protection from wind and warmth from the dark soil allows the plant to grow quickly.
As the tomato plant continues to grow, add more soil to the hole, 2-3 inches at a time, breaking off bottom leaves as necessary until the plant grows completely out of the hole, and the soil line is nearly ground level.
Leaving a slight depression around the plant creates a "well" for watering and fertilizer as needed. Your tomato plant will be extremely sturdy and will form roots along the stem underground to take up water and nutrients.
I also like to put a gallon can by each plant with both top and bottom cut out. Sink it in the soil about 3 inches. Use the can to water and add fertilizer as needed. This makes it easy to water the plant without spraying the whole plant or garden.
By RocknChr from Central NE
March 16, 2017
0

found this helpful
Adding eggshells to your garden and compost is a common all natural way to add key nutrients to the soil. This is a guide about save egg shells for planting tomatoes.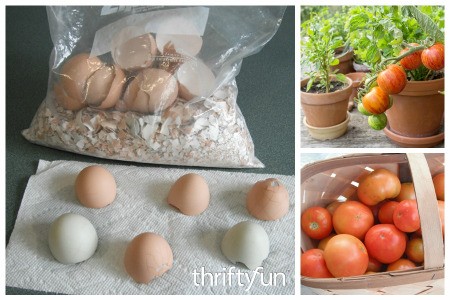 March 15, 2017
0

found this helpful
With some creativity you can protect your young tomato seedlings and get a jump on the growing season. This is a guide about protecting tomato seedlings.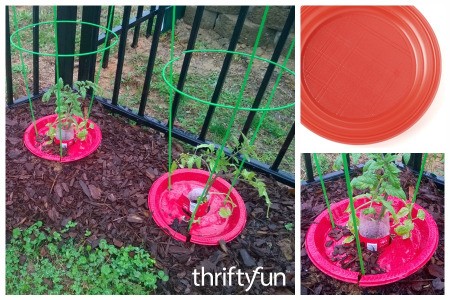 Questions
Ask a QuestionHere are the questions asked by community members. Read on to see the answers provided by the ThriftyFun community or ask a new question.
I bought a tomato plant from Lowes that already has two green tomatoes on it. If it has produced these will I kill it if I transplant it into the garden? If I can plant it in the ground any advice on how to care for it?
Hardiness Zone: 8a
By Jenifer from Rocky Point, NC
Answers
May 22, 2009
0

found this helpful
It will not hurt it to be planted. Water it well and deeply and it will be fine. Plant the plant the tomato deep or gently lay in the hole and bend the top upward. It will grow roots along the stem and be hardy. It would be ok to pluck the tomatoes off and let the plant concentrate on getting its roots accomplished.
May 22, 2009
0

found this helpful
I have my tomatoes in large containers. If you put it in a garden, make the hole deep enough to bury the root ball and stem about 3-4" from the fruit. If it did not have fruit, you would want to bury 75% of the stem leaving only 25% above ground. The stem will generate roots, the more roots the more tomatoes. Since the plant is well established with fruit I wouldn't lay it on it's side but you could. If you choose to put it in a container, make sure the container is HUGE. Roots need lots of room.
I wouldn't pick the green tomatoes if I were you, but if you choose to, slice them about 1/4" thick, scramble an egg with a fork, and put some seasoned bread crumbs on a plate. Season your tomatoes with S&P, dip both sides in the eggs then in bread crumbs. Put immediately in a hot pan with hot oil (just enough to cover the bottom of the pan) and fry till brown on both sides. Serve immediately. We like ours with a little ketchup. Enjoy!
One more thing, people will tell you you can pick a green tomato and ripen it in a window or paper bag. Don't do this! That makes a red tomato, but not a ripe tomato. A tomato turns red when it can no longer grow. If it turns red on the vine it has grown as much as it can and then uses the energy to make sugars. This is what makes the tomato sweet.
Tomatoes you get in the grocery are red tomatoes not ripe tomatoes because they are picked green and can't grow anymore so they turn red. Have you ever bought a tomato that, when you cut it, it has a grainy texture to it? That's because it's not ripe it's just red. That grainy stuff is what turns into sugar as the tomato ripens on the vine. Good luck with yours!
Oh and make sure your tomato gets full sun and lots and lots of water! Here's a pic of my 1st tomato this season!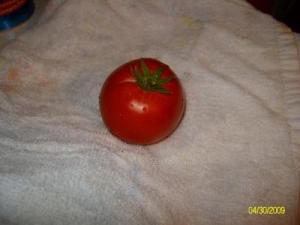 May 23, 2009
0

found this helpful
I think you should pick the tomatoes off as it is too early to start producing tomatoes. That way the plant will have a chance to grow more and get use to it's new enviroment.
May 29, 2009
0

found this helpful
There is starter fertilizer that you can use to ensure the tomato will have a good start and reduce transplant shock. I use it whenever I take something from the greenhouse and transplant into the garden. Keep the tomatoes on the vine and enjoy them when they turn red!
Answer

this Question

...
I just ordered some tomato trees. Has anyone had these? Do they really produce tomatoes? I will have to plant them in pots as we cannot have a garden where we live, we rent. We love tomatoes and I hate paying for the overpriced "waxy" tomatoes in stores. Thanks for any advice.
By janice from IL
Answers
April 5, 2009
0

found this helpful
I found this online,I have never had one.
Giant Tree Tomato
Amazing Super-Species Looks Like A Fruit Tree
Produces Bushels of Tomato Clusters Summer to Fall Basket after basket of juicy mouthwatering beauties up to 2 pounds each... so delicious, so succulent, just one sliced up tree tomato covers an entire slice of bread! A super-growing tree that z-o-o-m-s high as a man IN JUST 3 MONTHS!
A New Crop Of Farm-Fresh Tomatoes Each Week
Yours To Feast On For About A Penny A Piece! A living tomato factory so desperate to produce that for every tomato you pick one week, two more seem to jump forth to take its place. Grow In Yard As A Garden Wonder...Or As A Patio Showpiece! Non-Stop Fruit All Season Long! Supplies .good luck.
April 6, 2009
0

found this helpful
I don't believe the "tomato tree" is related to tomatoes, it just has similar fruit. There is absolutely no reason why you can't grow almost any variety of real tomatoes in a pot, much easier than a tomato tree; indeed, tomatoes are a favorite for container gardening.
For guidance, may I recommend The Tasteful Garden (tastefulgarden.com). My daughter ordered their container gardening equipment and starter plants - tomatoes and herbs - and was delighted with her first harvest last year. She discovered another advantage to container gardening: if you planted in the wrong place (not enough sun, etc), just move it!
Answer

this Question

...
How do you plant tomatoes on hay?

Tim
Answers
June 11, 2008
0

found this helpful
Are you sure they are planted on hay?? I plant mine, then mulch around them with hay. I also do the same with all my vines (cucumber, watermelon, squash...).
If you put a thick layer of newspaper under the mulch, weeds don't stand much of a chance. It also helps with water usage.
June 11, 2008
0

found this helpful
Tim...there is a man named Kent Rogers in NC that does all his gardening in straw bales...I looked into the sight and we have planted 2 bales by the method he uses and they are doing GREAT. I have had 2 back surgeries and it is hard for me to weed SO this method is wonderful. I am planning on doing my entire garden this way next year You can contact him at:
kent.rogers@earthlink.com
Hope you find your answer and GOOD LUCK if you decide to try!
Answer

this Question

...
March 19, 2014
0

found this helpful
Can I plant new tomato plants over last year's crop?
By K
Answers
March 25, 2014
0

found this helpful
You can do anything, but they may or may not grow well. It is best to rotate plants every 3-4 years, especially if there was a problem with viruses or pests.
Answer

this Question

...
Related Content