I bought a tomato plant from Lowes that already has two green tomatoes on it. If it has produced these will I kill it if I transplant it into the garden? If I can plant it in the ground any advice on how to care for it?
May 22, 2009
0

found this helpful
It will not hurt it to be planted. Water it well and deeply and it will be fine. Plant the plant the tomato deep or gently lay in the hole and bend the top upward. It will grow roots along the stem and be hardy. It would be ok to pluck the tomatoes off and let the plant concentrate on getting its roots accomplished.
May 22, 2009
0

found this helpful
I have my tomatoes in large containers. If you put it in a garden, make the hole deep enough to bury the root ball and stem about 3-4" from the fruit. If it did not have fruit, you would want to bury 75% of the stem leaving only 25% above ground. The stem will generate roots, the more roots the more tomatoes. Since the plant is well established with fruit I wouldn't lay it on it's side but you could. If you choose to put it in a container, make sure the container is HUGE. Roots need lots of room.
I wouldn't pick the green tomatoes if I were you, but if you choose to, slice them about 1/4" thick, scramble an egg with a fork, and put some seasoned bread crumbs on a plate. Season your tomatoes with S&P, dip both sides in the eggs then in bread crumbs. Put immediately in a hot pan with hot oil (just enough to cover the bottom of the pan) and fry till brown on both sides. Serve immediately. We like ours with a little ketchup. Enjoy!
One more thing, people will tell you you can pick a green tomato and ripen it in a window or paper bag. Don't do this! That makes a red tomato, but not a ripe tomato. A tomato turns red when it can no longer grow. If it turns red on the vine it has grown as much as it can and then uses the energy to make sugars. This is what makes the tomato sweet.
Tomatoes you get in the grocery are red tomatoes not ripe tomatoes because they are picked green and can't grow anymore so they turn red. Have you ever bought a tomato that, when you cut it, it has a grainy texture to it? That's because it's not ripe it's just red. That grainy stuff is what turns into sugar as the tomato ripens on the vine. Good luck with yours!
Oh and make sure your tomato gets full sun and lots and lots of water! Here's a pic of my 1st tomato this season!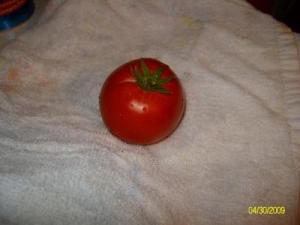 May 29, 2009
0

found this helpful
There is starter fertilizer that you can use to ensure the tomato will have a good start and reduce transplant shock. I use it whenever I take something from the greenhouse and transplant into the garden. Keep the tomatoes on the vine and enjoy them when they turn red!