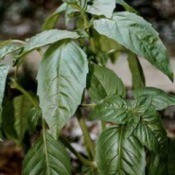 Botanical Name:
Ocimum basilicum
Common names:
Sweet Basil, Basil, and Holy Basil
Description:
Basil is one of the most widely grown herbs in the world. Originally from India, it is grown for its clove-like smelling, soft green or purple foliage and is often associated with its culinary use in Italian dishes.
Life Cycle:
tender annual
Exposure:
full sun
Cultivation:
Start with purchased plants or sow basil seeds directly into the garden early to mid spring. Basil will not tolerate the cold, and transplants should not be planted until they are 4 inches high and danger of all frost has passed. Plant basil in ordinary, well drained soil.
Propagation:
seeds
Parts Used:
leaves, clove-like fragrance
Harvesting and Storage:
Harvest leaves fresh for use as needed. If used for culinary purposes, dried basil will not retain its flavor and should be placed between sheets of wax paper and frozen or chopped and frozen with water. To dry basil, hang it upside down in a warm, dark room and store leaves in an airtight container when dry.
Medicinal Uses:
an expectorant and an anti-inflammatory to relieve sore mouths and gums, as part of treatment for malaria, bronchitis and gastric disorders.
Culinary Uses:
Italian cooking; tomato and cheese dishes; salads.
Other Uses:
herbal wreaths, insect repellant, and potpourri.