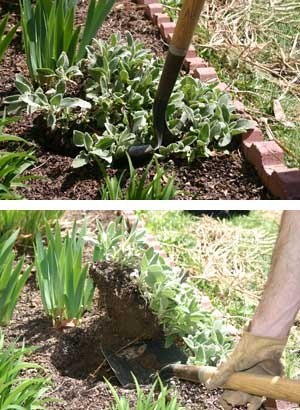 It might seem counter-intuitive, but there are three very good reasons for chopping through the roots of your perfectly healthy perennials to divide them. First off, you'll regain control over the too-vigorous flowers that are trying to conquer every available square inch of your garden. Second, you'll rejuvenate those that seem to be slipping into a pattern of fewer, smaller flowers, and lastly (and best of all) free plants!
When to Divide
It's easy to know when it's time to divide perennials that are taking over the garden. But actually, all perennials are pretty good about signaling when their ready to be divided. When a plant's roots become densely packed the flowers will start to become smaller and fewer in number. Really densely packed roots will start to form a donut-shaped clump-an outside ring of growth surrounding an area in the middle where nothing seems to be growing. A plant may also start to flop over or need staking after never needing it before. If your perennials are giving you any of these signals, it's time to divide.
As a general rule, perennials that bloom in the spring and summer should be divided in the fall, and plants that bloom in the fall should be divided in the spring. If, on the other hand, you don't like playing by the rules (like me), many perennials can be divided at either end of the season. The important thing to remember is not to divide plants when they are blooming (you want the plant's energy going toward root and leaf production after division) and avoid dividing them on hot, sunny days.
Preparing for Division
Water: Make sure your plants are well-watered a day or two before you divide them. This helps minimize stress on the leaves and roots and makes the soil around the plant easier to work.
Cut Back Stems (optional): Although there is no hard and fast rule on this, cutting back the stems and foliage to about 6 inches can help reduce moisture loss and make the plants easier to transport.
Prepare Beds for Transplants: It sounds like a no-brainer, but I've lost a plant or two while I've diddled around trying to figure out where I'm going to squeeze it in after dividing it. Prepare your beds (or your neighbors) in advance of your transplants or plop them in a corner of the vegetable garden until you figure it out. If you have to keep the divisions out of the ground for a few minutes, at least make an attempt to keep them shaded from the sun.
Division Techniques
There are two main techniques used for dividing perennials, separating the roots by hand, or using a tool. Start by lifting up the parent plant with a pointed shovel or space. Dig down on all four sides about 4 to 6 inches away from the plant. As you lift up the plant, it will quickly become apparent whether or not you need to use a tool. In cases where the plant has extremely tenacious roots, you may need to slice them with a sharp serrated knife in order to lift part of the plant out for further division.
Roots That Clump (daylilies, hostas, astilbes, etc.): These roots often require a knife to get through their thick, clumping crowns. Keep at least one eye or bud for each division-more if you want larger plants.
Roots That Spread (lamb's ear, bee balm, aster, cornflowers, etc.): The slender roots of some of these fast-spreading plants can become very matted if not separated regularly. Try pulling the roots apart by hand or place the backs of two digging forks at the center of the mat and pull them apart. Each division should contain 3 to 5 vigorous roots for transplanting.
Rhizomes (bearded irises, etc.): Bearded Irises (and Oriental Poppies) are the exception to spring division. It's best to wait until mid summer (after flowering) before dividing them. Each division of the iris should retain a few inches of rhizome and one fan of leaves. Any insect damaged rhizomes should either be cut and treated or discarded.
Bulbs (tulips, hyacinths, daffodils, etc.): Dig bulbs up after their leaves die back (when they're done blooming), separate them by hand and transplant them.
Special Cases
Phlox: If phlox is divided in late summer or early fall, a circle of new plants will emerge the following spring from the remaining tips. This doesn't happen with spring division.
Iris: These plants like their tubers only an inch below the soil, but prefer their stringy little roots planted downward. New plants also grow out from the shoot ends so plant division transplants in a circle with tubers facing inward.
Peonies: They need the tip of their "eye" (tip of new shoot) no more than 1 inch underground to bloom).
Mums: Shoots remain healthiest if taken from the outside because the center tends to die out as new shoots grow outwards.
Not All Perennials Need Dividing
Some perennials do not like to be disturbed and should not be divided unless absolutely necessary. These include balloon flower, baby's breath, bugbane, butterfly weed, gas plants, Japanese anemone, false indigo, columbines, goatsbeard and Lenten roses.