My mother will be 75 in June, and it is hard to buy for her because she is content with the simple things in life so I decided to buy her a supply of body wash, shampoo, deodorant, air freshener,and also some sweets, etc. I put them all in a big gift bag and I have already given it to her. She was so excited. She appreciated it because she knows these things take a lot of her small income away. And if she sees something later that she would like, she will have money to buy it.
By Kredenna from Springtown
Comments
May 6, 2010
0

found this helpful
Top Comment
Sweetly thoughtful, and she knows that you pay attention to her favorites so that you get the right things for her. That is so important. When we ladies age, we do tend to want the same old familiar things, kinda like being "set in our ways" maybe. No matter how simple you might think it is, that's what we like and what we'll be more apt
to use. I speak with the voice of experience as I'll be 76 next birthday.
That gift bag or gift basket is usually the most thoughtful gift...lots of little things that we like. If you can...spend at least part of the day with her. Time spent with my children is the most precious gift they can give to me now. I'm in a wheelchair a lot, and I do love window-shopping with them. just to see what they like. So many new things that I've never even seen before. I enjoy hearing what they have to say about those things.
Happy Mother's Day to you and to your Mom. Julia in Boca Raton, FL
May 7, 2010
0

found this helpful
Top Comment
Another very good gift for a Mother on limited income is a food basket of her favorite (mostly non-perishable) items she is fond of but reluctant to spend money for. If she has letters to write, something many of us do not do these days! some pretty stationery and stamps is also a good gift.
May 13, 2010
0

found this helpful
Top Comment
God bless your practical little heart! You obviously pay attention to what your mom really needs, which saves her having to bluntly ask, as I'm learning to do. I know she is glad for the relief to her tight budget, as I would be.
One of my fave gifts was when my daughter and son-in-law, before they were even married, took hubby and me to the grocery so we could choose what we wanted within the amount they could spend. A close second was the gift card for my fave shopping site, received from my niece for no particular reason.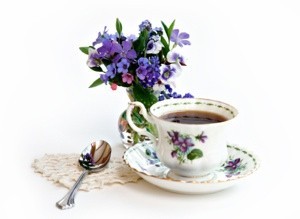 One of the nicest things we can do for our moms is pamper them. Here is a nice way to pamper that tea lover in your life. The best part is it won't cost you very much, but will be very appreciated. This is a thrifty gift and, best of all, is in the theme of reuse, recycle, repurpose.
1 basket or very large coffee cup
miscellaneous tea bags (I suggest Celestial Seasonings teas)
flavored or colored sugar
2 small plastic bags
1 trashy romance Novel
1 pretty tea cup and saucer
1 pretty teaspoon
silk roses
baby's breath
Ribbon or a bow
There are two ways you can do this. One is a basket and the other is to fill one of those large coffee cups with the things you want to put in. Teacups can be found at your local thrift store as well as silver or pretty teaspoons.
You are going to put the sugar and tea bags in the plastic bags but you might even find a pretty jar to put it in at your local thrift store. In a pinch, a small jar recycled from bullion or baby food could be recycled with a small bit of lace put around the top. On thrifty fun, there is an article about reusing old tins. The directions would be the same for painting the lid of the jar before you hot glue on the lace.
If your mom is not into trashy romance novels, check out the used bookstore, garage sales or church sales for a more appropriate book.
First fill your basket with shredded paper from your shredder. Now nestle your items in. Tuck in the silk flowers and babies breath. Add a bow or ribbons to the handle.
Flavored Sugars
Colored Sugar
1 drop of food coloring in her favorite color
1/2 cup of sugar
Stir the food coloring into the sugar until shade desired.
Lemon Sugar
Zest the lemons using a citrus zester. Roughly chop lemon zest. In a food processor, add 1 cup of the sugar and all the lemon zest. Pulse for a few minutes until the zest has been finely ground. Add the rest of the sugar and toss until well mixed. Store in a sealed, airtight container and use as needed. Refrigerate until used.
Tip for the citrus sugars: Grate the peel from all the lemons, oranges, limes, grapefruits (whatever citrus fruit you use) as you eat them. Make into sugar immediately and store it for future use.
Lavender and Vanilla Sugar
This one is a make ahead recipe
4 cups sugar
2 herb bags each filled with 2 Tbsp. fresh lavender flowers (These can be bought at your local health food store)
1 vanilla bean or 1/2 teaspoon vanilla
Pour sugar into an airtight container. Chop vanilla bean into a few pieces and stir into sugar or thoroughly mix in the vanilla extract. Place one herb bag towards the bottom of sugar and the other towards the top. Seal and store in airtight container. Begin to use after a few weeks.
Rose Petal Sugar
Please make sure these are roses from your own garden or have been certified at the flower shop to be pesticide free.
1 cup sugar
2 cups rose petals
Put rose petals in chopper, Food processor or blend and chop until fine. Add sugar and pulse one or two seconds until well mixed. Store in airtight container
I sell candles, votives and body products and would like to make up some baskets for Mother's Day, birthdays, etc. Can someone give me ideas, as to what to put in a basket? Do you only use baskets and where do you get them? Do you wrap them in cellophane? I have never done this before, but would like to try my hand at it.

Thanks for your help!
Mary Bachert from Ontario, Canada
Answers
May 5, 2006
0

found this helpful
Best Answer
Hi Mary- I'm making a coffee-themed basket for my MIL for Mother's Day. I bought a nice woven basket from the dollar store and some chocolate covered mints there also, some coffee-shop coffee, a coffee cup with her name on it from the second hand store (stroke of luck there, I know) and am making some biscotti also. I'll shred paper bags in my shredder for the paper base, arrange my items, cover with the cellophane shrink wrap, blow dry it, and then tie with a raffia bow. I thought this would make a nice gift for someone who has everything and is a coffee lover. It would be nice in a tea theme, also. the possibilities are endless. Use your creativity and people you love will love it!
By Glinda (Guest Post)
May 6, 2006
0

found this helpful
Best Answer
My son just bought and made me up a mother's day basket at a discount store, (he is young, and doesn't have much $). He put two different kids of lotions in it, a body wash, a body scrub, a body spritz spray, a candle, 2 different colors of coordnating bath sponges, a picture frame, with "mom" across the top, that they are going to put a picture of my 3 kids in it, when my daughter comes home from college. All things are in my favorite color of pink, and the same coordnating sent of "Sweet Pea". I loved it, he put it all in a cute little reusable basket. Brownie points to my 14 year old son!!!
Answer

this Question

...