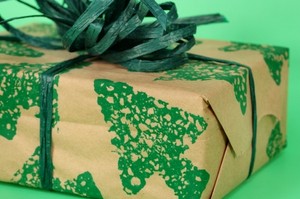 I thought it would be fun to host a green baby shower for Earth Day. Most mothers' now days are looking for ways that they can raise healthier babies and help the planet too so here are some great ideas for a green baby shower. This would also be a great party just to celebrate Earth Day.
Invitations
First make your own invitations from recycled materials. Take a cardboard cereal box and flatten it out and cut circles out of them. You will need two for each invitation. Repeat, using cardboard as a template on plain white recycled paper. Now on the blank side of the cardboard, draw simple shapes to represent the different land masses.
In between, color blue for the ocean. With a glue stick, glue the paper circles on each circle. Write your information as to where the party will be held, date and time. Ask each guest to try and bring only green baby items to the shower. You can include a list of what mom needs and where you can find the green items if you would like.
Here are some green suggestions for your list: Anything made out of natural cotton, Homemade items to include cotton washcloths and baby afghans using the new all natural yarns that most of the yarn manufacturers are now making. BPA free plastic bottles or glass ones by Evenflo, Cloth diapers or the new gDiaper that is compostable, toys made out of natural materials like wood or cloth.
Pick Your Venue
This kind of shower could be held in a garden or in a park. Maybe you have a favorite place that has tables setup outdoors you could use but use your imagination. There are some public gardens that in some places in our great country that are already in full springtime bloom and might rent you their area for a nominal fee.
Decorations
So the first part of your baby shower can be to make your new mother to be a diaper cake from cloth diapers. There are many instructions on the internet for cloth diaper cakes and check out ThriftyFun too, I think the instructions were printed for this a couple of years back. Decorate with any thing green, meaning the color. Your local dollar store in either the kids section or in the book/paper section will probably have pictures to hang up of the Earth. You could take some blue beach balls the kind you blow up and with a Sharpie do just as you did for the invites and turn them into big planet Earths. If you know the sex of the baby already you could make centerpieces for the tables with both pink or blue silk flowers and green ones.
Food
Make round sugar cookies and decorate them to look like the Earth. Have an assortment of baby colored sugar cookies also. Punch is simple to make by using one bottle of 7-up and a pint of lime sherbet.
Games
You could play all your favorite baby shower games here but I would throw in a couple of recycling ones like scrambling recycling words like compost, plastic, green, recycle, Environmental, ecology, sustainable, trash, earth, global or any words to describe recycling. You could also fill a tray with a pop top lid, a plastic water bottle, a clean tin can, a small box, an aluminum can, newspaper, ink cartridge, paper and give them 30 seconds to look at the tray and then write down as many things as they can remember.
Baby Showers are always fun but this is kind of like as Truvie says in Steel Magnolia's "I always wanted to throw a bridal shower with a Monster Motif". Imaginative and innovative can be a blast too.
Read More Comments
Is Earth Day considered an excellent day to plant crops?
By Susan Wolfe from Clinton, TN
Answers
April 16, 2009
0

found this helpful
It might be where you live. In Vermont our last frost is usually late April/early May so we plant on Memorial Day (late May).
April 16, 2009
0

found this helpful
We have to plant when the soil is warm enough to plant or the seed will rot, not come up in south AL. Maybe next week will be warm enough,(4-20 +), I will plant my spring & summer garden then. You can call your County Agent in phone book for more info, good luck.
April 22, 2009
0

found this helpful
The Old Farmer's Almanac has moon planting guides, if that was what you had in mind.
Answer

this Question

...
Anyone have suggestions for celebrating earth day? I found some ideas here:

http://ww2.earthday.net

Willem from SF, CA
Answers
March 31, 2018
0

found this helpful
- getting everyne together to discuss the benefits of teh earth
- getting everyone together to watch a good movie about the environment. One off the top of my mind (though super old) is 'an inconvenient truth' about global warming
- going out and planting seeds or planting trees
- volunteering at a community garden
April 1, 2018
0

found this helpful
I would get a bunch of people together and clean up a park or playground.
Answer

this Question

...