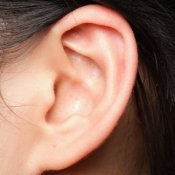 Having poor hearing, I have my ears checked often. I'm always fighting problems with ear wax. My new doctor finally told me if you are going to use Q-tips, do it often and dip them in peroxide before using. Leaving that trace of peroxide in the ear will help keep the ear wax soft. It sure has saved me many doctor visits since she shared this tip with me, hope it helps someone else.
By Ann Winberg from Loup City, NE
Comments
Read More

Comments

Are there any home remedies out there for ear infections or ear wax removal? My son and husband both were born with the Pit Syndrome, that is the cleft lip and cleft palate and pits on the lip or tongue. The pits indicate that that person is carrying the gene to pass on the trait. Any way, both husband and son are deaf in their left ears due to the cleft palate and both always seem to have ear infections in this ear.
Does anyone have any remedies for blocked ears or wax removal? Our son lives in Florida and is soon to be 40 and is always having problems with ear infections. We are interested in something other than going to the doctor for antibiotics, as our son has no medical insurance. Please I really need the help.with this problem.
Answers
Best Answer
First, wax should not be washed out of the ear canal if the is any ear infection present, or a hole in the tympanic membrane. Are the ear infections because of an abnormality in the eustacion tube--where the ear cannot properly drain? I'd visit a good ENT, who may be able to answer your questions.
Since your son has no insurance, call colleges to see if any have a Speech Language Pathology Dept--the first degree toward being an audiologist. Even if there is none close to you, the audiologist on staff can possibly answer your questions over the phone for free; if you find one close, your son can be seen for a minimal fee, and they will give copies of the records if he has to see an ENT, possibly saving money on tests.
Both my husband and I have normal eustacion tubes, but find that when we use an inversion table, our eustacion tubes open up fully and we can hear better (we have allergies). If they do need their ears washed because of wax regularly, I'd visit a medical store and buy the instrument used to do it at home myself, or use a bulb or large syringe (minus needle); read how to clean ears: www.wikihow.com/Clean-Your-Ears . This alone may save them some time, money and trouble.
Best Answer
Hello there!
My family occasionally has trouble with ear wax issues, too. We've used warmed hydrogen peroxide to dissolve the wax followed by a gentle warm water rinse. Taking a hot shower first will help soften up whatever is in the ear canal.
Should I mention that I'm not a doctor and I can't officially give health advice...?lol...
Anyway, as mentioned by someone else, if the eardrum is somehow compromised, then that's a game-changer, but if not, the peroxide DOES work. Also, please check out earthclinic.com for great ideas. Been using them for years--it's just a bunch of people chatting about health.
Don't be afraid to take responsibility for your families health. Many people will blindly believe, but few search for truth. Be a searcher!
Best wishes and blessings!
Answer

this Question

How do I prevent wax buildup in my ears? I know we all get wax in our ears. I clean it out every day, but what tips do you have for keeping most of the wax out?
By LINDA ROLINSKI from Eustis, FL
Answers
Best Answer
You don't want to keep the wax out. It is there to protect your ears from bacteria and other things you don't want in your ear. If it builds up too much you can use drops to soften and remove the excess.
There is an ear-washing bulb you can get to wash out excess wax. Do not use cotton swabs as they push the wax up against the drum which can damage it or interfere with your hearing.
Answer

this Question