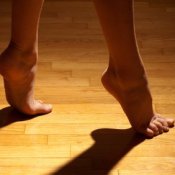 I have had great results using this little trick my mom told me about many years ago. We used to live in an old farm house with wood floors that squeaked everywhere. She sprinkled baby powder on the floor, and swept in into the cracks. Voila, no more squeaks!
Although she did intentionally still leave a few squeaks by the doors just so she would know when one off her kids were coming home late!
By Barb House from Brownsdale, MN
Tips for fixing a squeaky floor. Post your ideas.

Answers
By Cheryl from Missouri (Guest Post)
April 16, 2005
0

found this helpful
I have heard you can sweep talcum powder into the floorboard cracks to quiet squeaks.
By Barbie (Guest Post)
April 19, 2005
0

found this helpful
I heard that powder works too......you may also try grafite if there is space.....but if the floor boards are closely secured it may be tough to get anything in there.......you may also want to try WD-40 if the wood itself is sealed, if it's not the Wd-40 may stain the surface....
By Barbie (Guest Post)
April 19, 2005
0

found this helpful
I guess I just assumed in my last post that you were dealing with a wood floor....but if it's not wood and it's covered by a lamanent then none of these solutions will work.....you could try finding the board that squeaks from the bottom up if you have access such as in your basement....a friend of mine had a squeaky floor and her husband located the loose board and secured it from the bottom to fix the squeak but becareful not to use anything that is too long or it may come through depending on where the problem lies and how thick you floor boards are........
May 18, 2005
0

found this helpful
Does anyone have a solution for squeaky floors?
Thanks!
Linda
May 18, 2005
0

found this helpful
Just put a small dab of glue in between the boards to stop the noise.
By JOHN
By Sandy (Guest Post)
May 18, 2005
0

found this helpful
Leave the squeaky floor alone. You know where the squeaks are, but a burglar won't. It just might alert you to something in the middle of the night. Just my two cents.
Sandy
By ardis barnes (Guest Post)
May 26, 2005
0

found this helpful
Find that little squeaky spot. Pound a long nail, (the kind with no head on it) now pound it into the floor. No I'm no kidding. No one will even notice the nail. it works every time
By steve (Guest Post)
August 3, 2005
0

found this helpful
for 6.99 you can fix for squeaky floor forever squeakender.com
August 8, 2005
0

found this helpful
Use talcum powder or baby powder, around the area of a squeaky floor board and sweep it into the cracks. Do not vacuum but do wipe up any extra with a wet cloth so no one slips on it. No more squeaks.
By kittyhassparkle
By Geogrina (Guest Post)
February 1, 2008
0

found this helpful
Help, I can't get to the boards from underneath and the cracks between the boards are sealed, so the talcum powder trick didn't work. What else can I do?
Answer

this Question
I put a Pergo floor in the kitchen last summer and it squeaks. What can I do now? I hate it.
By Kathleen Dennis from MO

Answers
November 9, 2009
0

found this helpful
Here is one answer from a handyman. There is a bit of space under the Pergo on an uneven floor, and the Pergo is moving a bit when you walk on it. Have the installers come back and insert thin paper or cardboard to prevent the flexing. If the wood floor is indeed squeaking, you will have to nail.
November 13, 2009
0

found this helpful
Try sprinkling some baby powder (talc) on the squeaky spots and see what happens. Just sweep into the "cracks" and then sweep up excess. May have to reapply every once in a while.
Answer

this Question