You see a lot of these holes in the wall where a doorknob has gone through the sheet rock or wallboard. You can use a laundry detergent bottle cap for this as fix. Find the size cap that slides into the round knob hole. Apply a small bead of silicone seal or gorilla glue to the back of the flare-out on the cap. Insert and let dry. Presto! Now the doorknob will fit into the wall.
You can also dress this up by cutting out the hole size (2 1/2 inches) in a small piece of paneling. Arrange how you want it to look, and glue it behind the cap-flare before inserting in the wall.
Source: Inspired by Poor But Proud of this website.
By VIETVET from Perkinston, MS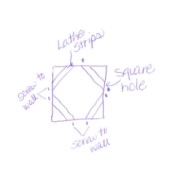 The first thing you need to do is determine if the hole is near electrical wiring. If it is, make sure the power is off to that wall or the whole room. You can use extension cords from the other room for your power tools.
Cut a square just a smidge bigger than the hole. What my crew always did was to have some lathe strips handy. You cut four pieces 1/2 the length of the four sides of the hole. Then, using of deck screws to secure them, you angle each piece of striping in the back of the hole, inside the wall, at an angle.
In other words, you miter them to support the patch piece you are doing. That will mean you have two screws on the wall that secure each lathe piece to the inside. I am no artist, but see the illustration to help visualize this. Now, cut the patch piece the size of the square hole. Make a mark where the strips are on the wall so you know where to use the deck screws.
You are ready to place the piece in the hole, and screw in two (or one if it's a smaller patch) where the patch piece is to adhere to the strips. This will secure the patch and you can fill in the gaps with mud and let dry, sand, prime, and paint. PLEASE do not do what some people do and wad up some news paper and try and patch it so they are not held accountable for the damage.
I admit these are generally residents who want to hide stuff, but most of us can tell a bad patch job when we see it and "push" into it.
If the hole is smaller, there are patch screens you can get, but if the hole is 4 inches or larger, this won't work as well and eventually does sink in.
Some Free Advice: After 20 years of property management, I have found there are things anyone can do to prevent holes in walls. Here are my two favorites.
Make sure doors that open to walls don't touch them. You can put a spring on the hinge, on the bottom of the door, or on the walls baseboards. You can also put a bubble guard on the wall where the door knob would hit, but that is damaging to the wall so why not avoid it all together.
If the background check reveals that the prospective resident has left a string of damages to units, don't rent to them. Angry people use walls to hit, then try and fix it. Most of the time this causes more damage than if repaired properly.
I know that sometimes things aren't done by residents but I hope this helps.
By Sandi/Poor But Proud from Salem, OR
I am going to paint my bathroom ceiling and am having a problem with a hole in my ceiling. It is small, near a corner of the wall. How do i patch it? Is there a way to do it without having to tape and compound? Or without takiing the whole piece down?
Thanks,
Susan :)
Answers
By Vicki (Guest Post)
January 10, 2005
0

found this helpful
I have had success using caulking to fill fairly good sized holes.Make sure it is smooth when you finish because you cannot sand it.Also make sure it is paintable caulk.Best of Luck
By Lisa (Guest Post)
January 11, 2005
0

found this helpful
If the hole is 'right through' you should stuff some newspaper into it so there will be backing for your patching material. Make sure the paper does not bulge out beyond the finished surface, then use inexpensive, drywall spackle from the hardware store. I use the lightweight variety that dries quickly and can be sanded. If the surface I'm repairing is textured I usually go back after 10 or 15 minutes and gently scratch and poke the patch to recreate texture (it dries smooth otherwise). When it is completely dry, paint to match the surrounding area. Priming first works best, but if it's a small or discrete area I often skip that step.
January 12, 2005
0

found this helpful
Cut the hole out with a narrow blade saw to form a neat rectangle, avoid the corner angle itself if possible. Cut a piece of board slightly larger than the hole and put a small screw through the centre to give you a 'handle'. Manipulate the piece of board at an angle through the hole and lay it inside/on top of the hole. Apply a stripe of appropriate contact adhesive to the edges of the board/hole, (this can be applied before inserting the patch in the hole). Pull the board down over the hole by the screw 'handle' and apply some pressure until the glue takes. You can also hang a small weight from the screw to maintain pressure for longer. When the glue is dry remove the screw. You are left with a neat shallow depression to fill with any appropriate filler. This method will allow you to sand the area to a fine surface so it is indistinguishable from the surrounding ceiling.
Regards
Jo
By Sherry (Guest Post)
January 12, 2005
0

found this helpful
You can buy sheetrock repair kits at any home improvement store. They are very easy to use and don't cost a lot.
By David (Guest Post)
July 28, 2005
0

found this helpful
Wall patches are a great idea. They come in different sizes from 4 inches to 6. Put the patch over the hole and take a heavy weight spackling or like a 20 minute joint compound and spread over the hole patch and be sure to flare out from the end of the patch about 3 to 6 inches. Let dry and sand down as needed and put another coat on. Sand down and make sure its smooth then spray on desired texture. Its really not as hard as it sounds.
Answer

this Question

...
June 7, 2005
0

found this helpful
I have a wall in my shower that had cracked tiles and started out to be a small hole but now it has grown. I am covering it with a poster board. I am wondering what to do to repair the sheetrock and retile it? Who would I call to help me fix this, a plumber or a contractor? Any suggestions?

Brenda in Missouri
Answers
By sean (Guest Post)
June 26, 2005
0

found this helpful
call a tile guy or do it yourself. many how to's on the web.
search for how to repair tile or how to install.
seems like a lot of tools are involved so paying a guy to do it is probably best. many cycles of drying involved. with a pro it'll still take at least 3 days for install/dry/install/dry/install stages.
By Janene Winkhart (Guest Post)
February 6, 2007
0

found this helpful
Drywall in shower is not the same as on a regular wall. If doing this on your own be sure and get proper instruction for what supplies you will need to use.
March 9, 2011
0

found this helpful
I had a fiend from my church take all the old tile off the wall & put a tub-surround ( fiberglass type) on the wall. he was able to get me a used one which saved me a lot of money. He is just a handyman type of person who has done several repairs to his house. He knew what to get so I didn't have to make several trips to the hardware store. I would ask around. Then if that doesn't pan out call a handyman 1st. Check your local newspaper ads & local bulletin boards.
Answer

this Question

...