Repairing Drywall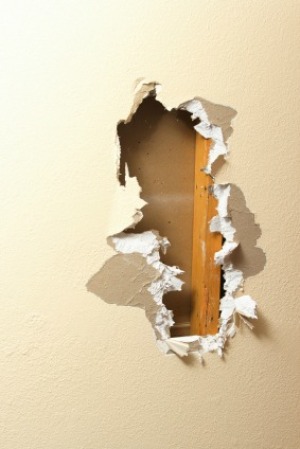 My boyfriend and I just bought a house a little over a year ago and I just realized today that in the guest bedroom the paint is bubbling. The wall is soft to the touch around it. What do I need to do to fix this?
By Cassie from Kansas City, MO
Answers
This sounds like a water problem. It could be leaking at a window or door, or could be a roof problem with water running inside the wall. This is a perfect breeding ground for mold and termites. First you must find and fix the source of the leak, then you must remove the drywall so you can check out the wood structure, replacing any rotted wood and removing any mold. If you can't handle the job yourself, my advice is to call in a professional. This is a problem that must be fixed before it gets worse. Good luck.
Read More

Answers
12 More Questions
Ask a QuestionHere are the questions asked by community members. Read on to see the answers provided by the ThriftyFun community or ask a new question.

I just brought a house and added a shower to my bathroom. The ceiling above my shower is now cracking and peeling slowly due to the moisture from the steam. I have a sky light in my bathroom but the previous owners had a hard plastic, light brown material covering the ceiling to prevent cold air or the stop so much sun from coming down in the bathroom from the sky light.
Do I need to remove that plastic material or install a ceiling fan to stop the ceiling from peeling? My bathroom looked nice when it was first done but now it looks bad.
Michelle from Baltimore, MD
Answers
By harry (Guest Post)
February 24, 2009
0

found this helpful
Yes, a fan would help. One solution I would consider is to remove the ceiling where you are having the problem, apply a sheet of what is called blue board. It is a water proof product used in place of sheet rock around showers and tubs. Tape and compound the joint. Apply skim coat of plaster and paint with a ceiling paint.

February 25, 2009
0

found this helpful
I suggest that you put in an exhaust fan but go bigger than the recommendations. I too have this problem and was told to use a much bigger fan than what is recommended for the size of the bathroom.
Karyn

February 25, 2009
0

found this helpful
Adding a Fan is Great Advise.The First Question though is Why is the paint Peeling in the first place.For Example Is there a window in the bathroom?what sheen is on the ceiling? if it is semi-Gloss it will need to be sanded down..Using a stain blocking primer after that will help seal the drywall.There is no need to use primer over the Stain block .Next when ever painting in a kitchen or shower area you must use Kitchen and bath paint.Reason being it has mildesides in it to prevent Mildew.

Sally
Bronze Feedback Medal for All Time! 116 Feedbacks
February 25, 2009
0

found this helpful
(Submitted via email)
Hi, first are you sure you don't have a roof leak/ Make sure there is not water behind the drywall on the ceiling if there is not..Then use stain block primer and a Kitchen and bath paint over that. Thomas
Answer

this Question

After removing wood paneling that had been glued on over an unfinished drywall, I noticed that the drywall paper had been torn away in several spots. The exposed gypsum is smooth and intact. Can I tape over these areas or should the drywall be replaced?
By Chris Marvin from Felton, CA
Read More

Answers

metroplex
Bronze Request Medal for All Time! 65 Requests
We live in an old house. The bathroom off our bedroom was once a small porch and the former owners made a small bathroom out of it. However, it has no air conditioning or heat. It's just built on a cement slab.
Due to the temperature fluctuations over the years and because it's been painted by us and was painted by many other owners before us, naturally there are lots of areas where the ceiling has pulled away from the molding; the corners of the room have cracked open. You get the picture.
What I want to do, I'm not handy, is to fill in these gaps with some kind of filler or Spackle and then I want to paint over the Spackled part as well as the rest of the room. Does anyone know what kind of Spackle I'll need, please?
I'm also going to use Kilz because it's got damp spots that may or may not be able to be salvaged because the sheet rock might be moldy and cruddy.
Thanks in advance for your help and advice!
By metroplex from Houston, TX, USA
Answers

(Guest)
Gold Post Medal for All Time! 846 Posts
June 17, 2010
0

found this helpful
Since it's a room that receives a lot of moisture I would use the heavier, thick paste type of Spackle rather than the whipped fluffy kind you can use for picture holes and minor cracks. Even if you have to do two or three coats; do it that way (multiple coats) because globbing on a lot of the thick Spackle in one go doesn't work very well because that will crack upon complete drying.
If you have to do more than one coat be sure to lightly sand between each coat.
Read More

Answers

Does anyone know what the best way to repair dry wall after removing paneling in a kitchen. It goes half way up the wall and there is wallpaper on top. I wanted to remove all of that and smooth the walls to paint.
Maggie from MA
Answers

March 22, 2007
0

found this helpful
Assuming the drywall is in one piece with no breakage, these are the steps I suggest (been there done that!) I'm no pro but working alongside my husband when remodeling and adding on to our home, this is how we prepped drywall for painting. We used spackling compound, which is like plaster- (either premixed or dry, but we usually mixed our own so it wouldn't go to waste). With a putty knife or scraper, fill in the nail holes. If there are large areas to repair, I would suggest using a "mesh" screen specifically made for larger repairs so as to give the plastered area more support and prevent cracking later on. This is put over the spackled area, then a thin layer of spackling compound is applied over the screen.
Always try to fill in enough and then some so it will be level with no dips when finished. Then remove excess with the putty knife or scraper, feathering the edges outward to smooth somewhat. Let dry overnight at least. We always waited 24 hours before sanding to a smooth finish. The dust from sanding can be removed from wall using a SLIGHTLY dampened rag. When completely dust free and dry, it's time to prime the drywall with a paint primer before painting the final color. Hope this helps. It does create a lot of dust, so be sure to cover furniture and store food tightly for protection. Good luck!

March 22, 2007
0

found this helpful
This is what my girlfriend and her husband, who are drywall finishers recommend.
Depending upon the size of the area, go to your local hardware store or similar store, purchase some dry wall mud and a large putty knife. If needed, mix the mud with water according to directions. Put enough mud on the knife to smooth across it leaving a good foundation. Scrape the knife extra back into your mud "bucket". Take the knife over it again going through the center first, then the outer edges using equal pressure. Allow it to dry at least 12 hours. Reapply if needed and wait another 12 hours. Then sand it using fine sandpaper. They also recommend using a shop vac or vacuum to collect the dust and a soft brush attachment to go over the wall to make sure you have gotten all of the dust. Any kind of moisture on a rag is not advisable, as that adds moisture back into the mud.
Hope this helps.
Janet in Georgia

March 22, 2007
0

found this helpful
When we removed the panelling from our living room, we had no choice but to put up all new sheetrock. The panelling was apparently glued to the walls and when we pulled it of it ripped the sheet rock pretty badly.
Answer

this Question
In my bedroom, the metal strip between the wall and ceiling has separated leaving a long running crack. My husband says the whole strip has to come off to fix that corner, but then that means I have to sacrifice my wallpaper. Is there anyway to reattach (glue?) the back of the strip, and then apply joint compound and then sand? Thank you. I can't imagine having to remove an entire room full of wallpaper I still like.
By Kelly
Read More

Answers

I have one bedroom wall that has something with a white facing paper and a smooth backing of tan-ish brown that is also brittle and thin. There are also visible seams like drywall boards or poorly hung wallpaper. Beneath this a textured concrete wall. The other three walls have a small curd bumpy texture.
In the living room we also have the same wall textures; one being trowel, with a brick fireplace, the other three being small bumps. I removed two layers of printed wall paper from the troweled wall in the living room and painted over that with several coats of a latex semigloss paint with good results; the other three walls were painted in a contrasting color.
So, given the similarities, how do I tell the difference between drywall paper and wallpaper backings? Please help!
By T.R from C, NC
Read More

Answers

My basement sheet-rock ceiling seam bulges, about 3" wide and 6 ft. long (from a water leak). How can I get ride of this slight bulge (1/16") as I paint the ceiling?
Thanks,
Susan from Washington, DC
Answers
By denise warner (Guest Post)
March 2, 2007
0

found this helpful
im sorry to tell you this but there are 2 options one is spackel the whole ceiling to hide it or cut the part out that buldges and replace with new drywall. you will need help because it is over your head.
By Mary (Guest Post)
August 8, 2007
0

found this helpful
Try plaster washers (McFeeleys.com) if the drywall is dry and not damaged from the water. You screw these into the drywall at the studs and it will pull the drywall up.

Answer

this Question
Can I mix Elmer's glue with drywall compound for a stronger patch?
By Sandy

Read More

Answers

I removed wallpaper from the wall. The wall is now partially rough as the top layer of sheet rock came off with wallpaper. How can the wall be repaired?
By Heyjudecf
Answers

January 24, 2010
0

found this helpful
Easy fix here. Use a product called Gardz from Zinsser. It is a clear bonding primer. Basically you use it to seal down the drywall paper, then you patch the wall where you have to, then you put one more coat of Gardz on to seal the compound. Then you can paint over it.
Answer

this Question

I have an area right next to the shower tile on the drywall that is very damaged and wet with mold and mildew. Can this spread behind the shower tile wall? And what can I do to remedy this problem? Thanks for any help.
By Linda
Answers

October 30, 2009
0

found this helpful
Get a carpenter that can do the job, good luck.
Answer

this Question

I need some tips on how to fix a crack in dry wall.

Thanks,

Oliver Parker

Answers
Answer

this Question
This is a page about repairing drywall after wallpaper removal. After removing wallpaper, the walls will need cleaning and perhaps some repair, prior to painting or whatever your next wall treatment will be.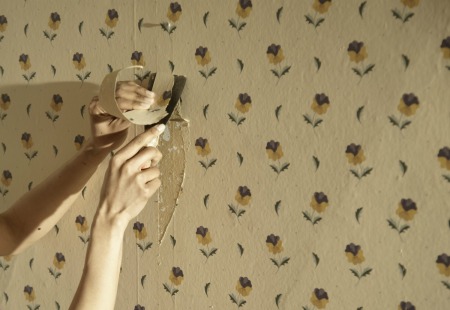 Published by ThriftyFun.
© 1997-2022 by Cumuli, Inc. All Rights Reserved.
https://www.thriftyfun.com/Repairing-Drywall.html