Making Homemade Notepads
Solutions
Share on ThriftyFunThis guide contains the following solutions. Have something to add? Please share your solution!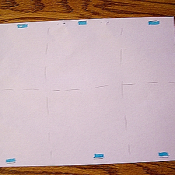 In order to use those otherwise wasted sheets of copy paper, I collect them until I have a stack my stapler can hold together; then I stack them with the cleanest side up. Put three staples along one long side, then repeat on the other side. Cut between the staples to make three stacks of scratch paper. Sometimes I leave them the full width of the paper for longer stacks.
By Ann Winberg from Loup City, NE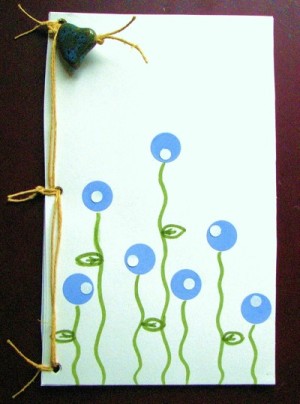 After you have a garage sale, and before you donate your books to the library or the church, why not take out the fly leaves (blank pages in the front and back of most any kind of book)? This way, you will never have to buy a note pad for your grocery or "To Do" lists again!
Use an Exacto knife to remove the fly leaf, then stack them up. I like to use my trusty three-hole-punch and some scrap ribbon or hemp string to make them into a convenient little book. The pages tear out easily, and you can even decorate your new, frugal, and eco-friendly little note pad.
To decorate the one I made in the photo, I glued the paper circles from my three-hole punch onto some old garage-sale stickers and added petals and leaves using a marker belonging to my kids. Try to use any loose or mis-matched beads or stray buttons, also. Cute, huh?
Note: If the fly leaves are darkly colored, you can always keep and use those for scrapbooking and card making.
By Brianna from Dutch Harbor, AK
I fold the 8x11 paper into thirds the long way. I then separate the paper into three pieces, cutting on the fold lines. Fold the pieces in half and cut them again. Place the blank paper up and the printed side down. Sew across about eight pieces of the papers.
Glue several packs together along the sewing lines and bind with scrap fabric. This uses scrap fabric and junk paper too. I keep the small tablets in my purse for my grocery list.
Around our house, we use Day-Planners and several different calendars simultaneously, which ultimately leaves us with a lot of paper that needs recycling. We've discovered that one way to Reduce/Reuse/Recycle these particular forms of waste paper is to turn them into new scratch-pads for notes, grocery lists, etc. It's easy and only takes a minute! Simply cut long strips from your old planner or calendar, trim to neaten, staple on one end and you're done. Stacks and stacks of free note-pads. Enjoy!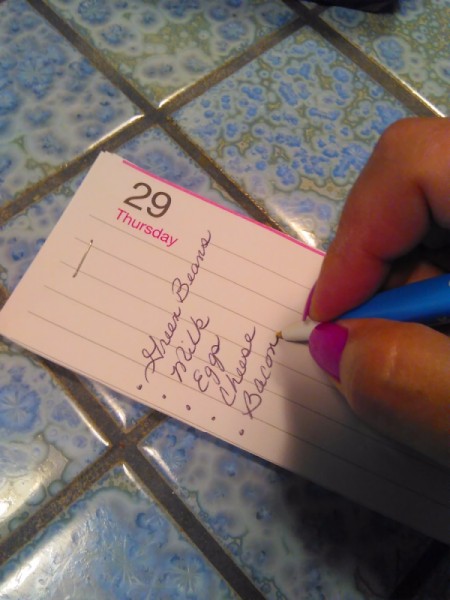 Questions
Ask a QuestionHere are the questions asked by community members. Read on to see the answers provided by the ThriftyFun community or ask a new question.
December 6, 2014
1

found this helpful
Is there an easy way to connect paper on a note pad?
By Mary
Answers
December 7, 2014
0

found this helpful
I just use a binder clip. You can find them anywhere and they hang well on the wall next to the desk, fridge, or door. Hope that helps.
January 15, 2015
0

found this helpful
I keep a bunch of scraps for notes in a wooden dinner napkin holder my Grandma gave me. For a pad that holds together, I've used a clothespin on top. If it's not a very thick bunch, you can sew it on the sewing machine.
July 27, 2015
0

found this helpful
I cut used paper from the printer in four pieces, stack them with the clean side up and staple one corner.
Answer

this Question

...
August 23, 2009
9

found this helpful
I've read about making note pads from recycled paper, what is the name of the "red, sticky goo" used to make the note pads hold together? Thanks.
Answers
August 25, 2009
0

found this helpful
I've made these in the past. I used Sparco padding compound from an office supply store. After stacking my paper and clipping it together, I would run a small line of the compound (from a travel squirt bottle) down the edge I wanted to bind. Then spread it with a foam paint brush. After a couple of coats and drying, you're good to go.
Hope this helps.
August 26, 2009
0

found this helpful
Years ago at the bank we just used ordinary glue sticks. Just ran them a couple of times over the edges, letting it dry between each layer.
August 26, 2009
0

found this helpful
Rubber cement works, too and is easy to find
Answer

this Question

...
Does anyone have a recommendation which glue to use for a padding compound? (the glue used to stick a paper pad together)
By maplesugar from Peterborough, ON
Answers
January 28, 2013
0

found this helpful
Try rubber cement I think they still sell it at office supply stores. If all else fails, I would get a heavy duty stapler and book binding tape.
Staple the sheets of the pad together then seal the edges with book binding tape.
January 28, 2013
0

found this helpful
I make paper pads from scrap paper quite often. I have used rubber cement, hot glue and white glue. They all work more or less. I like the white glue best. Use binder clips side by side to hold your paper tightly together, then spread on the glue with your finger. Make sure it covers the entire top of the pad. When it's dry, remove the binder clips.
If you choose to staple the top, perforate the pad about a half inch from the top buy running a few sheets at a time through your sewing machine using an unthreaded needle (an old one). Sheet will tear off easily.
PollyG
Answer

this Question

...
Archives
ThriftyFun is one of the longest running frugal living communities on the Internet. These are archives of older discussions.
August 23, 2009
0

found this helpful
I volunteer every week at my son's school and I noticed that they recycle their throw away paper. I needed some scratch paper so I dug through the scrap paper recycle bin to use some. I then grabbed a whole bunch of scrap paper that was printed on just one side and cut them all to scrap paper pad size with the paper cutter.
I then used a red rubber adhesive. I found out it was a small cheap bottle of water soluble red goo that was applied with a paint brush to coat one side of the pad. I got it at the office supply store. Once the adhesive was dried the paper pad was ready to use with easily tear off paper depending on how neatly someone does it.

Now my son's school uses my newly create paper pads in the school's office everyday.

By Soyzick from Hawaii

Answers:
Making Homemade Tear-Off Notepads
I work in property management. When we took over the complex I am in now, we found files of unused, older forms from the company two or three years back. I shredded the ones with information filled in, then went through the rest. I simply use a black clip to keep mine in order, but the gum is cool if you can get them the same size.
Carbons can be used, too. I save and cut up the whites, then kept the yellows, mint greens, and pinks to make signs for the office window. I keep the slick junk mail printed on one side only, and use them in the car with a felt pen. It's great for leaving notes on cars as the plastic is a bit more durable and easier to see. (05/22/2009)

Making Homemade Tear-Off Notepads
I just quarter each sheet and stack them in a small decorative box. They're handy when I need them, and I don't have to waste time stacking them evenly, gluing them, and waiting for them to dry. I've been doing this for 3 decades now; I've never needed to buy scrap pads. (05/28/2009)

By susan
May 20, 2009
0

found this helpful
Recycle scrap paper by cutting it into same size pieces (use a paper cutter), then stack the paper evenly. Tap the top edge that you will glue, to make sure it is as even as possible. Clip with binder clips to hold secure, then using Elmer's Rubber Cement, coat the top edge of your note pad.

I use the spring type binder clips to hold it near the glued part. Once dry, repeat several times until it is quite secure. You can also add a piece of heavy cardboard to the back of the note pad.

The first time it is trial and error until you get the knack.

By Syd

Answers:
Making Homemade Tear-Off Notepads
I have been doing this for years and it pays to have uniform size notepads that can be carried easily in one's shirt pocket. For ease of use I bend the loose paper in the middle after tamping down the bottom edge. By holding your thumb on the shifted paper on the bottom edge a 45 degree angle top and bottom can be obtained. This allows flipping the pages easily and also folding them back. I use "tacky glue" (Aleen's) which remains flexible. Riffling the glue application tool through the top edge helps to distribute the glue. Binder clips on both ends of the glued portion hold the 45 into place until it has dried.

3x4 inches is an optimum size for a shirt pocket pad and you can scribble without guilt considering the cost. I have found that a baby wipe box is a good file box if you intend to save these pads. (07/23/2007)

By Frank
April 22, 2011
0

found this helpful
You will need:
Paper
white glue
paintbrush
cardboard
heavy weight objects
a straight edged knife
Directions:
Take 8 1/2x11 inch pieces of paper and cut them into fourths. I use paper that has been used once, but blank on the backside, to recycle it.

Create stacks of the paper. Only one side needs to be even.

Pack the stack of paper firmly against a hard surface and lay it down on a hard surface.

Put a piece of cardboard that is bigger than the stack on the top and bottom of the stack.

Take whatever you have that is heavy and put it on top of the stack. I have used a case of water, which is heavy enough.

The side that you packed is the side you will use to put the glue on. Take your brush (a sponge brush works well) and pour the white glue on it a little at a time and brush it on the flat edge of the paper. Make sure to get the edges, too. Let it dry and then put another coat on. Do this twice.

After it is completely dry, take the knife and run it through between the sheets for the thickness of the pads you want. The knife will separate them cleanly.
By Lora from Milwaukie, OR
Answers:
Homemade Notepads
Sounds like you worked for a printing company. I remember once, the press came loose from where it screwed down on the paper and paper flew all over the place! I also worked for a printing company and one of my favorite jobs when I had to work out in bindery was padding. It was always kinda calming! I hated collating though. (08/18/2008)

By Noella
Homemade Notepads
I have been making my own tablets for years, only I use a paper cutter to make stacks of paper for the tablets out of what ever I have at hand to recycle, just as you said. I don't use cardboard. I make the pad to be glued about 1/3 of an inch thick. The clip the outside of the top of the pads on the 2 sides; leaving the top clear. Clipping with those clips, that come in many sizes, that have those movable flip wire finger pad things. They are usually black, but you can flip the wire things, up or down, up for opening the clip, and down for storing. These clips keep the paper very packed.

After clipping both sides, I use the glue bottle and put a fair amount of glue all over the top. Then I put it in a place, with the top glued side up, and let it dry. No cutting, no doing 2 or more, very fast. I have a gas stove with pilot lights, and usually I put the wire finger pad things to the outside, in between up and down, and hang it with the glued side up, between the wire racks in the oven. It dries very fast this way. (08/18/2008)

By Chris
Homemade Notepads
Hi everyone. I am a printer. If you want to do this at home economically, go to Google look up padding compound. It will come by the gallon so I hope you plan on doing a lot, also Elmer's works the exact same - just make sure you are very liberal with the amount you use. Everyone I know that does it by hand uses a 2 inch brush. Make sure if you intend to do it over and over to wash the brush with hot water and let it dry or it is wasted! Also make sure to use some kind of weight on the top of the paper and keep it about an eighth of an inch from the edge. Note: Do not get the glue on the sides of the paper or it will rip when you take it apart. (09/23/2008)

By Heavy D
August 14, 2008
0

found this helpful
Click to read more ideas from older posts on ThriftyFun.
Read More...
July 20, 2007
0

found this helpful
Click to read more ideas from older posts on ThriftyFun.
Read More...
Related Content