Organizing Your Email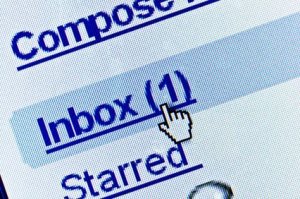 With the large amount of email we all receive, making sure time sensitive email is read first is very important. You also want a well organized email archive so you can find important emails that you have received. This is a page about organizing your email.
11 Solutions
Share on ThriftyFunThis page contains the following solutions. Have something to add? Please share your solution!

Instead of having a lot of little pieces of paper with important notes lying around on my desk, I send an email to myself with the important information. Then I create personal folders in my email so I can file each email in its appropriate folder. This helps me to stay organized.
By Rachel's Mom
Read More

Comments

I get about fifty (or more) emails a day: personals from friends and family, daily newsletters, confirmation emails and special offers, etc. Since the emails come in no particular order, I decided to organize myself concerning them. I now have three e-mail addresses.
Yes, three! One is only for friends and family, one is for newsletters and special offers, and one is for things that I want to keep. Some documents I don't want to use "Word", just in case my computer crashes. These are things like recipes, pictures, jokes, tips, and so on. Since it's internet based and the email is always available wherever I have the use of a computer.
Also, if I'm running short of time, I can check on my friends without having to muddle through all the email. I can choose to check the others later that day or even the next day. A lot less frustration is involved.
Using this system, you can basically have as many addresses as you need, the one you get from your internet service and any of the many free accounts available.
By Margaret from Denton, TX
Read More

Comments

I had a tip about organizing e-mail, using more than one e-mail address. It dawned on me that some people may not know how or where additional e-mails can be acquired.
Read More...

Judy
Gold Post Medal for All Time! 677 Posts
A New Year's resolution of mine is to save money. Periodically I unsubscribe from email lists. I'm not sure how I got on so many lists, but I find I save time, because I don't have to sift through so many emails, and money, because I'm not tempted to buy anything.
Read More...

I love to collect email coupons, but it can really clog up my email inbox. When I get an email from my favorite store or outlet center that has its promotional coupons for print or online savings, I call it "junk" and my email program will move it, and all future promotions, to my "junk" folder.
Read More...

Yahoo has an application which, when allowed, will automatically organize your emails, set up folders, and everything else with just a click. Go to the left of email box, under Apps is this free tool.
Read More...
I treat email just like a paper file. I don't like to let email pile up in my inbox just like I don't like paper piling up on my desk. I make sure I file all email into one of the folders I have created.
Read More...

Robin
Diamond Post Medal for All Time! 5,887 Posts
One of my favorite ways to eat one of my favorite veggies!
Read More...
Questions
Ask a QuestionHere are the questions asked by community members. Read on to see the answers provided by the ThriftyFun community or ask a new question.

I have been saving all my ThriftyFun emails in my mail folder and would like to copy them to disks. Does anyone know how I would do this? Thanks.
Beverly from Placerville, CA
Answers
By deebomb (Guest Post)
February 6, 2009
0

found this helpful
You can copy and past any thing from emails to your documents. Then click on it and on the left side will open a block that has file and folder task go to copy or move this file and then chose cd rw drive.

(Guest)
Gold Post Medal for All Time! 846 Posts
February 6, 2009
0

found this helpful
Without knowing your system or software that's a difficult one to walk you through ... Hope these links will help to give you the answers ...

February 6, 2009
0

found this helpful
The way to do this is to open the e-mail, go to edit and select all. Then back to edit and copy. Then go to a word processing program (MS Word or Notepad) and edit paste the page from your email to the program. Save as and you now have the full document in Word format.
Hope this helps.

February 7, 2009
0

found this helpful
Thank you all for giving me suggestions on putting ThriftyFun on CD`s. I was able to do it. Thank you again. Beverly
Answer

this Question

How to get through a week's worth of backlogged emails fast! If you are gonna be offline a few days or even a day, try this:
Block the name (thus the mails) of the biggest emailers on your list. Do so by clicking on their mail in the list and go to the top of the screen where you see "Message". Click on "Message" and scroll down the list until you see "Block Sender" and add them to the list. Create a folder with the name(s) of whoever that is.
You will still get their mails but they will go in your "Deleted Items" and you can unblock them when you feel you are caught up enough to deal with it all.
Then, go to the "Deleted Items" folder and manually delete the spam that gets past your spam bot and the newsgroups mails are left (or ,your biggest mailers). Click on any one of the mails, on the keyboard press "Ctrl A" to highlight the mails. Use your cursor to drag them all into a file folder you created.
If you have more than one big mailer: after you drag their mails into their folder, use the FIND function located near the top of the screen (usually on the same toolbar as :Create, Reply, Reply all, Forward, Print, Delete, Send/Receive, Addresses and FIND)
In the "From" field, type the persons name or addy and this will weed out their mails from the rest so that you can then highlight them like you did the first time) and also drag them into their own folder!
I know this sounds maybe a little complicated but it works.
By Veronica from Sedalia
Editor's Note: Most mail programs will allow you to set up a filter so you can route or mark specific emails. For example; you can have all emails from ThriftyFun go directly into a "ThriftyFun" folder instead of the Inbox. Check your help menu to see how your specific email program handles this.
Answers
By SheilaMay from NYC (Guest Post)
June 18, 2007
0

found this helpful
You may want to name the folder "Unread" instead of sending it to the Delete folder. Many programs automatically empty the Delete folder once you close down your email.

Harlean
Bronze Post Medal for All Time! 148 Posts
June 18, 2007
0

found this helpful
gmail.com is one of the mail services where it is very easy to set up folders. I do have a folder for Thrifty Fun newsletters there, and I have mine set to come into my Inbox, but they are labeled for the folder, and I archive them to the folder. Usually I read them first and then archive them, but if I get behind in reading my emails, I just archive them (They save in bold print) and then as I have time, I pull them out of the folder, read them, and then put them back into the folder. I can see at a glance which ones I haven't read yet, but they don't clutter up my Inbox. And another nice thing about gmail is that you have 2688MB of storage, so you never have to worry about your mailbox getting too full and missing any emails. Also they do an excellent job of sorting out the spam into a separate folder. You can check to make sure they are spam before deleting them.
If you don't delete them, they are deleted automatically in 30 days. I used to always check them before deleting, but in a year's time, I have only found 2 or 3 that were not spam. So now, I either delete them all every few days, or else I let them be automatically deleted when they are 30 days old. Since I use this mailbox for all my newsletters, and ordering on line, etc. I generate about 500 spams a day. I know...it is ridiculous, but since they go into a separate folder and not my Inbox, it isn't a bother. Every so often, they miss a spam and it comes to my Inbox, but not often at all. Maybe 1 or 2 every month or so. You need an invitation to sign up for a gmail account, and if you would like an invitation, I have lots of them, so just ask and I'll send you one.
Harlean from Arkansas
Answer

this Question
My old emails from 2013-2012 are showing up, but NOT the 2014 current ones. What's happening?
By Jack S.

Answers

November 22, 2014
0

found this helpful
It might be in your date on your computer. When my hubby turns on his laptop (for some unknown reason), the computer always has the year 2008 on it. If he doesn't set the month, day, year and time. Then he can't get his email of this year either. It frustrates him having to go through that, but he has to do it. Weezy
Answer

this Question
Published by ThriftyFun.
© 1997-2022 by Cumuli, Inc. All Rights Reserved.
https://www.thriftyfun.com/tf/Organizing/Office/Organizing-Your-Email.html