Saving Time by Planning Errands
Solutions
Share on ThriftyFunThis guide contains the following solutions. Have something to add? Please share your solution!
August 28, 2009
11

found this helpful
In order to save gas and time, I do all my weekly errands on the same day. I realized one day while I was writing out my grocery and errand list that I pretty much visited the same places all the time. So I decided to make out a "master errand list", much like one would print out a master shopping list because the same items are usually bought over and over.
Using Microsoft Word, I created a template with headings for each place I visit weekly and the things I might do there. For instance, under the Post Office heading I typed "buy stamps" "mail packages", etc. I did this for every store and place of business I usually visit. For places like grocery stores I have a space next to each one to write down the coupons I will be using and the sale items of interest. I also tried to write them in the order that I usually visit them in, for convenience sake.
Then I printed them out on the opposite side of my master grocery list. So all I have to do weekly is circle the places I need to go and the things I need to do there. It is so much easier than writing it all out by hand every week.
By Wendy from IN
September 14, 2004
5

found this helpful
Keep a tote bag somewhere near your door. Put anything in it that needs to be taken out of the house. I keep a file folder in mine for lists and other paper items I don't want to get messed up. This is also useful for dishes or other belongings to be returned to someone, library books to be returned, something you want to take to your vehicle such as a new pen or tablet or the new vehicle registration, a small bottle of water to drink on trips or wash your hands with, outgoing mail, coupons to use at various stores, your To Buy List, a magazine, newspaper or internet articles you want to read if you get stuck in traffic or a waiting room, items needing to be returned to a store, dry cleaning, etc.
It keeps you organized and is handy to grab on your way out the door.
By Jayne
The night before you do shopping, errands, appointments, make a list of all of them and times of appointments and addresses. Then add the addresses and look at a map of city and plan accordingly, for example "Dr.'s appointment 10 am".
If you leave early, like taking kids to school you have a couple of hours to spare before appointment. Select all the errands you need to do in that area and get them done. This way you don't have to go back to that area, except to pick up kids and if you have errands you didn't get done. Do them with the kids or if they have school activities do those while waiting.
You don't retrace your steps and you save time and gas by plotting out your errand route. It also keeps stress down!
By cj from Minot, ND
Along with my cloth bags that I take when running errands, I always keep a few baskets in the trunk of my car. They are perfect for buying produce since I can take the same basket to the checkout and they just reload it, and the produce doesn't get squashed on the way home. It's also easier to unpack the groceries since I can see exactly what is in the basket.
When shopping at the dollar store, I can stock up and take the basket directly to my storage area and slide it onto the shelf. No need to even unpack it at that time since I have enough baskets. We all have baskets somewhere that we aren't using. This may be going back to the old days since I'm sure that's what everyone did when they went to market.
I use an online-mapping program like Mapquest or Google Maps to find out the mileage from my house to all the places I go on a regular basis. That helps me calculate how many miles I would drive to get somewhere.
Read More...
May 28, 2005
0

found this helpful
Every time you have errands to run or a doctors appointment. MAKE A COMPLETE LIST. Or I promise you'll forget something. Especially questions you may have for the doctor.
Read More...
February 27, 2017
0

found this helpful
Need help getting organized and remembering tasks? Use a clipboard to write down your reminders and hang it in a place that is easily seen throughout your day.
This is a guide about reminder clipboard.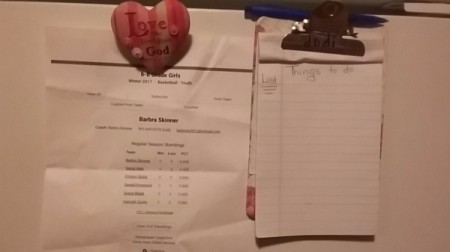 September 30, 2005
0

found this helpful
Some days I may do several stops that require different materials or supplies. I have each activity's stuff in a separate tote bag, and just grab the bags I need that day.
Read More...
December 29, 2004
0

found this helpful
When the doctor tells you he wants to see you in a specified time, don't have the receptionist automatically make the appointment then. You can ask if it is imperative that it has to be the exact date.
Read More...
Related Content