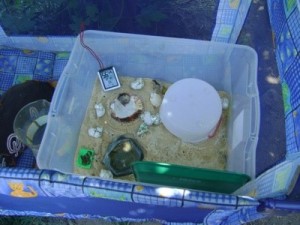 I have two land hermit crabs named Alex and Alisha. My daughter named them. They are excellent pets for me. On mornings in the winter when I am up early and I happen to walk near their crabitat, there they are busy as bees doing the crawling feeling things with their antennae and burying themselves. I love to have them because I have a love for observing animals of the ocean and beach and I don't expect to hold them all the time. I like to let my hermit crabs walk around on the bed, etc. after I bathe them for a few minutes or put a towel in the tub and let them run a while. The lady at Wal-mart wants one or two now, I told her to get two so they won't get lonely. I am looking to increase the size of my hermit crab colony to about 4.
Crabs are not really crabby, they are very much a social butterfly. They are social animals and you will probably never see them come out until you pick them up to bathe them or inspect to see if molting has occurred. Hermit crabs don't have bacteria or such on them like small turtles, frogs, or fish do. This is because of their exoskeleton. They will molt out of it and get a new outer skin every so often. When they are ready to molt, they will bury under the sand. If you have a lot of crabs, it is better to separate the molting one from the others in a small other home with sand, water, and a few bits of food.
Here are the supplies I needed to make my crabitat that I got at Wal-mart and some pet stores:
big storage plastic tub
humidity/temperature gauge
salt for sea salt water from pet store
dechlorinating drops for water
crab pellets to eat and crab treats
two plastic bowls one for dechlorinated water and one for salt water
play sand
squirt bottle filled with dechlorinated water to spray them with
tea pitcher to hold dechlorinated water and sit it by the crabitat.
clam shell or any plastic little container for their food
They seem to like the tops of the play dough jars that have indented shaped in them for some reason.
I have a squirt bottle but dunking in a shallow tub of dechlorinated water seems to be a favorite pastime of theirs but for new crabs, spraying once a day or so is a great socializing game.
Hermit crabs require humidity of 75 percent, so when it goes below that, I spray their sand and area with dechlorinated water until the humidity goes back up. Sand helps with humidity. At times I will pour dechlorinated water directly into the sand. I bought a humidity and temperature gauge at Wal-mart for ten dollars and also got the plastic box at Wal-mart. I am going to go a size larger.
I put play sand in their crabitat and after they have been out, you can see all their footprints in the sand, it is really funny. I have put a lot of sand in the crabitat so when I move it I will have to dig some of it out to be able lift up the box. The sand needs to be kept watered down when it gets too dry in the crabitat. Not soaked though - the humidity gauge will tell you when you have it right. They also need shade, I prop a tray over the upside down butter dish a lot of the day. Hermit crabs like to have a hut to go into, like an upside down butter container that has a cut out door in it. They don't like to bake in the sun anymore than you or I do.
Hermit crabs need to change their shells. I have been looking online for the shells and found them to be expensive, so I went to a craft area of Wal-mart and got a big bag of them for ten dollars, I would say there were at least 25 to thirty of them in there. I took the bag of shells home, put them in a pot, and boiled them for 4 minutes. I then took them out with a tong and laid them in a skillet of cool water until they were all cool.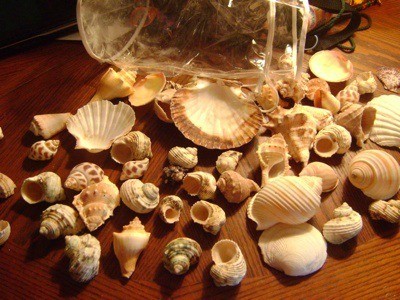 Crabs eat at night so don't leave much other than a dry pellet in there during the day. They love fruit and chicken on the bone and anything you like to eat at night
Hermit crabs cannot handle metal very well; they don't like anything that is made of it. They cannot have any kind of normal tap water. Water has to be conditioned to get rid of harmful chemicals such as chlorine that will kill them. They also need a salt water option at all times and this doesn't mean table salt, it means salt stuff from the fish store. I always fill a tea pitcher I use just for them and put two drops of dechlorinator in it and set it out by the crabitat which I have in an old play pen that is tied to a tree to keep the dogs out. They have two water areas; one for salt water and one for clear water. Don't forget to make the salt water with the dechlorinated water also. For the salt bath, I put a 1/2 cup dechlorinated water and a half teaspoon of the salt mixture from the fish store in a clam shell that doesn't leak or a small plastic bowl or plate. In the winter the crabs stay in the house and have a heating pad like thing under them that used to be a back vibrating pad. I turn the heat on low and keep the crabitat at 75 degrees and humidity of 75 also.
Crabs will pinch out of fear of heights and being dropped. Don't ever blow at a crab to get it to come out of its shell, it thinks you are trying to make a meal out of it and you might get pinched. If you get one hung on your finger or anywhere, lay it down on floor of its cage and it will more than likely let go. If you try to pull it off your finger, it will kill it more than likely as the crab will be pulled to pieces rather than leave its protective shell. Do watch out and don't let kids handle jumbo crabs, as their pinch can damage little fingers. I have heard the bigger ones can snap a pencil in two pieces so the large ones are better left to the really crabby savvy people - LOL. By jumbo I mean softball size or larger.
By Robyn Fed from Hampton, TN