Caring for a Parrot
Solutions
Share on ThriftyFunThis page contains the following solutions. Have something to add? Please share your solution!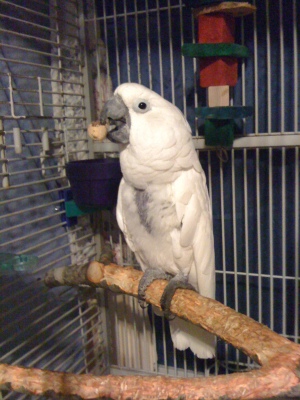 In spite of the rumor that you "should" feed your parrot grit, do not do so. They do not need this, and grit can cause crop impaction, so he'll be unable to digest his food properly. Excess grit in the gut can lead to death.
Never feed peanuts to your pet bird. Peanuts contain aflatoxins that are harmful to birds, and fungus can grow inside the shell, that can make your bird ill if he is exposed to it. This includes peanut butter. (The Umbrella Cockatoo in the photo is eating an almond.)
Here's a list of other things not to feed birds:
chocolate
apple seeds
avocado
onions (raw)
alcohol
mushrooms
tomato leaves
salt (birds cannot excrete salt like humans can)
caffeine
sulphites
rhubarb
peach, nectarine, and plum pits
sugar
uncooked dried beans
old seeds
mayonnaise products
dairy products
food dyes
unwashed fruits and vegetables
bird grit
Source: Parrots For Dummies and other sources.
By one.of.a.kind from AL
June 6, 2005
0

found this helpful

Here are my tips for raising large parrots.
For easy cage clean-ups I place newspapers on the tray on the bottom of their cages.
For bathing I put warm water in a spritzing bottle and spray them.
For cleaning their cages I use a non-toxic, non-abrasive all-purpose cleaner.
To keep dander and dust from eliminating all over my house I place their cages close to one of my furnace return ducts. I also use a HEPA filter in my furnace to catch most of all the dust particles. I make sure that I don't place them too close to the duct because I don't want their feathers getting sucked through the return duct and clogging up my furnace. Note that this is a return duct and not a register.
If you have a parrot that likes to play in his seed bowl and push his "good" seeds out of his bowl, I place a small tin pie pan under his food bowl on the bottom tray to catch the seeds, then I pour them back into his bowl. This saves me A LOT of money in feed. Make sure he/she doesn't have any poopie droppings in the feed dish, though. You don't want to contaminate the bird.
Never use your self-cleaning feature on your oven around or close to your bird. The fumes will send them into a sudden shock and kill them immediately.
Same goes for non-stick pans. If you allow a pan to burn on the stove the fumes from the non-stick substance sends off toxic fumes to birds.
Never use any cleaners, hairsprays, or air fresheners around your parrot. These are toxic.
Do not allow your parrot to chew on newspapers because the ink is toxic.
No matter what the controversies are about having your parrot's wings clipped, do it! It saves the parrot from flying into things and getting hurt. It's painless and humane if they're kept from the wild.
Have your parrot microchipped. This helps identify them if the parrot flies off or has been stolen.
Teach your parrot your phone number! If they become lost they can tell someone their phone number.
Enjoy and happy 'parrot'ing.
By Dyanna
I noticed that Perry, my budgie or parakeet, is very unsociable and likes to be left alone, so I have to find ways to interact with him that don't make him startle.
Read More...
Questions
Ask a QuestionHere are the questions asked by community members. Read on to see the answers provided by the ThriftyFun community or ask a new question.
September 8, 2013
0

found this helpful
I have a white parrot and would like to know from experienced people what is the best food to feed them, something they will like. Sorry I am new to this.
Regards.
By Majid from Dubai
Answers
March 27, 2014
0

found this helpful
Harrissons pellets and TOPs pellets are the best and most nutricous.
they can be gotten at www.mysafebirdstore.com
Answer

this Question

...