Saving Money on Cat Beds
Solutions
Share on ThriftyFunThis guide contains the following solutions. Have something to add? Please share your solution!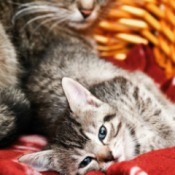 The cats that I have shared my home with have made it very clear that they are not impressed with the price of a bed. It's the same scenario as giving a child a present and having them enjoy the box the gift came in more than the gift itself. Given the chance, cats will show you what type of bed they desire.
Cats love cardboard boxes. Toss in a soft pillow and they'll be very happy. Depending on the personality of the cat, they might prefer a small opening that makes their bed a cozy hideaway or they might like a more open design that lets them observe the activity around them.

An inexpensive plastic storage box can easily be converted into a cat bed.

Inexpensive baskets can easily be found at yard sales. Place a soft cushion inside and most cats will find this a comfortable place to nap.

I had a cat that didn't like any cat bed I bought or made for her, so she chose her own. I had purchased a really large pottery flower pot intending to use it as a planter. Before I got around to adding soil and plants, this cat jumped in, curled up and decided this was the ideal bed for her. Needless to say, I never used this beautiful pot for plants. If I put a pillow inside the container, she would walk around the pot and "fuss about it". As soon as I would take the pillow out she would jump in and curl up for a nap.

Cats just naturally seem to enjoy a round clothes basket. Put a pillow in the bottom of the basket and you have an inexpensive cat bed. The open weave of a plastic clothes basket gives you a place to hang some toys for your cat to enjoy.
By VeronicaHB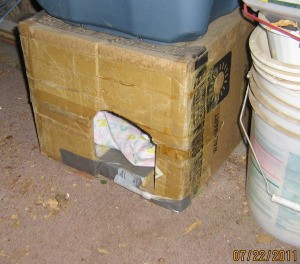 I made a cat box bed for my late cat, Midnight. He would go outside to do his business, as he was a stray who showed up on my porch one cold winter night. He didn't really like a litter box.
I took a strong heavy cardboard box that was square. It was about 15 or 16 inches. I lined it with Styrofoam insulation cutting the sides and top and bottom to fit. Before I closed up the box, I measured the last one to make sure it was going to fit the hole I put in one of the sides then put it in the box. I used a lot of tape, closed up the box, and used a lot more on the side where I closed it up. I put my hand in through the hole I made for the cat to finish the taping of the last piece of Styrofoam. Being it was going to be outside on my porch, I didn't bother to cover it except with an old rug. I also put an old shirt on the bottom that had my scent on it. It has a baby blanket in it now. He loved his "hiddy hole".
I now have 2 semi-outdoor sister cats. They don't use the box, but they were not allowed outside till spring this year. They come inside to be in the A/C when it gets over 95 degrees. Not spoiled are they? I will make them one, longer than the one on the porch, with 2 holes and covered with some old blue jeans. It won't have insulation as it won't go outside.
Hints for getting Styrofoam: think of businesses that get supplies on foam. My boys get furnaces and condensing units on thick Styrofoam which can be sawed in half to use for lining. It is just garbage. There must be hundreds of other places where you can get garbage Styrofoam. I have covered the bedroom windows that look out on street lights with Styrofoam. Now I get better sleep. It keeps heat out in summer and in during the winter.
By Jolene from Rocky Ford, CO
I have one of those cat beds that is just the bottom with short sides around. I've been trying to come up with a way of making a cover for it because my cat likes the "cave" feel. I finally figured it out! I'm going to use old mini-blind slats to stabilize it, then I'll cover it with foam rubber. After that I'll cover the whole section with fabric and attach it to the sides of the bed. And to create an even better "cave" feel, I'll hang a loose "curtain" of the same fabric down the front to within about 4-6 inches of the bed - just long enough to give him the "cave" feeling he likes, but not so far down that he can't see out, which he also wants to do so he can keep an eye on his dog buddies.
By Cricketnc from Parkton, NC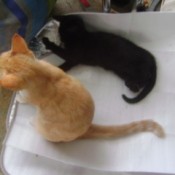 My sun shield for the car had fallen off the table and landed upside down. It was the silver kind that looks like aluminum foil. I found my kittens, Tommy and Peanut, had made themselves a nice comfortable nap mat out of it. They looked so happy. They were so delighted that am going to buy another one and let them have this one. Cats can be so picky with toys and such, that I am glad that I know at least one thing that really makes them happy.
By Robyn F. from TN
If you want a cheap cat bed, use a banana box with a cushion. When they get chewed and tatty, just get another one. They are big enough even for a large Ragdoll cat and her kittens.
Read More...
I keep any plastic cake box I get from Walmart. I wash the top half of it and put a sweater in it. I hide it somewhere cozy for the cats. They love to lay in them.
Related Content