Inexpensive Cat Beds
The cats that I have shared my home with have made it very clear that they are not impressed with the price of a bed. It's the same scenario as giving a child a present and having them enjoy the box the gift came in more than the gift itself. Given the chance, cats will show you what type of bed they desire.
Cats love cardboard boxes. Toss in a soft pillow and they'll be very happy. Depending on the personality of the cat, they might prefer a small opening that makes their bed a cozy hideaway or they might like a more open design that lets them observe the activity around them.

An inexpensive plastic storage box can easily be converted into a cat bed.

Inexpensive baskets can easily be found at yard sales. Place a soft cushion inside and most cats will find this a comfortable place to nap.

I had a cat that didn't like any cat bed I bought or made for her, so she chose her own. I had purchased a really large pottery flower pot intending to use it as a planter. Before I got around to adding soil and plants, this cat jumped in, curled up and decided this was the ideal bed for her. Needless to say, I never used this beautiful pot for plants. If I put a pillow inside the container, she would walk around the pot and "fuss about it". As soon as I would take the pillow out she would jump in and curl up for a nap.

Cats just naturally seem to enjoy a round clothes basket. Put a pillow in the bottom of the basket and you have an inexpensive cat bed. The open weave of a plastic clothes basket gives you a place to hang some toys for your cat to enjoy.
By VeronicaHB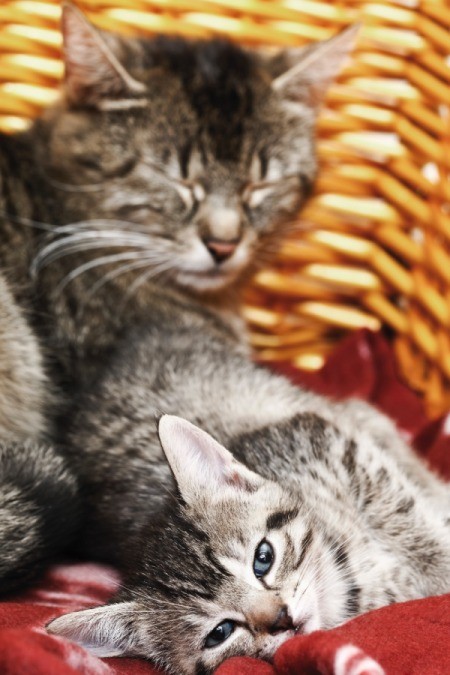 Add your voice! Click below to comment. ThriftyFun is powered by your wisdom!
January 31, 2012
0

found this helpful
How true, how true! My last puss passed away at the ripe old age of 23 and a half. All her life she just loved a piece of newspaper, and if her paper wasn't there, she would find a piece of confetti if necessary to sleep on! We used to laugh ourselves silly watching her circle a little piece of paper on the floor, then trying to tuck her whole body onto it!
But her second fave place was definitely a cardboard box, and woe-be-tide if any of the dogs went past, forgetting to be wary, as a paw would come flying out, quick as a wink, and swat the unsuspecting pooch on the nose or rump! She even used to scratch a little hole in one corner for a viewing window. We really miss Sweetie cat, but I'm not sure the pooches feel the same way!
April 10, 2014
0

found this helpful
My cat, who was born in a barnyard, just wanted to sleep on dirt. We have a balcony so we got a big pot and planted a small maple tree in it. He would curl up under the tree and sleep the day away. It looked like the dreams were the best.
September 10, 2015
0

found this helpful
I absolutely love all these stories. So typical of a cat and yet so individual.
The story about the cat who lived to be 23 brought back memories to me of one of my cats who lived to 21, even though he had diabetes all his life.
Add your voice! Click below to comment. ThriftyFun is powered by your wisdom!
Related Content