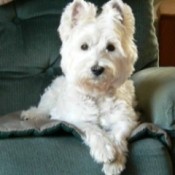 It is best to start with a puppy, if possible, but any age will do. Purchase toothpaste and a toothbrush made especially for dogs. Put a dab of toothpaste on toothbrush, and attempt to softly brush (circular motion) along the sides of their mouth along the gum line, pulling the cheek out. If they resist, let them lick the toothpaste and even lightly chew on the brush (if a puppy), and then try along the side again. Keep trying before bedtime each night, and they will get used to it.
When you can actually brush the teeth, use more toothpaste for each side. You should be able to even hold the mouth open and brush the insides of their upper teeth. It makes such a difference in their health and well-being, and you avoid the expense of teeth cleaning later on. It is important to be gentle at all times and don't lose patience. I always let them lick the toothbrush when we are done which feels like a treat to them.
Source: After needing to have our German Shepherd's teeth cleaned twice by the vet, we started with our first Westie. We have now had 4 Westies that we've brushed their teeth since they were puppies. We have had great success with good health and no need for teeth cleaning. They have made it to ages 14, 16, 14, and 14.
By Connie Eiceman from Naples, FL
Comments
Read More

Comments
Our 5 year old Rat Terrier needs to have her teeth cleaned. The Vet wants $250.00 for this. Has anyone cleaned their dog's teeth with the toothbrush and paste that the pet stores sell? I would be willing to try it. If so, how do you do it and how is the dog's mouth rinsed of the paste?
Many thanks,
Rosalie
Answers
By Claudette (Guest Post)
September 20, 2006
0

found this helpful
Depending on your dog's attitude, a rough wash rag works well to scrub teeth in sections so he (and you can have a break). Use something with grit like baking soda.
By (Guest Post)
September 21, 2006
0

found this helpful
I CAN'T BELIEVE THEY WANT TO CHARGE THAT MUCH..WE HAD OUR DOG'S TEETH CLEANED AT THE VET'S AND IT ONLY COST$40 BUT WOULD HAVE BEEN $50 IF THEY HAD TO SEDATE HER.
By Judy Two Dogs (Guest Post)
September 21, 2006
0

found this helpful
Your dog doesn't need to rinse. Make sure you use "dog" toothpaste from a pet supply place. It tastes like chicken!
Also, you can find "finger" toothbrushes that you just slip over your finger to brush their teeth with.

Coreen Hart
Bronze Feedback Medal for All Time! 153 Feedbacks
September 21, 2006
0

found this helpful
Our dentist told us to skip the paste entirely unless we needed our teeth whitened. I can't see why it wouldn't work for the doggie, and then you wouldn't have to rinse.

September 21, 2006
0

found this helpful
I agree with Judy, use the finger toothbrushes...if you should be able to find one at the pet store, or if not, the baby section of another store should have them with the infant teeth cleaning supplies. You can buy dog toothpaste at the pet store also. I began brushing my English Mastiffs teeth right off the bat when he was a puppy. I brush them every other day, just running this finger brush or his doggy brush over his teeth. I don't rinse, it doesn't foam like human toothpaste does.
We also have an old Great Dane that was adopted. His previous owners never brushed his teeth or cut his toenails so he won't have anything to do with it, that's why I immediately began working with my puppy. Dogs these size are NOT going to do what they don't want to do!...But I think you should do fine with your little terrier. Once she gets used to it, it should be pretty easy to keep up with. I can do whatever I want with my Mastiff's mouth and he's fine with it, I can take a treat out of his mouth mid chew, hold on to his tongue and all sorts of crazy things. Since he's so used to me working in his mouth he just lets me.

susan
Silver Feedback Medal for All Time! 472 Feedbacks
September 22, 2006
0

found this helpful
Are you sure the $250 was only for cleaning your pet's teeth? I have a cat with a disease who gets gingivitis, and have to get his teeth cleaned, but it's not just a regular cleaning.
He has to be sedated and the vet must clean below the gumline, which is comparable to the same procedure done on humans with gingivitis. It can be painful, and often must be done in stages.
By Susan from Hamilton (Guest Post)
September 22, 2006
0

found this helpful
The vet in our city wants $310 to clean teeth and more if extractions are required. I am taking my sheltie out of town to a nearby one where it is only $100. $25. extra if extractions are required. Yes that is with sedation
By (Guest Post)
September 22, 2006
0

found this helpful
Oh my gosh coreenhart!! Is you dentist planning a huge trip or building a mansion?? I have never heard of a dentist telling his patients not to use toothpaste! My dentist would cringe if he heard this!
By claudia- MD (Guest Post)
September 25, 2006
0

found this helpful
I want to move to the town where they charge $40 ! I live in Baltimore and we're in the $250-300 range.
The doggie toothpaste is formulated so it doesn't need to be rinsed out. If you can't find the finger toothbrushes, buy an infant toothbrush- it is soft and has a small head, perfect for small to midsized dogs.
I have two rescued LH dachshunds, 13 & 15 lbs. (one I have had for 20 months, the other for 9 months.) I haven't had much problem in getting them used to toothbrushing.
By Sandra (Guest Post)
September 25, 2006
0

found this helpful
Target has the "hartz" brand electric toothbrush and tooth paste and my dogs love it. Cost for both were less than $10
By j (Guest Post)
September 27, 2006
0

found this helpful
It only costs 65 where I live in Alabama and that includes sedation and the blood test beforehand. If you have not ever had your dog's teeth cleaned professionally, you need to spend the money and do so. Call a rural vet, it should be cheaper. Just like our teeth if we don't clean them for 5 years, the plaque and tartar extends into the gumline and a regular toothbrush or rag or whatever you would use yourself will never get under the gums to clean. It's important to keep their gums as healthful as possible. After the vet does it, clean your dog's teeth yourself every day or every other day and this should keep the plaque and tartar at bay until the next professional cleaning.

September 28, 2006
0

found this helpful
I brush my dogs teeth I have a pitbull and a mini pin. I got a tooth brush that fits on your finger from the pet store and I use my toothpaste. My dogs like the taste and I dont rinse
By Tab (Guest Post)
October 10, 2006
0

found this helpful
I use a smidge of peanut butter-don't know how healthy that is, but at least my dog will let me put the brush in her mouth and get the gunk off.
Read More

Answers

What can I do? Bandit will not let me brush his teeth either with the tooth brush or the finger brush. He bites hard on the brush locking it out of his mouth and if I don't move my finger I'm afraid it will suffer the same. Any suggestions out there?
He is just over 3 and his teeth are in good shape; he doesn't like Greenies or rawhide. I have to buy him pigs ears and Bully Sticks (bull's penises) which are not cheap 3.00 a stick only 4" long and curly; he loves them. He won't eat Milk Bones either. I'm at my wits end. Help please, I cant afford to get his teeth cleaned. Who can?
By Debbie T.
Read More

Answers