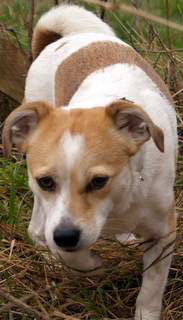 I've got 2 great dogs, and 1 is terrified of the new doggie door that we just installed. His brother runs in and out of the pet door with no problem, but the other guy just sits and shakes, staring at the door knowing that the grass is greener on the other side, but afraid to get there. I've tried bribing him with treats and toys, but all he does is whine.
I've stuck my head through the door, praised him with every step forward he's made, but still nothing. It's doubly frustrating because usually he's the bold one in a house (I hear he even tried to attack a cow once!) What else can I do?
Kathy from Oak Harbor, WA

Answers:
Training a Dog To Use a Dog Door
Does the flap for your doggie door have a metal strip at the bottom? If so, you may be able to slide it off. Our poodle was also scared of the doggie door and we found that it was actually the soud and the weight of the metal strip that bothered him. As long as we have it removed, he's fine.

I hope this helps. (02/21/2007)

Training a Dog To Use a Dog Door
If there's a way to prop the door up/open for awhile to see if that is enticement enough, I would suggest that if you can stand to have the house open to the elements for short periods of time. You should continue to coax with praise and treats as well. (02/22/2007)

By
Training a Dog To Use a Dog Door
Try using duct tape to tape the flap up. Then place his food on the far side so he has to walk thru to eat. Do this a few times/days. Then try letting the flap down with food on the far side. Call him, hold the flap up if you need to. If his food is on the other side he WILL use the dog door. (02/22/2007)

By
Training a Dog To Use a Dog Door
He is obviously afraid of the door.
I don't think that opening the door and showing him the other side will work. Because it is the door he is afraid of.
I would put a leash on him.
Have someone on the other side of the door and literally pull him through the door. This may sound mean but it is not, you are teaching him not to be afraid.You may have to drag him the first couple of times or maybe a lot of times but he will eventually conquer his fears.
You don't have to yank on the leash just a steady pull enough to get him through the door. You may have to physically pick him up and put him through the door. He will catch on and find that the door means him no harm. (02/22/2007)

By LEONA LABINE
Training a Dog To Use a Dog Door
Now raising flap works but still will not come if flap is down, now what? (03/14/2007)

By Vicki
Training a Dog To Use a Dog Door
Thank you for the suggestions I will try them (03/17/2007)

By Vicki
Training a Dog To Use a Dog Door
poor Brutis, he just never learned....I couldn't remove the metal strip on the bottom of the flap, so that didn't work. He would come through if I held the flap open a little ways for him, but obviously I can't always be there to do that. I nudged him through a couple of times, but he just never got over his fear. I ended up removing the flap and taping a dish towel over the opening instead. He has no problems with going through that! I even tried both the flap and the towel, but once the flap was in place, he'd refuse to go through again! Thankfully the doggie door is installed on the porch, so the lack of flap isn't causing the cold air to waft into the house!
Thank you for all your suggestions! (03/19/2007)

By Kathy