What is the safest, easiest way to clean a fish tank? Is there a solution you can buy to clean the tank up that is not too expensive?
By Candee from Suffolk, VA
Answers
June 30, 2009
0

found this helpful
Best Answer
Of course the safest way is no chemicals. If one of the soft scrubbers, as talked about below, don't work for you, you can try using a single-edged razor blade, but be careful not to get the blade too close to the sealant at the edges of the glass or you could damage it.
Answer

this Question

...
The inside of your aquarium can become covered with hard water marks. Removing them can be done in number of ways, using a scraper, vinegar, and other household cleaners.
This page contains various suggestions for removing hard water stains in an aquarium.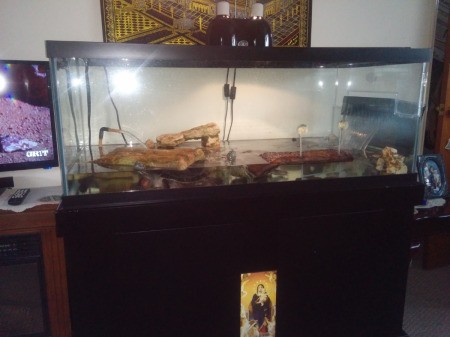 What is the best thing to use to clean a dirty glass fish tank that has been sitting for sometime and won't hurt any fish put in it afterwards?

Thanks,
LilHoneyBrat

Answers:
Cleaning a Fish Tank
Use hot water and a no scratch pad, like the ones you use on pots and pans. I buy the generic three or four packs and cut them in half. Don't use any soaps or cleaners. They can leave residue.
(07/11/2005)
By Stacy Gulick
Cleaning a Fish Tank
Vinegar and hydrogen peroxide are two good disinfecting agents that are safe for pets. Spray it on and let it sit for 20 minutes or longer. Be sure to rinse very well and let dry in the sun if you can.

You can buy "scratch pads" specifically for aquariums and that would be the safest to use on the glass. ($3 @ Walmart) I'm a little unsure if one made for dishes really is free of soap residue. Some aren't.
coolchinchilla (07/11/2005)

By Linda Hug
Cleaning a Fish Tank
We have two 55 gallon fish tanks and when we do our annual cleaning we use baking soda. We soak the rocks/pebbles in it and scrub the entire tank with the baking soda and water solution. Rinse well and it doesn't hurt the fish.
Pam from Minnesota (07/12/2005)

By Pam
Cleaning a Fish Tank
Salt is an excellent cleaner, use a nylon scrubbie and wet salt and all the glass is clean, it also works well on the rocks, landscape items, and plastic light covers. (07/17/2005)
By Tammy