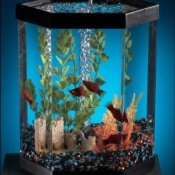 For roof top swamp coolers, thread the filler tube from the outside faucet through a piece of garden hose up to the swamp cooler. this will prevent the tube from deteriorating due to the heat from the sun.
By Bruce from American Fork, UT
I have a 30 gal goldfish tank with two 3in fish in it. The water in the tank is neon green. Is it because of algae? It is away from windows, has a good filtration system, and the fish are not over fed. I have set this tank up 3 times already. Each time I start off with a nice clean tank and then a few weeks later the water is green again. I am getting upset but I love my goldfish.
The fish are very much alive! I change out the water every 2 weeks, approx 20 o/o, feed them sparingly and change the filter out every time there is a water change. I have tried numerous chemicals, but nothing seems to work. I really enjoy watching my fish, there should be a solution to the water problem. The filter I have is an Aqua Tech 20 - 40, which is good for up to a 40 gallon tank. Please help.
By Donna from Andalusia, AL
Answers
April 9, 2010
0

found this helpful
It could be your decorations. Check to make sure you don't have any sea shells, drift wood or such. Only put plastic, ceramic or fish aq supplies.
April 13, 2010
0

found this helpful
Are you cleaning the inside algae off of the glass regularly? What kinds of chemicals are you using? I could be remembering wrong because it was so long ago but I seem to remember a product called 'algae be gone'? Long ago I had three fish tanks at one time for years and only had to change the water out once or twice a year so something is amiss with your setup :-( I think you should go to a fish pet supply store and ask them and ask someone there who really knows what they're talking about!
April 18, 2010
0

found this helpful
Are you using artificially colored gravel that might be leaching into the water?
Answer

this Question