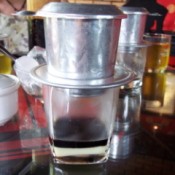 Coffee is very popular in Vietnam. Coffee shops are practically on every street corner. There are big fancy coffee shops, where a lot of thought was put into the decor and landscaping. There are little mom and pop shops, where people open a coffee shop in their living room. There are even side walk cafes, known as "cafe coc" (pronounced cafe cop), where people set up shop on the side walk, bringing their own plastic tables and chairs with them each morning.
Whether it is a big fancy coffee shop or a sidewalk cafe, the coffee can be delicious at both, as long as the person making it knows how to make it well. When I was living in Vietnam one of my favorite places to drink was at a "cafe coc" just outside of the school I taught at because their coffee was delicious.
Vietnamese coffee is either made with sweetened condensed milk or with just a bit of sugar mixed in. There are a few popular coffee roasters, each having a slightly different flavor. One of the biggest coffee roasters is Trung Nguyen. This brand is easily found in the Untied States at asian grocery stores. My all time favorite coffee roaster is Long Coffee, from Da Nang. This is one of the most popular brands of coffee in Da Nang, although you will not find it in other parts of the country.
Throughout the country there are just a few differences in how the coffee is made. You will either find your coffee in a taller glass with crushed ice or in a small short glasses with large ice cubes.
Ingredients:
3 Tbsp. sweetened condensed milk
3 Tbsp. Vietnamese style coffee (I like Trung Nguyen brand)*
Vietnamese coffee filter
ice
Note: Vietnamese coffee is roasted with added seasonings, which give it a distinct flavor. You can use regular coffee, but it will have a different flavor. Often times, here in the United States restaurants will use french coffee with added chicory. I personally don't like this coffee very much, but some people do.
Directions:
Start by boiling a kettle of water. Put 3 scoops of ground coffee into the filter, with the filter screen firmly press the coffee down. Once the water has boiled, fill the lid of the filter up with with water and set the filter on top. Pour about 2 Tbsp. of water into the filter. This helps the coffee form a puck, which will help the coffee drip slowly, thus making a stronger brew. When all the water has been sucked up from the lid, the filter is ready for brewing. Add 2-3 Tbsp. of sweetened condensed milk into a glass, place the filter on top, and fill the filter with hot water. Now take a break and enjoy watching the coffee slowly drip into the cup and mix with the milk.
Note: If it has been a few minutes and the coffee hasn't dripped down, carefully lift up the filter and run a spoon along the bottom where the holes are.
Once all the coffee has dripped into the cup, stir until milk is mixed in well, then add ice. You can choose to drink this in a small glass with a few ice cubes or the "Saigon Style" in a tall glass with crushed ice (see photo below). If you like to have foam on top, you can shake the coffee in a cocktail shaker with the ice, then pour it into a glass.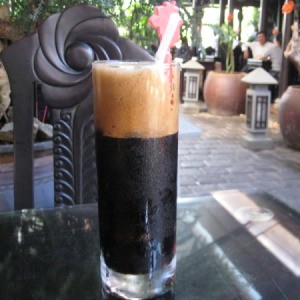 By StellaBell from Manchester, WA
Read More Comments
With this video guide, you will learn how to make your own Vietnamese coffee (Càfê Sua Dá) at home. This is a step by step video on making Vietnamese Iced coffee. Vietnamese Iced coffee is similar to Thai Iced Tea in that they can both be sweet and use sweetened condensed milk.
My favorite coffee to use is Trung Nguyen, you can usually find it at an asian market. It has a nicer, less acidic, flavor than the french coffee with chicory.
Read More Comments