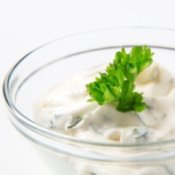 Ranch Dressing Mix I
Everyone loves the powdered ranch dressing mix. Well, I have the recipe! I was lucky enough to have all the ingredients on hand. I actually like it a little better than the store bought.
Ingredients
1/2 tsp. dried parsley flakes
1/4 tsp. ground black pepper
1/4 tsp. MSG. (optional)
1/4 tsp. salt
1/8 tsp. garlic powder
1/8 tsp. onion powder
pinch dried thyme
Mix dried ingredients together in small bowl.
To Prepare
1/2 cup mayonnaise
1/2 cup buttermilk
Ranch Dressing Mix
Directions
Whisk mayonnaise and buttermilk together. Add Ranch Dressing Mix. Mix together. Refrigerate. Mmmmmmm!
By cookiemom1 from Gilmer, TX
---
Ranch Dressing Mix II
Ingredients
7 saltine crackers
2/3 cup dry minced parsley flakes
1/4 cup dry minced onion
1 Tbsp. dry dill weed
2 tablespoons onion salt
2 tablespoons garlic salt
2 tablespoons onion powder
2 tablespoons garlic powder
Dry Mix Directions
In an electric blender, blend crackers on high speed until powdered. Add parsley, minced onions, and dill weed. Blend again until powdered. Dump into bowl. Stir in onion salt, garlic salt, onion powder, and garlic powder.
Dressing
1 Tbsp. mix
1 cup mayonnaise
1 cup buttermilk
By Trudy from Springfield, IL
---
Ranch Dressing Mix III
Ingredients
1/2 cup dried parsley flakes
4 tsp. ground pepper
2 tsp. garlic powder
1/4 cup onion powder
2 tsp. salt
Directions
Mix well. Store in 1 cup sealed container. Shake well. Mix 1 Tbsp. mix with 3/4 cup buttermilk, 1/2 cup mayonnaise and 1/2 cup sour cream to make about 2 cups dressing.
By Catherine from Talbott, TN