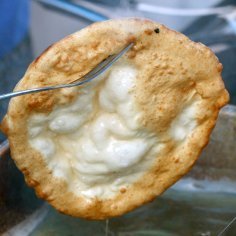 A week or so ago, someone was asking for a "elephant ear" recipe, I was just going through recipe books I could put in a garage sale and came across this one.
Ingredients
Fresh hot donuts.
Refrigerator biscuits - 1 roll
1 cup cooking oil
1/4 cup cinnamon sugar
Paper lunch bag
Directions
Place cinnamon sugar in paper lunch bag. Heat cooking oil in large frying pan. Test for hot enough: Drop of water will sizzle.
Separate dough into individual biscuits "ear". Stretch each biscuit until they just about have holes in them. They do not have to be perfect. Gently drop each "ear" into the hot oil. As soon as one side becomes golden, flip them and let second side get golden. DO NOT WALK AWAY. They burn quickly.
Place "ears" on paper towel to soak up excess oil. Shake "ears" in paper bag of cinnamon sugar. Serve warm with ice cream or just plain. Make lots, they will go quickly.
Source: Now closed restaurant where I cooked.
By CAKEDEC
Comments
Read More

Comments