I live in zone 7a. I have elephant ears that I overwintered in the ground and covered with 2-3inches of mulch before the first frost this winter. I cut them down 2-3 inches from the ground before mulching them. I completely covered them. Spring is just about here.
I decided to remove the mulch and the 2-3 in of the stem is still there. However, it appears a little rotten maybe? I'm not sure. What should I expect after overwintering my elephant ears in the ground and what are my next steps if they are still well? Thanks.
Answers

March 16, 2020
0

found this helpful
Best Answer
Did you have a long period of below temperature days?
This answer may determine if your 2-3 inches of much was enough to save them.
If these were mine, I would just leave them - wait until you are into spring and know that you will not have anymore freezing periods.
You may need to cover them again as frost could kill them and your last frost could be into May.
"zone 7, the last frost may be as late as May depending on region. Frost dates vary even within the zone, so consult a farmer's almanac or frost date map for guidance about your location."
Give them a chance to recover - if they are 'rotten' digging them up now will not save them.
If they survive; do not cut them back next winter and be sure they are well covered with mulch.
Check out this site:
www.americanmeadows.com/.../prepare-your-elephant-ears-for-the...
Answer

this Question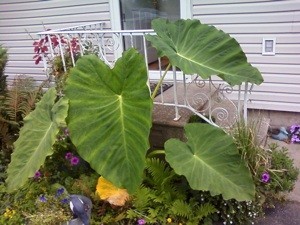 I love my elephant ear plant this year, it is huge! What are my options for wintering this plant? I would like to be able to replant this bulb in the same spot next year.
Hardiness Zone: 5a
By Mary from Wilmington, IL
Answers

Cricket
Bronze Post Medal for All Time! 205 Posts
September 10, 2009
0

found this helpful
I know it's different in each zone, but here in southeastern NC I simply cut mine back to ground level and cover them with mulch. In the spring I rake up all the mulch and they grow back bigger, better and prettier than the year before.
Another tip: I have got 10 plantings (so far, and counting--will be splitting again next year) out of one single bulb!

September 11, 2009
0

found this helpful
I am zone 6 and for two years I had to dig out the bulb and bring it in during the freeze this year I decided to dig a big enough hole to bury a terra cotta pot and planted my Elephant Ear in the pot now all I have to do is lift out the pot and bring the entire plant into the walk in basement perhaps you have a garage The then empty hole will be filed with some med sized boulders to prevent falling in the hole during winter..
There is an Elephant Ear that can grow in our colder zones ( so I am told ) but for this year you will want to dig out the bulb and store it in a cool dry area until middle march Mark the spot you want to plant again with some type of stick or something and concider potting it in the ground.

September 11, 2009
0

found this helpful
I also have an elephant ear plant, I received a bulb in the summer from a friend, planted it and it is really big now. I am in zone 7, so will probably cut off and mulch as indicated.
I have another problem; the leaves have brown spots on them. Does yours? Do you know what it is? What I can do about it.

September 14, 2009
0

found this helpful
I didn't realize that you could split the bulb on these?

September 15, 2009
0

found this helpful
I live in zone 5a as well. I have 3 elephant ears. This winter will be the 4th year I have over wintered them. Here's what I do. Before frost I dig up the root ball and pull the plant out of the ground. I cut off the stems and leaves(more later on what I do with the leaves). I remove as much dirt as possible and then let them air dry in the garage for several days to a week. I then submerge them in containers surrounded by spaghnum moss. A bale of spaghnum moss has lasted me several years, so don't be discouraged by the size and price.
My first elephant ear bulb is so big that I have to put it in a trash barrel with a lid. Another fits into a styrofoam ice chest. Each year they get bigger. I keep these stored in my unheated garage, where it never gets below freezing.
As for the leaves, I take leaves that are manageable in size and make concrete imprints of the leaves. These are really cool to set around the garden or decorate with.
I hope this has helped you.

September 6, 2018
0

found this helpful
do the Elephant Ears need watered when taken indoors for thevwinter?
Answer

this Question

I did not remove my elephant ear bulbs this year, but I am in zone 9. What do I do now? The base of the plant is sticking up quite far and I do not know if I should add more dirt or what?
Answers

Judy
Gold Post Medal for All Time! 677 Posts
February 25, 2019
0

found this helpful
I would cover the bulbs up with dirt to keep them covered. Next year, dig them up because they are not cold-hardy.

February 25, 2019
0

found this helpful
I didn't pull up my bulbs for a couple of years. The really bad winters killed them. If you do pull them up, this year, keep them somewhere where they can't freeze and don't pull them up when it is raining. They will get mold on them.
If you are past all chances of freezing, then you can leave them to grow. Lop off any dead parts above ground, and in the spring and summer, fertilize them each month with a water soluble and slow release fertilizer, which is labeled 20 -20 -20. If they grow to much stop the fertilizing for a couple of months.
Blessings,
Robyn

Pghgirl40
Bronze Feedback Medal for All Time! 196 Feedbacks
February 25, 2019
0

found this helpful
Maybe it is my zone in Pittsburgh, but I never do anything to mine and the have taken over the side of my house. Mine thrive on be benign neglect. When they pop early I ignore them. I tried digging them up a few years ago and must have missed some because they came back with a vengeance the next year. I hope you have the luck with them that I do!
Answer

this Question
My husband recently bought me an elephant ear and a banana plant. I read that with a banana plant, you simply cut them all the way down to the base, cover with mulch and a tarp until spring. Can I do the same with the elephant ear plant, or does it have to be dug up?
By KD from central OK
Answers

November 19, 2017
0

found this helpful
It depends on your growing zone. I have to bring mine in, so I dig up the bulb cut all the green off and store in a dark dry cool (but not freezing) spot in the house. Often I find that my elephant ear bulb has split and I have 2 now instead of the one I originally planted.
Answer

this Question