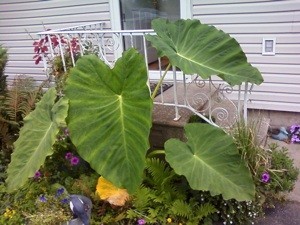 I love my elephant ear plant this year, it is huge! What are my options for wintering this plant? I would like to be able to replant this bulb in the same spot next year.
Hardiness Zone: 5a
By Mary from Wilmington, IL
Answers
September 10, 2009
0

found this helpful
I know it's different in each zone, but here in southeastern NC I simply cut mine back to ground level and cover them with mulch. In the spring I rake up all the mulch and they grow back bigger, better and prettier than the year before.
Another tip: I have got 10 plantings (so far, and counting--will be splitting again next year) out of one single bulb!
September 11, 2009
0

found this helpful
I am zone 6 and for two years I had to dig out the bulb and bring it in during the freeze this year I decided to dig a big enough hole to bury a terra cotta pot and planted my Elephant Ear in the pot now all I have to do is lift out the pot and bring the entire plant into the walk in basement perhaps you have a garage The then empty hole will be filed with some med sized boulders to prevent falling in the hole during winter..
There is an Elephant Ear that can grow in our colder zones ( so I am told ) but for this year you will want to dig out the bulb and store it in a cool dry area until middle march Mark the spot you want to plant again with some type of stick or something and concider potting it in the ground.
September 11, 2009
0

found this helpful
I also have an elephant ear plant, I received a bulb in the summer from a friend, planted it and it is really big now. I am in zone 7, so will probably cut off and mulch as indicated.
I have another problem; the leaves have brown spots on them. Does yours? Do you know what it is? What I can do about it.
September 14, 2009
0

found this helpful
I didn't realize that you could split the bulb on these?
September 15, 2009
0

found this helpful
I live in zone 5a as well. I have 3 elephant ears. This winter will be the 4th year I have over wintered them. Here's what I do. Before frost I dig up the root ball and pull the plant out of the ground. I cut off the stems and leaves(more later on what I do with the leaves). I remove as much dirt as possible and then let them air dry in the garage for several days to a week. I then submerge them in containers surrounded by spaghnum moss. A bale of spaghnum moss has lasted me several years, so don't be discouraged by the size and price.
My first elephant ear bulb is so big that I have to put it in a trash barrel with a lid. Another fits into a styrofoam ice chest. Each year they get bigger. I keep these stored in my unheated garage, where it never gets below freezing.
As for the leaves, I take leaves that are manageable in size and make concrete imprints of the leaves. These are really cool to set around the garden or decorate with.
I hope this has helped you.
September 6, 2018
0

found this helpful
do the Elephant Ears need watered when taken indoors for thevwinter?
Answer

this Question

...
April 5, 2015
0

found this helpful
My husband recently bought me an elephant ear and a banana plant. I read that with a banana plant, you simply cut them all the way down to the base, cover with mulch and a tarp until spring. Can I do the same with the elephant ear plant, or does it have to be dug up?
By KD from central OK
Answers
November 19, 2017
0

found this helpful
It depends on your growing zone. I have to bring mine in, so I dig up the bulb cut all the green off and store in a dark dry cool (but not freezing) spot in the house. Often I find that my elephant ear bulb has split and I have 2 now instead of the one I originally planted.
Answer

this Question

...