This recipe for Baked Spaghetti Pizza Pie is an adaptation I made from other baked spaghetti recipes. Most recipes I found called for mixing the noodles and leftover spaghetti together. I decided to make something a little different. I made this recipe up so you can try variations and let me know how it turns out!
Ingredients:
leftover spaghetti noodles (enough to cover the bottom of your pan, if you don't have enough boil more)
leftover spaghetti sauce
toppings of your choice such as: pepperoni, sausage, hamburger, peppers, onions, tomatoes, mushrooms, pineapple, ham
shredded mozzarella cheese
1/2 cup milk
2 eggs
garlic and Italian seasonings to taste
Directions:
Preheat oven to 350 degrees F. Boil spaghetti noodles until tender, drain, and put in greased pan (noodles should cover the bottom of the pan to form the crust).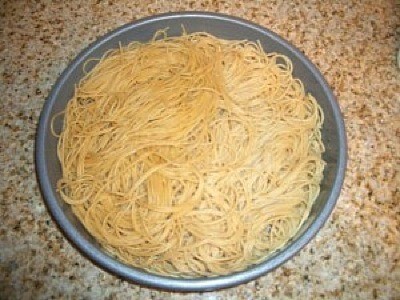 Mix milk and eggs together, pour liquid mixture over noodles until all noodles are covered. Bake in the oven for 10 minutes to set the "crust".
Once that is done, take it out of the oven and add the toppings. Put the sauce down first (the sauce should cover the noodles), then the meat, vegetables and top with as much cheese as you like.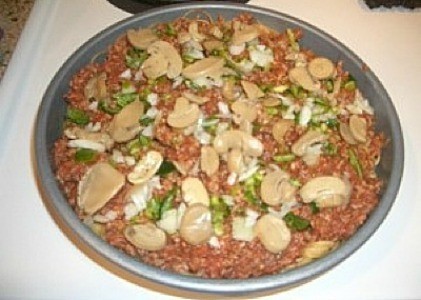 Continue to bake this for 25-30 minutes until cheese is browned on top. Let sit for 5-10 minutes to cool and then cut in triangles like pizza. Serve with dinner salad, vegetable, and crusty bread.
Servings:
4
Time:
10 Minutes Preparation Time
35-45 Minutes Cooking Time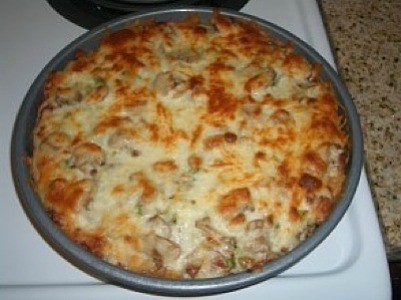 Source: The Jenny Pincher's Kitchen (www.thejennypincher.com)
By Jenny from St. Peters, MO
Read More

Comments
Preheat oven to 350 degrees F. In a large bowl combine evaporated milk, bread crumbs, onion, salt, Italian seasoning, and pepper. Add ground meat; mix well.
Read More...