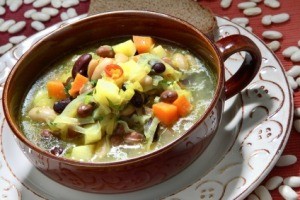 Using a gallon size freezer bag, save and freeze spare cuttings from all your cleaned and scrubbed fresh vegetables: onion skins, zucchini and cucumber ends, potato peels, carrot tips, carrot peels, tomatoes, celery, greens, garlic paper. The possibilities are endless!
When the freezer bag is full:
Pour the frozen cuttings into a large cooking pan. Fill with water (ratio 2 - 3 parts water to vegetables).
Bring to boil and simmer until you get a rich, nice looking broth.
Strain the broth into another pan (the veggies can be composted).
You've now got a healthy vegetarian broth, that was virtually free. For soup, use cooked pasta, cubed or sliced fresh veggies, frozen veggies, cooked lentils, cooked beans, cooked rice. Bring to a boil, simmer till the veggies are done, and spice to taste. Go through your fridge and cupboards and use your leftovers and imagination!
By Laura from Long Beach, CA
Read More

Comments
In a large soup pot, heat oil over medium heat. Add onions, carrots, and celery; cook and stir until onion is tender. Stir in garlic, bay leaf, oregano, and basil; cook for 2 minutes...
Read More...
I would like recipes for soups without meat, but with beans: black, red, white, on and on. It can be done in a crockpot or hand blended.
Thanks.
Answers
May 20, 2011
0

found this helpful
I've posted a link to this recipe before -- it's wonderful! It has no meat, and no added salt. Very flexible and forgiving. I've used canned beans or dried beans (adjusting cooking time). I've used veggies fresh from the garden, and I've added other veggies that I happen to have on hand. I never use the blender on it. I like to offer lime wedges to squeeze over each bowl, and reduced fat cheddar and reduced fat sour cream. I've also had chopped up avocado to sprinkle over the bowls of soup. It's always good!
May 20, 2011
0

found this helpful
I make this soup all the time. Inexpensive, filling, and easy to make. It's made with lentils but you could substitute white beans if you prefer.
Lentil & Tomato Stew
1 can tomatoes, whole or diced (do not drain)
1-2 carrots, chopped
1 cup frozen or canned peas
1 medium potato, cubed
1 onion, diced
1/3 cup dried lentils
Saute chopped carrot and onion in a little olive or vegetable oil over medium heat until onions turn clear. Add canned tomatoes and other ingredients plus 3 cans of water. Season with vegetable boullion, 1 tsp oregano, 1 tsp marjoram, bay leaf, and 1 tsp turmeric. Bring to a boil and then simmer for 45 minutes to an hour until ingredients are tender. Salt and pepper to taste. Add more water if necessary.
Answer

this Question