July 18, 2008
0

found this helpful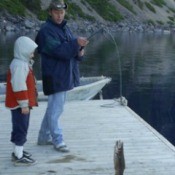 What are your tips for saving money on fishing and all the necessary gear? Here are some ideas suggested by the ThriftyFun community.
Look For Free Fishing Days
Some areas have no license fishing at the beginning of the season or on certain specific days. There are also different types of licenses, depending on what you are looking for. Don't get more license than you will ever use.
If you are in the Southern Oregon area, Crater Lake lets you fish for free because it was stocked in the 50's with non native species. We caught a fish right away but my son wanted to put him back so he is there to be caught again.
By Jess
Garage Sales
I found most of my poles and gear at garage and estate sales look in your newspaper for ads people usually list what kind of items they are selling or look for sales near lakes and rivers. I once found three nice poles for $1
By Amie from Michigan
Tourist Fishing
For a one time or trial fishing trip, see if you can go to a stocked lake for tourists. Many commercial places include the rental in the fee. This is a cheaper way to try it out, for kids or novices.
By Joe
Take A Buddy And Other Tips
Gas has got to be the biggest expense these days! Take a buddy with you and make a pact to split the gas money. Don't take your truck unless you need to tow a boat, instead take your economy car (EVERY family MUST own an economy car these days!) With an economy car, you'll save even more on gas and check out a map of your local area for places closer to home that you'd like to try fishing.
Each fishing excursion doesn't have to be halfway across the state, there are surely many great places to sink a line closer to home.
Save small containers (like prescription bottles) to hold your hooks and other tiny gear in.
Instead of stopping at a convenience store to buy treats, pack your own goodies before you go. The night before, pour out (and save) the top 2 inches of water from some small water bottles then put them in the freezer overnight. You can use these to keep your small cooler cool and not have to buy ice for the food and drink. And when the ice has partially melted, you'll have nice ice-cold water to drink!
If you're at a lake or slow moving stream, you can make a small dam out of rocks to hold your fish in. This way you can keep then alive until you go home. That way, they'll be all the fresher. Just be sure the dam is high enough to stop the fish from jumping back in!
And most important: Leave your cares at home and JUST HAVE FUN!
By Cyinda
Comments
July 20, 2008
0

found this helpful
Fishing on the fourth of July in most states is free. Also if you are going to visit the ocean many piers offer fishing without a license, some piers it's also free but many charge only a few dollars per pole. Also if you already have a fishing license and are looking to fish elsewhere many licenses have agreements with other states to fish in there waters. Look into the wildlife commission to see what the rules and regulations are. Fishing licenses are usually relatively inexpensive, they're only 15 in NC. As visitors you can purchase a few day pass for even less. Also in NC if you are fishing with live bait (such as minnows) a fishing license is not required. Also if a pond of lake is on private property (Farm, backyard etc NOT PUBLIC land) fishing licenses are not required.
Walmart offers several decent fishing setups (like zebcos) that are easy to use and less than 20 dollars. Go to stores that sell fishing equipment after summer and fall when the popular fishing season is over, they usually have really great discounts.
I hope this helps :)
By sharon carr (Guest Post)
July 22, 2008
0

found this helpful
For fishing or camping trips, I never have to buy ice, which adds up a big saving. I take several small coolwhip and butter dishes, fill 3/4 full of water then freeze them. The next day run under warm water to loosen them and dump into plastic store bags and put in the big freezer until I need them. The ice is free and in these blocks, last trice as long as a bag you buy. They last a good 3 days when we're camping too!