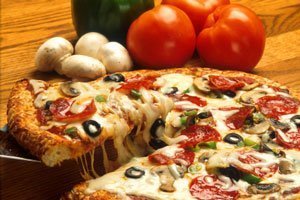 Frozen, carry out or homemade: here are your tips for saving money on pizza as suggested by the ThriftyFun community. Have we missed anything? Feel free to post your favorite tips below.
English Muffin Mini Pizzas
Sometimes when we felt that we needed a quick pizza "fix" or a snack, we used English Muffins cut in half, toasted or plain topped with tomato sauce made with basil, oregano, garlic, onions added, topped with pepperoni, salami, ricotta or cottage cheese, olives, peppers, anchovies, Parmesan or Romano cheese, etc. Sometimes we would cut Italian bread or rolls in slices or in half depending on the shape, or even pitas and then top those as above. Bake or microwave and enjoy. Craving satisfied.
By Angelna
Thrifty Pizza Advice
When my kids were growing up and they had a craving for pizza I'd always make sure we always had some canned spaghetti sauce in the fridge. This way they could take any type of bread (stale bread works even better) from a bagel to a piece of toast to an English muffin and add a tablespoon of the spaghetti sauce and a bit of cheese and a dash of Parmesan and a sprinkle of Italian Seasoning, then pop it in the microwave (or the oven) and "PRESTO" their pizza craving is no more! YUM! YUM!
On the RARE occasions where we can afford to treat ourselves to pizza these days, I've found I can save quite a bit (sometimes half) by driving in to Dominos instead of having our pizza delivered! Just ask "What are your "U-pick-up" specials. Also, if you enjoy a single topping pizza (or can add your own second or third topping at home), you can buy a large pizza with a single topping for much less than a medium pizza with 4 toppings (at Dominos at least). ALWAYS ASK "WHAT ARE YOUR SPECIALS", no matter WHO you call or drive in to.
As far as low cost/high quality pizzas, the very best are the "Take and Bake" like Papa Murphy's or other places like that. If you are on food stamps, you can sometimes use food stamps because this is food that you are cooking at home. This way, you can afford a special treat once in a while, say, for a child's birthday meal for example.
Before you order your pizza, look in the cupboard and see if you may have a can of olives or pineapple or even onions or tomatoes in the fridge, this way you can save money on toppings by adding these after the pizza gets to your home!
About Tipping: And NEVER save money by not tipping your pizza delivery driver. I've had many people that survive on tips these days say that a family or a couple will go out to a fancy restaurant at night, but when it comes to the tip, even thought the service was great, they either won't tip or they will not tip the 15 - 20% that's expected for great service (remember these servers are only getting minimum wage and even less in many states. And they have to "tip-out" in other words they have to share their tips with the busboys and other employees!
So please remember that the tip is NOT where you save money, find a coupon instead!
By Cyinda
Takeout Pizza Is A Good Deal
I live near Chicago, land of the deep dish pizza. A $24 large deep dish pizza will give my husband and I about 3 meals, which ends up being about $4 a meal for each of us for yummy pizza. Not a bad meal price for takeout!
By Amy
Make Your Own Pizza and Other Tips
My teen likes to make pizza. We use a store brand dough mix, a jar of pizza sauce (from a great Italian restaurant in St. Louis, no less) and store brand mozzarella. Much, much cheaper than ordering out!
There is also a popular locally owned pizza restaurant in town that sells their pies frozen at local grocery stores. They are half the price as what we would pay if we went to the pizza place for dinner and taste just as good. I don't know whether other places do this but it might be worth checking out.
We always, ALWAYS look for coupon deals on the internet or in the Yellow Pages on the rare occasions we order pizza. You can save quite a bit this way.
By L Hill
Frozen Pizza Dough
We buy Rhodes frozen pizza dough, and put plain tomato sauce and freshly grated cheese on it. I don't buy already shredded cheese because it is more expensive and you can freeze cheese that is on sale. The plain sauce does not taste bad. My super picky hubbie loves it.
By Olivia
Tortilla Pizzas
I can't remember where I got this idea from, but they are great.
Ingredients
Small or Medium Tortillas
Pizza quick Sauce
shredded Cheese
Toppings of your choice
Directions
Place the tortilla on a baking sheet. Top with sauce, toppings, then cheese. Bake at 350 degrees F for about 10 minutes or until cheese is melted. Slide off onto plate.
These turn out really well, I was impressed. And this way everyone can have it their way.
By Laura
Dei Fratelli Pizza Sauce
Dei Fratelli brand pizza sauce is head and shoulders above most other brands available in the grocery. (No connection with the company except as a satisfied customer.)
By ChloeA
Pizza Bread
My cheapest remedy for making pizza is taking a loaf of bread spreading each slice with sauce and a sprinkle of cheese, let stand for about 5 minutes and restack them into the bread bag and store in the freezer. I shared this tip sometime ago here and its the best for me especially if you have children.
Nowadays, we rarely order out for pizza. lately I've been making my own by using a type of bread called Arabic bread which resembles personal pan pizza crust and 6 comes in a pack, and they are pretty cheap in my neck of the woods. I prepare them the same way as I would do for a loaf of bread with the sauce on each and a sprinkle of mozzarella cheese, restack in the bread bag and freeze for an anytime treat.
By sbb1
Make Pizza Dough In Your Bread Maker
I use my bread maker to make the pizza dough! It takes care of all of the work and I can enjoy a pizza with whatever I want on it. I like to roll out the crust and top with olive oil and minced garlic then prebake for a few minutes then take it out and put the rest of the toppings on then finish the cooking for a few more minutes. This is a great idea for those who are allergic to the tomato sauces. I also like the Pillsbury Pizza dough in a can when you're pinched for time. I'm thinking pizza for dinner now.
Breadmaker Dough Tips
I also use the bread machine to make the dough. (I posted this hint a while back.) Our basic dough recipe is 1 scant tablespoon of yeast (which we buy in bulk and store in the freezer), 3 cups flour, 1 teaspoon salt, one cup lukewarm water (you may need to adjust slightly for your machine) and whatever herbs/spices we might feel like throwing in--though plain is just as good, IMHO. Be sure to remember to let the dough rest after you turn it out of the pan.
If you don't have a bread machine, dissolve the yeast in slightly warm water, then stir in the remaining ingredients, which will probably require getting your hands into the dough before they're all incorporated. Knead, adding flour if the dough is too sticky, adding water if it doesn't all ball together. Knead by mashing it down with the heel of your hands, then fold and mash again. Simply repeat this until the dough starts to get nice and smooth. Pinch the outer edges into the middle to make a smooth ball, then lay it on a piece of waxed paper you have either sprayed with non-stick spray, dusted with flour, or greased slightly. Turn your mixing bowl over and cover the dough. Let it rise for 30 minutes to an hour--it should be substantially bigger than when you first put it there. Don't stress about "doubling" and all that. "Punch it down", that is, squash it a few times so it loses most of the new volume, and let it rest for ten minutes or so. (This will make it less likely to spring out of shape when you roll it out to make the crust.) Don't be afraid to try it if you've never made bread before--it really is easy.
After the ten minutes, either pat/roll it into one big crust or pinch the dough into pieces to make smaller crusts. Make sure to grease or spray your pan. You can sprinkle it with cornmeal, if you like that crunch.
Place the rolled crust on the pan, top, and bake in a 350 degree F oven until the cheeses are all melted, and just starting to bubble and brown. (Usually around 20 minutes for us.)
This summer, I discovered that if I roll smaller crusts fairly thin (about 1/4 inch), I can "bake" them in a non-stick skillet. I put them in a skillet over med. heat and turn them when they have bubbled and the one side has started to brown where the bubbles are. Cook the second side until it is beginning to brown, as well. Then you can top and put in the toaster oven, or even in the microwave.
I prefer using tomato paste instead of sauce. You can buy preseasoned, or simply sprinkle on the seasonings you like before you add the rest of the toppings.
Pizza is a great way to use up leftovers, and sneak in some veggies!
By Jill
Stock Up On Frozen Cheese Pizzas
When frozen pizza is on sale, I buy quite a few - but only cheese. Then on "pizza night", we add more cheese and some pepperoni! You can add any topping that you like, and it is fresh, not frozen!
By sheri
Wal-Mart Deli Pizza
We buy the deli pizza at Wal-Mart. It's loaded with toppings, less than $10.00. Whatever pizza you make or purchase, be sure to serve a salad on the side -- FIRST. You're more likely to eat less pizza and have leftovers.
By Cynthia
Freschetta PizzAmore
We like the Freschetta PizzAmore. It's a pre-sliced pizza. We don't care much that it's pre-sliced as when it bakes, you have to watch the edges where it's sliced or you'll have much smaller slices of pizza after you've cut it elsewhere. The flavor is more like homemade than any other frozen pizza that we've tried and we've tried a lot of frozen pizzas down thru the years. My last great purchase on these pizzas, Albertson's had the medium size on sale for $4.00 and there were $2.00/1 coupons attached to the front of the boxes. So we got them for $2.00 each! Great deal. I've been watching but so far, no more coupons on the fronts of the boxes. This product is from the home delivery company, Schwans's but for grocery stores.
By badwater
Make Individual Pizzas for Kids
We always use frozen bread dough, tomato paste with 1/2 can water and oregano and salt added. Store brand Mozzarella cheese. Then we add interesting toppings such as ham and pineapple tidbits, left over meat, onions, vegetables, peppers, mushrooms, different things each time. Sometimes I would divide the dough and each of my 3 children put what they wanted on their own pizza, they enjoy that.
Top Pizza With Leftovers
I make my own pizza. The dough is similar to the above recipe, but I use 2 cups whole wheat flour and I cup white. I make my own pizza sauce, but you can use canned.
It saves a lot of money. You can also put leftover meatballs or vegetables on it for a nice variation.
By Judy
Use What You Have
Best money saving tips for pizza are to use what you have on hand! Most of the posted tips list specific ingredients and that takes more trips to the store, less likelihood of finding the items on sale, etc.
Experiment and use up what you have on hand. Around the holidays I buy some extra staples when they're on super sales and store them properly so i have extra whole grain flours, etc. Buy cheeses when they are on sale and freeze them.
You don't always have to use mozzarella. You may like to mix and match. Use tomatoes if you have extra fresh from the garden instead of buying "pizza sauce". Toppings can always be the extra veggies or meats you have on hand. That small bit of chicken makes a great garlic chicken pizza. A little spinach on pizza with the right cheese can make your kids enjoy it.
Don't forget to experiment with herbs too. Most people have tons of jars on the shelf and use very few of them. Pizza anything night can be the most fun, creative and economical meals you make all week long.
Don't forget it freezes beautifully and makes great lunches for work or school.
Use Coupons and Split With a Neighbor
I usually wait until I have a "Buy One - Get One Free" pizza coupon from the local pizzeria, and order cheese. I then add my own toppings. Whatever is left over, we freeze for later use. Or sometimes we split the pizzas with neighbors, and each pay half the bill.
By Monnat96
Frozen Pizza Tips
DH and I rarely (maybe once a year) order pizza, and we always make sure to use a coupon or deal and pick it up ourselves when we do. We usually indulge with a frozen pizza, and I prefer those that don't cost over $3-4 at the most
before
adding coupon savings. Red Baron is my favorite brand because they have lots of topping options at a low cost. I'm really interested in learning to make my own pizza using frozen or bread machine dough, too, so keep those awesome how-to tips coming!
By Melody T.
Pizza Coupons
You know all that junk mail you get? 90 percent of the time there are great deals on pizza in there, coupons, specials, etc. Many pizza companies also have online coupons you can use. We always use those and end up with a pretty good priced pizza by looking for the most bang for our buck. coupons usually last a month or so, so its easy to collect them and use whats best at the time you are wanting to order one.
Another thing I do is buy bulk flour from Sprouts. I have a simple pizza/flatbread dough I use and the whole thing ends up costing less that 10 bucks per head.
1 1/4 cup wheat flour
1/4 cup white flour
1/4 cup corn meal
1 teaspoon baking powder
1/2 teaspoon salt
3/4 cup chicken stock (or water)
Toppings: whatever you have in your fridge - roast leftover veggies and use them to top it, caramelize some onions, throw on some deli- sliced cheese, it's pretty healthy too.
By Corinne
Experiment With Toppings
I love pizza, but I really like it with a myriad of toppings, too, which adds up when it comes from a pizza place. I usually buy a frozen pizza, whatever is cheap or on sale, then add lots of topping at home-whatever is in fridge-sometimes chicken, onions, mushrooms, even asparagus once. I throw a little fresh oregano from the herb garden, add a little extra cheese-and salivate until it is done baking.
Or, I buy a Little Caesar's $5 pizza, ask for it under-baked and take it home, add my toppings and then finish baking it in my oven. Costco also has a really big pizza, ready to eat or inside the store ($1 cheaper than ready to eat) for about $10, too.
By Linda
Don't Forget To Take Off The Cardboard
Ok, I need to FIRST clarify that I consider myself an accomplished down-home 'don't need a recipe' cook. The only mistake I have made SEVERAL times, however, is to put the frozen pizza, (you know, the good DiGiorno/Freshchetta kind) in the oven, watch it bake to a beautiful golden cheesy color, complete with my 'make-it-healthy add-ons', take it to the table to find out that I LEFT THE CARDBOARD ON THE BOTTOM! This has become the joke at my house, and I guess I have to laugh. I've done this at least twice now, maybe more times. I really do try extra hard these days to take the cardboard off. So may I suggest that the best 'thrifty' tip is to TAKE OFF THE CARDBOARD, IT TASTES BETTER! :o)
By Kim
Homemade Pizza Night
We make our own pizza. It may take you a couple of tries to work the kinks out, but if you don't give up if it doesn't all go perfectly the first time, I promise you'll save a ton of money by making your own. Find a pizza dough recipe online (don't skip the olive oil) , and make your own dough in a food processor or by hand. Wrap dough ball in parchment paper, and place in a ziploc bag. Freeze. The rest is pizza quick sauce (or your own), shredded cheese and toppings. The key is a hot oven, 450 or 500 degrees F is best. You can save the parchment paper from freezing and roll your crust out on it. Make a few crusts at a time when you have the time so you're not making dough every week. It's a super cheap meal, like about $3.00 for an extra large pepperoni pizza for 4 people. We do this every Friday night, and save a bundle. We used to drop $16-20 bucks per week on family pizza night, but no more. We will not go back!
By Stella
Several Hints For Frugal Pizza At Home
I am a really old fashion pizza "get the biggest bang for the buck" person. Pizza parlor bought pizza was a treat when I was growing up. Even frozen pizza was a treat. But it is almost a staple of our life nowadays! Pizza in our house is French bread, spaghetti sauce and whatever was in the refrigerator. And whatever cheese was around.
I sometimes splurge on the prebaked crusts, (on sale, with a coupon) but most of the time, when I buy a loaf of the fresh French bread our local store offers, I cut it in half longways, then halve it again. 2 quarters are buttered with garlic butter, wrapped and frozen for a side with future meals. the other half is for pizza bread. I freeze even the scantest 1/4 cup of leftover spaghetti sauce for just this purpose.
Leftover roast, chicken, polish sausage, ham, as well as a couple mushrooms, the last slice of bell pepper, and sliced olives (always in our frig) or other veggies (summer, home grown zucchini shredded) become toppings. Cheese - whatever is there - Jack and Cheddar are among our staples. Pizza is a given at least every other week in our house, and a great way to make a quick easy meal. I also use refrigerator biscuits as a crust. Several rolled together into a personal pizza works good.
A recipe I got from a Pampered Chef party took one tube of refrigerated biscuits, pulled apart and quartered, then tossed in a bowl with spaghetti sauce. Throw in a a half cup of whatever meat you want (cooked), a handful each of whatever veggies you wanted, some grated cheese, and pour out into a 9 x 13 pan. top with some more cheese. bake at whatever the biscuit tube said to bake and check. maybe a couple minutes more. it turns out like pizza monkey bread and is great for a quick dinner or even an appetizer!
By Carol
Serve Pizza Instead Of Bread
To make a pizza go a long way, I make a pot of pasta and sauce add a salad and we enjoy the pizza instead of bread. This way everyone gets a slice or two and seconds on pasta and salad.
By Anita
Waffle Pizzas
I really like all these ideas, and got a kick out of MamaKim's expert advice to remove the cardboard before baking the frozen pizza.
I like to make waffle pizzas. Get out that waffle iron, make a simple batter, I use whole wheat flour, a little olive oil, pinch of salt, a little water, and make a few waffles.
When they're done (couple minutes), put them on a plate, and do them up like the English muffins above, tomato paste and toppings, and put them in the microwave a couple minutes.
By Janice C.
Nothing Second Rate About Homemade Pizza
We make our own. The only hard and fast rule is that the crust comes from the following recipe: Stir 1 Tbsp. dry yeast into 1 cup of warm water (105-115 degrees). Stir in 2 1/2 cups all purpose flour, 2 Tbsp. oil, 1 tsp. sugar and 1 tsp. salt. Beat for about 20 strokes. Let it rest five minutes.
While it's resting, clean out the fridge with anything that sounds good. For the pizza sauce I use an 8 oz. can of tomato sauce (.38). For extra flavor, sprinkle on a teaspoon of dried basil or Italian seasonings. Top it with whatever works. I have used bacon or sausage, sauteed onions, leftover bits of bell pepper, pineapple, canned lunch meats, broccoli, sliced tomatoes, chives, olives, etc. While we usually don't have mozzarella on hand, cheddar is quite tasty and we usually have it because it goes on sale so frequently.
There is nothing second-rate about this pizza! Our daughters and their spouses make six figure incomes, and now they copy this when time permits. Their wealthy friends think it's some new fad from a famous chef. Why should we tell them?
By Coreen Hart
Use Odds And Ends For Toppings
I often make my own pizza at home, because the cost is at least halved as compared to carry-out (no delivery available to our house). And the cost can be even less if items are bought on sale, or leftovers or odds and ends are used as toppings. Also, when you make it yourself, YOU can control the ingredients.
I use half white and half whole wheat flour in my dough, to make it healthier, and it also lends a pleasant earthy chewiness. If you find yourself making lots of dough at home, invest in a large container of yeast instead of the wee packets. I can buy a one pound packet of quality yeast for $3.25, versus over a dollar for just three individual packets (the one pound pack comes from a Mennonite-run country store that carries baking supplies). I keep a small jar of yeast in the fridge to work from and the rest of the yeast in the freezer to maintain freshness.
One extra tip I have; don't limit yourself to mozzarella cheese! Provolone cheese is very tasty on pizza, and where I buy it (at the aforementioned country store, which has a deli counter), it costs about $1 a pound less than mozzarella. Keep in mind that some deli counters will take off X number of cents per pound if you buy a "chunk" of cheese, because they don't have to slice it.
Feel free to post your pizza tips below.
Read More Comments