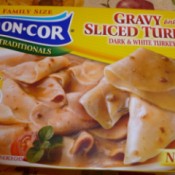 With money being so tight this year I was very worried about whether we would be able to have any sort of Thanksgiving Day dinner. So after some serious thinking, I put my plan into action, and we ended up having the best Thanksgiving ever.
Just before Halloween, every time I went food shopping I picked up two to three extra items that we would have at Thanksgiving My husband isn't a big turkey eater so we bought two boxes of On-Cor Turkey Slices out of the frozen food aisle. It was the first thing we bought because we learned from the year before that anything with Turkey in the Frozen food aisle is long gone and sold out before Thanksgiving.
The next shopping trip we picked up some cranberry sauce and stuffing. The trip after that we picked up what I would need for a green bean casserole and scalloped potatoes.
The forth trip we bought what was needed to make our sweet potato casserole and turnips.
Anyway, to make a long story short, we had an incredible Thanksgiving with plenty of leftovers. I will definitely be doing the same thing for Christmas and all future holidays.
By CPJ from Madison, AL
Read More

Comments