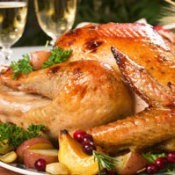 Tips and ideas for saving money on making Thanksgiving dinner.
Watch for Sales
Watch the grocery store ads for sales and don't forget to check for coupons in the paper. Some fresh veggies can be blanched and frozen for later use. Some things in cans can be bought ahead of time. I buy cranberries and freeze them. If you are hosting, always ask that others bring something with them: beverage, dessert, pre dinner veggie platter, snacks or a side dish. Have fun and remember to enjoy Thanksgiving with those around you.
Don't Cook More Food Than You Can Eat
Make sure you don't overdo it. Often times, people only have a small serving of side dishes, especially if there are several to choose from. Limiting the size or variety of sides will save you money and time. If you are just cooking for your small family, don't cook enough food for a dozen people. You will have a hard time using up the leftovers before they go bad. Consider cooking just a turkey breast, instead of the whole bird.
Another option to consider is buying a "heat and eat" holiday dinner from a better grocery store. I did this one year when I was pregnant and we had just moved. It wasn't quite as good as home cooked but it was a lot easier and probably cost less than buying all the ingredients separately.
Happy Thanksgiving!
Jess
Heat and Eat is More Work Than it's Worth
I purchased one of those supposedly ready turkey dinners from our local grocery store, one year, when my husband had just come out of hospital and everyone thought they were "helping" by coming to our house. It was not good, you still had to thaw and heat and I could have done better (taste, time, amount and cost) just buying prepared items and mixes myself. I would never recommend one!
By Elgie
Have a Potluck
If you are planning a large family gathering, why not ask every one to bring a dish? Then all the work and expense wouldn't fall on one person.
By Marty Dick
Try a Buffet Restaurant Instead
Here is an idea though probably won't appeal to some. We have went to a buffet place like Golden Corral or Ryan's for the main meal with all the fixings, then just cooked a turkey at home, maybe baked a couple of pies so we would have "leftovers" to eat.
Help Others on Thanksgiving
If you really want to save money on Thanksgiving dinner this year, consider volunteering at your local soup kitchen. You will be helping those less fortunate, and you get to eat for free. I took my (then teen) children one year because I wanted them to experience it and it was the best Thanksgiving we've had to date!
By Glynda
Remember Older Family and Friends
I don't know if this is a tip for us to save or for the others to save. For several years my family has had Thanksgiving dinner on the Sunday after the holiday. I figured the married kids would go to the in-laws for dinner on Thursday. This year we are doing it different. First, we are having it on Thursday, as it should be. It is a potluck dinner, each one brings a part of the dinner.
I live in senior low income apartment building that has 36 apartments. This year I asked my family to make a little extra of their item(s) because I posted a note inviting any tenants that are not going out to dinner with their family or friends to eat with us.
That way they can have a big holiday dinner too and take leftovers home for another meal or two. I also said if they have a good friend they spend a lot of time with, that person can come too. One lady is bringing her brother who lives in another senior building. One is bringing a friend that helps her a lot because she is handicapped. So far counting the brother and friend we have six signed up. I expect a few more.
When the apartment manager heard my plans, she offered a ham to go with our turkey. Because of limited cooking space and time, because of handicaps, she is going to cook it for us. I would like your readers to invite a friend or two to your dinner, too. Maybe an elderly person who has no place to go.
By Linda from Bloomington, Illinois
Invite a Soldier
I liked the idea of the large dinner inviting other elderly people and their friends. We were a military family and always had several single GIs over at Thanksgiving and Christmas, especially on overseas bases. If you live near a Base or know of a family of deployed military, invite them too. Large holiday gatherings are a great stress buster for those military and those left behind.
By Memere
Ways to Think of Others
When I was first divorced with 1, 4, 7, 10 year olds, I was overwhelmed with the holidays! When they went to their father's, I invited all the "orphans" (people without families) to bring potluck to my home and we had a wonderful time.
Another time when they were 3, etc., we volunteered to help at a Houston-wide charity dinner. I ended up holding a baby so the homeless mother could eat in peace, and my children procured clothes for the baby and the mother from the tables of free clothing. My youngest asked why they couldn't come home with us --'I share my cwib with baby!" That was truly a moment where I knew my kids were on the right track! It did more for us than anything!
By Lindajean
Inviting an "Orphan"
When my family was younger and we all got together for Thanksgiving, we always set an extra place for dinner. My family members were always on the look out for people with no family or with no where to go for the holidays. Every year we always ended up with a special guest. The guest was always the best part of the holiday, as they had stories or traditions that we had never heard of.
As a kid, it was always fun to hear how other people celebrated Thanksgiving. It made me feel good that we had helped someone have a nice holiday instead of a lonely one. I think more people should include guests in their Holiday traditions.
By Carrie from NH
Bigger Is Better
For any holidays, this has been our family and extended family standing rule. We have food enough, and who cares if there are no left overs, when fellowship is the real reason we are eating anyway. We look for 35-50 people at each immediate family gathering. Bring an extra folding chair is helpful! We do most things in crock pots ahead of time, desserts simple, etc. Styro plates, cups, etc. No one has to be stressed like we used to years ago making sure tables were set perfect, the best dishes and candles on the table.
By Grandma J