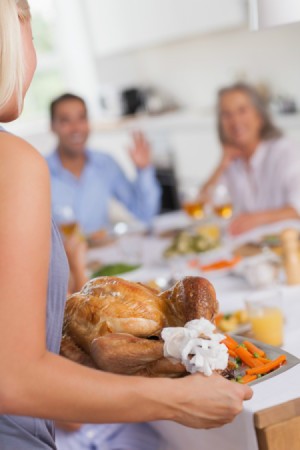 A friend of mine had heard we are having our family dinner for Thanksgiving at my house. She made the comment that she could never afford to feed so many people, although she has the space. I told her it was easy on the budget, if you plan ahead.
As soon as you decide to host an event, start putting your plan into action. If money is a real big issue, then instead of volunteering for a holiday where you are to provide a turkey or ham, (such as Thanksgiving or Christmas), pick something else, such as July 4 (hotdogs).
Buy a little each week. Pay attention to your store sales and coupons and work it to your advantage. For example, a month ago, our local grocery store had green beans on sale for 19 cents a can. I had some coupons and got a few for free. The limit was 6 cans per purchase. I usually make a green bean casserole, so I bought 6 cans, husband got 6, and each of the kids got 6. Total, 36 cans; more than enough for green bean casserole. I did the same thing a week later when they had frozen rolls on sale. I got 6 packages for the freezer. I bake our bread from scratch each week, so the week of the dinner, I will also make a few extra loaves.
My husband gets a free ham each year from work, and I have been saving up my reward points from the grocery store to purchase a turkey. Tea is inexpensive, so I also got a new box of tea, knowing I would probably be out by Thanksgiving. So, I already have the meat, drink, bread and two side dishes covered.
I am also providing the potatoes, so this week I picked up 2 large cans of yams (the huge gallon cans) that were on sale for $3.99 a can and a bag of marshmallows for the candied topping. The week of Thanksgiving I will pick up a bag of potatoes for mashed potatoes. I still had pie filling on hand in the pantry, so my pies are already made and in the freezer.
I asked each family attending to bring a covered side dish or a desert. Most of the women in our family have one dish they are "famous" for making, and they love to share. The day before, I will make up some tea and freeze it. That will be used in my drink cooler instead of ice cubes, so as it melts it won't water down everyones drink. I only offer tea and water, so that will cut down on expense.
I also stocked up, with coupons and sales, on TP and Kleenex. Always want to have plenty on hand when you have a crowd. After adding it up, my total will come out to under $75, to feed around 60 people. Not bad at all.