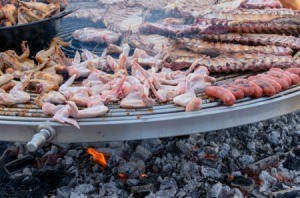 I am hosting a BBQ for about 100 people. Keep in mind there are about 25 kids under the age of 12. I would appreciate any serving suggestions for all the categories of food.
As my menu, I have brats, hamburgers, pulled pork, and hot dogs. I plan to have potatoes of some sort, and corn (leaning towards canned). I will also have a 7 bean dish, as well as, potato salad, coleslaw, pickles, and pasta salad.
Snacks- cut up veggies lots of them- peppers, carrots, mushrooms, cauliflower, broccoli, etc. and fruit- strawberries, pineapple, watermelon, grapes, cantaloupe, and honeydew.
I actually have desert worked out - cup cakes of chocolate and key lime; two different desserts. I have a tendency to over feed and buy too much. Any suggestions? Oh yeah, beer, soda and lemonade for beverages.
Andee from Waukesha, WI
Answers
By Sandee (Guest Post)
June 24, 2008
1

found this helpful
Best Answer
My deli said a pound of any kind of food feeds 4 to 6 people. Since you have a very large selection, I would lean towards the 6 people. You also know that not everybody is going to eat some of every single thing that you are serving.
Now, think of your and your immediate family at the bar-b-que. How would each of you fill your plates? I, myself, would probably take two meats, 1/2 cup pasta salad, 1/2 cup corn or chips if you had some, 1 cup of raw veggies, 1 cup of fruit, 1 dessert.
Your party sounds delicious. I would skip potatoes since you are doing potato salad. Perhaps add a couple of bags of potato chips, only open them as you run out.
Men will probably choose two meats, women--some will take 2, some 1, so plan for 1 1/2 meats, children 1 meat--most likely hot dogs or hamburgers.
You do have a lot of food here. Kids probably wouldn't eat any of the salads but will take finger foods like the raw veggies and fruit and pickles.
I suggest skipping the coleslaw--it doesn't sound like it goes with the rest of the meal, plus you have so much to choose from besides that. Another thing to think about--coleslaw and corn could make some other foods soggy when they are put together on a plate.
Answer

this Question