Sweet Treats For Valentine's Day

Candy, chocolate and baked goods are traditional for this romantic holiday. Spoil your friends and family with these ideas. This guide is about
sweet treats for Valentine's Day
.
Solutions
Share on ThriftyFunThis guide contains the following solutions. Have something to add? Please share your solution!
December 10, 2016
0

found this helpful
Show your love with a sweet treat delivered in a decorated jar. This is a guide about making a Valentine pudding treat.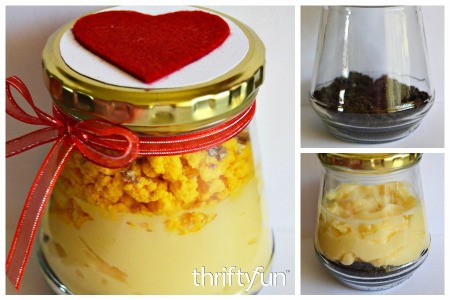 December 6, 2016
0

found this helpful
You and your children can make a cute and delicious no bake cookie house for Valentine's Day. This is a guide about making a Valentine's day cookie house.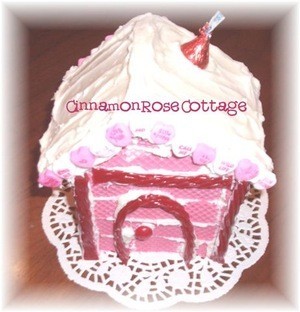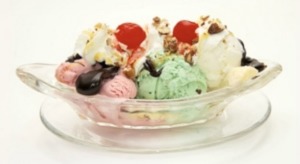 I started a tradition when my oldest son was 4 years old. Since our "sweethearts" are our children, we celebrate Valentine's Day by having banana splits for dinner! I make sure to have anything a person could desire for toppings. Our dining table looks just like a malt shop. (You should see the huge bowl of cherries that adorns the center of the table!) All with the benefit of having a fun intimate family meal, and the cost is the same or less than what we would have spent if we went to eat at an ice cream shop. And we get to keep the left over ingredients!
Valentine's Day is the one time a year my children can look forward to eating dessert for dinner, just as they count on turkey for Thanksgiving. It's a treat we all love! Now, we have a brood of 15, 10 and 4. We've been celebrating Valentine's Day with banana splits for 11 years and my kids proclaim they will pass this family tradition down to their own children some day!
Have candy canes left over from Christmas? Recycle them for Valentine's Day with this great craft that's easy and inexpensive to do with the kids. Criss-cross the candy canes so they form a heart shape.
Hot glue the candy canes together where they intersect. Hot glue curling ribbon and a wrapped piece of hard candy to the top center point of the heart. Attach a personal message to one of the ribbons.

By Rachel's Mom from Wilkesboro, NC
Debra Frick
2

found this helpful
Valentine's Soda For Two
There is nothing more romantic than an old fashioned ice cream soda shared with your favorite sweetie. So here is a "sweet treat" for Valentine's Day that you can set out on your desk or, if you can't resist the M&M's, you can pull out the flowers and eat the M&M's and fill the glass with rock salt or colored sand. I choose Pink because it is one of my favorite colors but you can make this any color you want or fill the glass with any kind of candy you would like. This could also be used for a birthday gift also.
Time to complete: 1 hour, including shopping at the Walmart
Materials
One old fashioned soda fountain glass (bought at thrift store for $.50)
Lace and Ribbon all in one ($1.97)
Small amount of ribbon for a bow ($.44 for the whole spool)
One 14 oz bag of Cupid Mix M&M's ($2.00)
On small spray carnations ($.97)
One small spray of roses ($.97)
Couple of Straws
Hot glue gun
Glue sticks
Glue lace and ribbon trim around the upper rim of the glass. Tie a fluffy bow and glue where edges of lace meet on the glass. Fill glass with M&M's. Cut three carnations from the bunch of carnations and one open rose from the bunch of rose. Tuck the carnations in the glass in a triangle shape and add a rose to the center. Tuck in a couple of straws.
These sweet little mice are great for kids to make for their classmates for Valentine's Day! Best of all, they are quick, easy, and inexpensive.
Approximate Time: About 20 minutes
Supplies:
2 wrapped chocolate kisses
2 inch square of pink construction paper
2 small wiggly eyes
1 small red pom pom
black or brown embroidery floss
craft glue
pencil
scissors
Instructions:
Cut about a 1 1/2 inch heart from the construction paper. Glue the heart between the two chocolate kisses, bottom to bottom, to create the mouse's body (chocolate kisses) and the ears (heart). Glue on the wiggly eyes and small pom-pom for a nose and remove the paper tag from that chocolate kiss. The other paper tag is the mouse's tail. Cut a 2-inch length of embroidery thread and glue under the pom-pom nose for whiskers.
By Rachel's Mom from Wilkesboro, NC
February 4, 2005
2

found this helpful
A cute valentine dessert is to make Krispy Rice Kisses. Make the cereal and marshmallow treats as usual but form them in a funnel to shape them like candy kisses. Wrap in foil and add a love message. This is great idea for class parties.
Read More...
February 14, 2005
1

found this helpful
Having trouble finding a low calorie treat for your slightly overweight significant other? Make a cake out of no-fat chocolate whipped cream topped with a heart of luscious red strawberries!
Read More...
February 4, 2005
1

found this helpful
When my kids were little I'd buy mix the Nestle's Quik Strawberry mix into the milk for their cereal then put it in a little pitcher. It would make the milk a nice pink color and be a nice surprise for Valentine's Day morning.
Read More...
February 4, 2005
0

found this helpful
For those who still have the funnels made by Tupperware, they make a wonderful mold for homemade "giant" chocolate kisses! Makes a great Valentine gift for anyone!
Read More...
January 30, 2005
1

found this helpful
Melt chocolate in the microwave. Stir in nuts. Take a large brand new funnel and grease with butter. Cover end of funnel with a piece of tin foil.
Read More...
Quick homemade lolly pop Valentines. Punch out shapes. I used a scalloped circle and a simple circle to make a flower shape.
Read More...
Related Content