Mmmm good! Crunch your way to good health! A healthy, high energy, protein and vitamin rich snack. It requires just a few moments a day to devour with a cup of steaming java or cool juice at your favorite Cafe.
This is what I observed when watching Ruthie make this in my kitchen, so all amounts are approximate. Make your own version and share. Recipe can be cut in half.
Ingredients:
4 Tbsp. regular oatmeal (not instant)
12 Tbsp. steel cut oatmeal
8 Tbsp. sesame seeds or flax seeds
4 Tbsp. coconut
1 apple with skin, chopped into 1 inch square pieces
1 banana, cut into 1 inch square pieces
2/3 - 1 cup pecans, chopped (walnuts would work, but pecans are better)
1/2 - 3/4 cup peanut butter
2 Tbsp. blackberry jam
3 small cup portions mandarin oranges or 1 (medium) can, drain and reserve juice (yogurt could be used)
1/4 - 1/2 cup raisins, dried cranberries, or dried blueberries (if fresh is used, do not put into mixture until very end of cooking)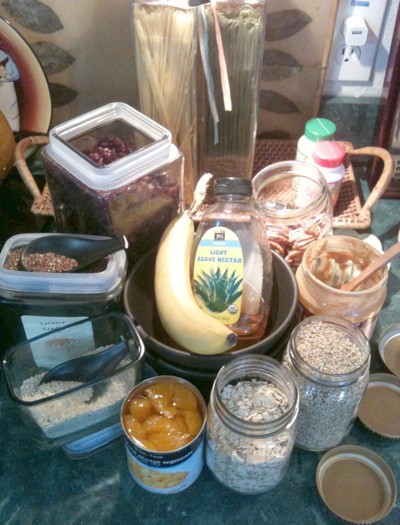 Directions:
Start with a large, Teflon type frying pan, using medium to high heat, do not add oil to pan. Add both types oatmeal, seeds, pecans, coconut, and toast and toss until a very golden brown, being careful not to burn mixture.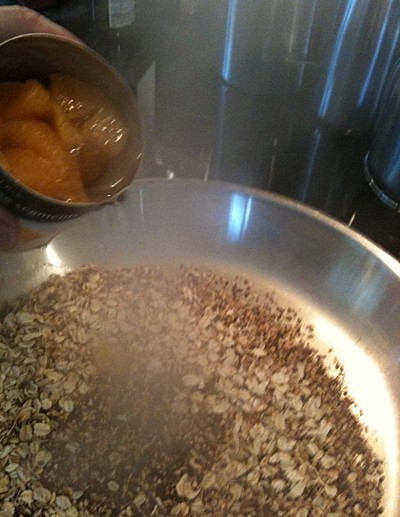 Add juice from mandarin oranges, peanut butter, apple chunks, and raisins. Cook for a few minutes, then add the banana
After all ingredients have been added, turn down heat and simmer for approximately 20 minutes or until apples are tender, but not mushy.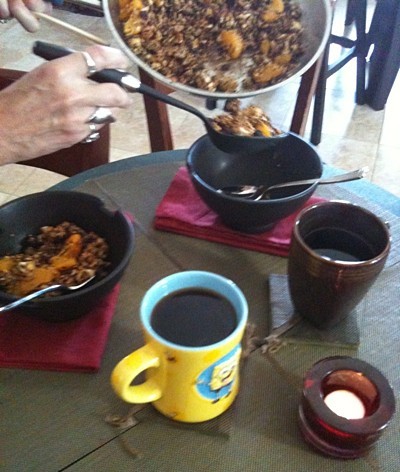 This is best served warm with just a little but of Almond Milk in a bowl. Leftover can be kept in refrigerator for 7 - 10 days. Can also be eaten cold, as a snack, but I prefer it warm with milk. I store mine in the refrigerator in individual small glass bowls, heat briefly in microwave, and enjoy.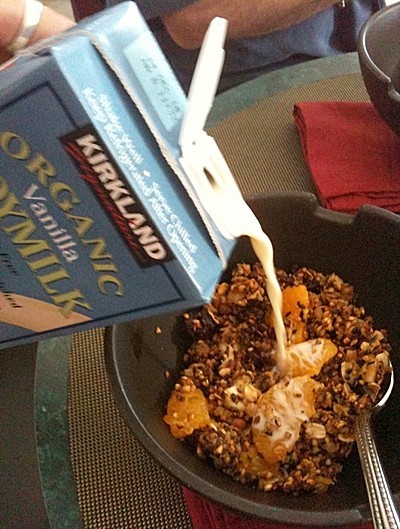 Servings:
12
Time:
30 Minutes Preparation Time
20 Minutes Cooking Time
Source: Z'sip Crunch, just one of fufe's WIMP (What's In My Pantry?) Recipes
By Ruth from Upstate NY