October 18, 2011
0

found this helpful
Are you getting the rash between your toes? You probably just have very sensitive skin. Maybe lightly use some type of Gold bond before you put on your shoes?
October 19, 2011
0

found this helpful
Sounds like a fungus to me. Try an athlete's foot product.
October 19, 2011
0

found this helpful
This could be athlete's foot. Get a remedy from the drug store. Or it may be some severe allergic reaction to the shoes.
I have seen things posted on the internet about this. A trip to the doctor might be in order. Certainly, toss those new flop flops as well.
August 27, 2018
0

found this helpful
Could it be latex in the rubber
October 19, 2011
0

found this helpful
It could be that you're allergic to something in the rubber. There was a case a few years ago of a girl who bought flip-flops at Wal-Mart and had a severe reaction to the flip-flops. However, it wasn't only her, but the people at the store who were stocking the shelves - they had reactions too. I'm not sure if they were recalled, but it is very possible that you may be suffering the same thing. It'd be a good idea to check with your doctor.
October 21, 2011
0

found this helpful
Could be you developed an allergy to the rubber or something else in the straps after wearing them for awhile. Or maybe it was just a reaction of the constant pressure on sensitive, sweaty skin in the heat.
If you still have it, you may need prescription hydro-cortisone, sometimes the OTC stuff just isn't strong enough.But first, try covering the spots with the cortisone, then covering them with gauze pads & medical tape. This protects them while they heal.
You can also either soak your feet in a bucket of water with teabags - or just get a bowl of water, let the teabags soak in it, then use them (or a clean rag) to wipe your feet several times a day with it until it heals. Benadryl helps with the itching, you can take the children's liquid benadryl & adjust your dose so it doesn't make you drowsy during the day.
I have the same problem sometimes, but mine happens with socks. Sometimes in the summer when I wear socks & my feet get really hot, I'll take my shoes off at the end of the day & the tops of my feet will be so extremely itch.
Doesn't matter even if I don't scratch, the whole tops of my feet are covered with tiny blister-like bumps. It drives me insane & I'll scratch them open at night. Takes weeks to heal.
I do the things I mentioned above. When I'm lucky to have prescription higher strength hydro-cortisone, I use it. When I don't have it, I do what I told you above. I'll also take 1/4-1/2tsp of liquid (generic) benadryl during the daytime hours & the full dose at night. Sometimes it takes weeks to heal, especially if you scratch. I try to go barefoot or wear sandals as much as possible when I get it, & if I have to wear shoes, I'll cover the tops of my feet with the gauze & medical tape to protect it.
It pops out occasionally on the tops of my hands too, for no reason. I have a lot of allergies, so I think that's probably what it is, but it's really miserable until it heals!
October 25, 2011
0

found this helpful
Here is what happened to my hands, it spread to my arms, legs and neck. All from garden Gloves made in China. It has been since Aug. 2008 until now to clear up all but my hands.
2011 and I still have to use a prescription cream every night with exam gloves and during the day when I garden. I have to use the Nitrile exam gloves (same gloves your doctors and nurses use) when I do dishes too. It is not worth the risk. GG Vi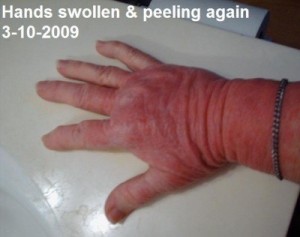 June 22, 2017
0

found this helpful
My daughter has a allergic reaction to the rubbery sole of flip flops. Her foot breaks out with peeling skin that turns purple. The Dr prescribed a cream that made it go away. She doesn't have the problem if she stays away from wearing flip flops.
November 5, 2018
0

found this helpful
You have pomphlyx, it's an eczema and you need strong cortisone like 0.2 or higher, it's not the flip flops. Lower your sugar intake and avoid nickel in diet and jewelry. Soak your feet in a weak solution of potassium permanganate.
July 7, 2019
0

found this helpful
Yes I have wore flip flops for years never have I got a rash our infection I have reed brand they are smelling real bad I have washed and soaked them they still stink not sure why only had them for about 3 months