Holly
Silver Post Medal for All Time! 364 Posts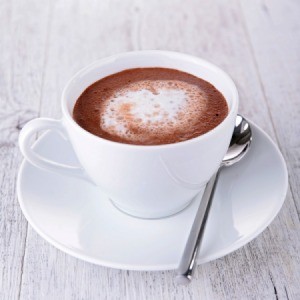 My son had a mug of hot chocolate in a place that specializes in all things chocolate. It advertises this beverage as the "best in this state, the nation" or some such thing.
Midway through, he had to stop drinking it because it "coated the tongue and made it feel prickly and stinging". He said that this was not due to the heat, but to ingredients.
Any ideas what it could have been? I am wondering if we need to be on the lookout for an allergic reaction.
Answers

Michawn
Bronze Feedback Medal for All Time! 188 Feedbacks
April 8, 2007
0

found this helpful
First off, how old is your son? Kids can tell stories if they don't like something. But it's a good thing that he did say something (if it's not a story). Should you be on the lookout for allergies? If he tells you his mouth is pricky and stingy, I WOULD! It's very sad how many people/kids these days have allergies that just weren't as prevalent when I was a kid (in the 70's and 80's). But you must be aware, take him to the DR.
to have tests done. There is no real way to decipher what he is/isn't allergic to unless it you get an immediate reaction, say from laying a walnut on a tongue and the person going into shock. Dr's have a bunch of tests they can perform, better be safe than sorry! I have a friend who daughter is allergic to nuts, she can't even have fruit snacks from some brands because they are processed in the same plant as nuts!
Good luck!

Holly
Silver Post Medal for All Time! 364 Posts
April 9, 2007
0

found this helpful
Son is 24 years old.
By (Guest Post)
April 10, 2007
0

found this helpful
You need to find out the ingredients of the drink. Some chocolate confections contain cinnamon or chili pepper to give it a zing.
It could be something as simple as that, and not an allergic reaction at all.

April 12, 2007
0

found this helpful
I have the same reaction to anything that has cinnamon in it. My mouth and tongue start to feel thickly numb and my tongue swells on the side and will eventually in a few hours break out in raised red areas and they eventually blister and slough off. At this point it is painful and lasts for days, aggravated by most textures and spices until it heals. My dermatologist said that cinnamon contains an acidic compound that causes a contact allergy. He said that in countries where it is harvested that it is a common allergy and that because of the increased use in the fancier drinks that you can make at home or get at the local coffeeshop, it is showing up more and more. Good luck in finding a solution to his problem, but I would give it some serious consideration. The thing about allergies is that if you are truely allergic, the next exposure could be worse.
Read More

Answers